Senate Republicans Will Determine Trump's Fate. Where Is Our Barry Goldwater?
Unless he resigns first, President Trump will be impeached by the House of Representatives. No one knows when this will happen, in part because the president and his staff continue to provide fodder for new articles of impeachment.
Just last week, Mick Mulvaney, the president's acting chief of staff, publicly affirmed the central claim against his boss: that Trump withheld military aid from Ukraine to force that country to dig up dirt on Democrats. (He's since tried to walk his statement all the way back.)
Mulvaney also announced that the president had selected his own Miami golf resort as the site of the next G-7 Summit — yet another potential article of impeachment, as a blatant violation of the emoluments clause of the Constitution, which prevents presidents from profiting from the office. (Trump later reversed that decision via tweet, blaming "Media & Democrat Crazed and Irrational Hostility.")
Not to mention Trump's reckless decision to abandon our Kurdish allies and surrender their territory to the Turkish autocrat Recep Tayyip Erdoğan; or the arrests of four men who worked with Trump's personal attorney Rudy Giuliani to funnel money into the Republican campaigns from foreign coffers.
This is also putting aside the Mueller Report, which documented, in punishing detail, 10 cases of obstruction of justice by Trump.
As a legal and constitutional matter, Trump is toast. The only way he will remain in office is if Republicans in the Senate refuse to convict him. At the moment, it's clear that Majority Leader Mitch McConnell's sole agenda will be to use the Senate rules to stage a sham trial that acquits Trump while protecting vulnerable GOP senators. (Here's looking at you, Susan Collins.)
The only way [Trump] will remain in office is if Republicans in the Senate refuse to convict him.
But before we simply accede to McConnell's latest assault on democracy, it's important to recall the Watergate saga, in which the demise of another manifestly corrupt president, Richard Nixon, seemed virtually impossible until just days before he left office.
Nixon himself was adamant about clinging to power. After 18 months of investigations and multiple indictments, the White House spokesman Ken Clawson insisted his boss would not resign "even if hell freezes over." A national movement of anti-impeachment activists — led, ironically, by a Ukrainian-born rabbi from Massachusetts named by Baruch Korff — organized rallies across the country, some featuring the president himself.
If you read a detailed history of Watergate from the perspective of Senate Republicans, what emerges is how loyal they remained to the president.
It was only the emergence of the secret Watergate tapes that led GOP lawmakers to put aside the backlash from Nixon loyalists and vote their consciences. As one put it, "Now we can do what our wives wanted us to do all along."
The most important figure to turn against Nixon was Arizona Sen. Barry Goldwater, the standard bearer of the conservative movement and former presidential candidate. "We can be lied to only so many times," Goldwater told fellow Senate Republicans. "The best thing that [Nixon] can do for the country is to get the hell out of the White House." Goldwater believed his defiance would kill him politically, "but I don't care."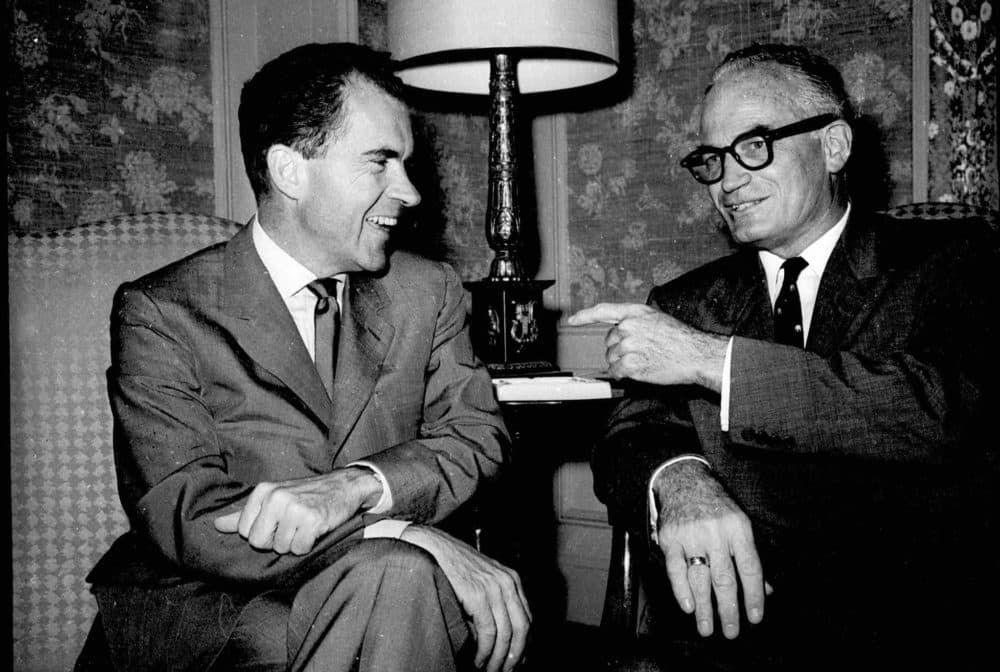 What the country yearns for right now is another Goldwater, a leader in the Senate with national name recognition and conservative bona fides. The obvious choice is Mitt Romney — another former presidential nominee from the West.
But the truth is that every Republican senator should have to answer why they continue to empower a president who has clearly, and repeatedly, abused the power of his office.
What Goldwater realized isn't just that Nixon was a liar, but that he was a long-term threat to the health of the GOP. The situation today is profoundly more dangerous, even if there are signs that Trump's stranglehold on the party is loosening a bit. Nixon may have broken the law, but he was a competent president who sought to govern the nation. (It's easy to forget, but Nixon founded the Environmental Protection Agency, signed Title IX, and lowered the voting age from 21 to 18.)
Donald Trump represents something we've never seen in American politics, an anarchic expression of the capitalist id. His only agenda is a ruthless pursuit of personal wealth and power at any cost.
And it's clear that his strategy in the 2020 campaign will be an even more extreme version of the tactics he used in 2016. He will divide the country with demagoguery, continue to assail the free press, seek foreign assistance, and attempt to suppress the vote. This time around, he will be using the full power of his incumbency, and the federal government, to undermine free and fair elections.
It's also clear that corporations, such as Facebook, stand prepared to help him turn the internet into a sewer of disinformation, as long as it gets paid.
What the country yearns for right now is another Goldwater, a leader in the Senate ... The obvious choice is Mitt Romney
Most worrying of all, he will whip up his most violent partisans — dozens of whom have already attempted, or executed, acts of domestic terrorism — in his name. Indeed, it's now clear that the linchpin of the Trump campaign will be incendiary digital propaganda.
What's more, it's hard to see Trump accepting the results of the 2020 election if he loses. This sounds alarmist — until you consider what happened in 2016. Trump lost the popular vote by 3 million and won the Electoral College, and has claimed ever since that the voting was rigged. Please try, for just a moment, to imagine what his paranoid rhetoric about a coup might stir up among his most violent and well-armed partisans.
If the founders were alive to witness the Trump regime — in which the president serves the whims of foreign leaders while dividing American people — they would recoil in horror.
And they would wonder how members of the Senate could turn a blind eye. Not just to his obvious criminal conduct, but to the danger of our democracy descending into an oligarchic autocracy.
As Joseph Conrad wrote, "strength is just an accident arising from the weakness of others." Where is our Barry Goldwater?
When will he, or she, or they, summon the courage to speak?