Married Priests In The Amazon Won't Cure What Ails Catholicism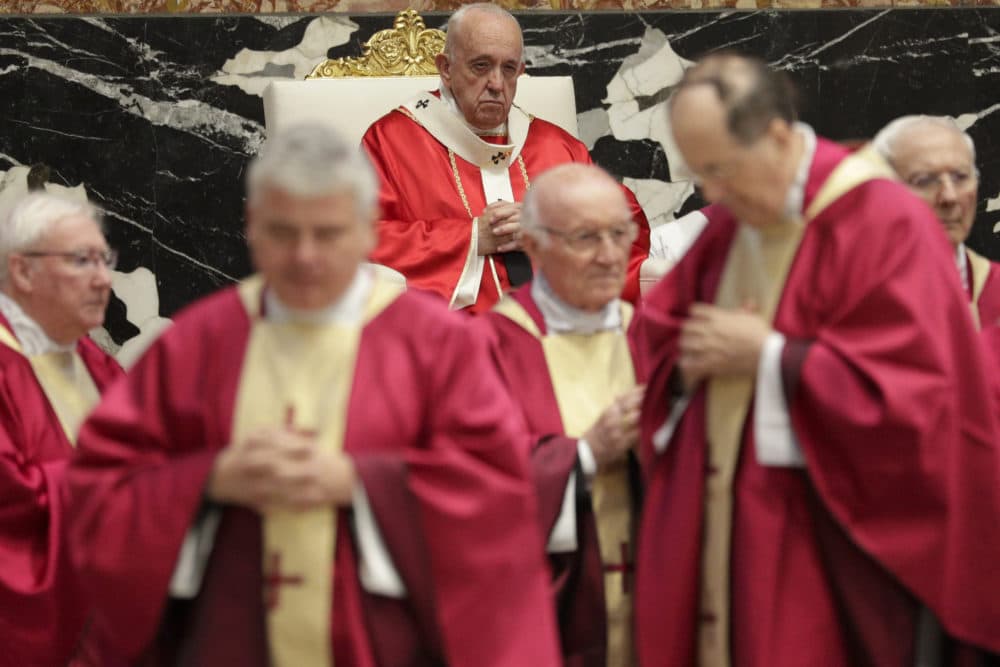 This article is more than 3 years old.
Next week's gathering of the U.S. Conference of Catholic Bishops will ponder, among other matters, the weighty matter of often empty pews on weekends, partly a consequence of religiously unaffiliated "nones."
In light of Pew Research Center findings that the percentage of nones jumped from 17 to 26 percent of Americans in the last decade, Los Angeles Auxiliary Bishop Robert Barron will make a presentation to his fellow prelates about the situation. Part of the problem is young people's corrosive disbelief in the goodness of their fellow humans and hence human institutions.
But beyond this general crisis of faith, the Catholic Church emits its own ethical stench to young people. Bishops hemorrhaged moral authority with their sinful mishandling of pedophiles. And the church's aversion to modern mores involving gender and sexuality — from denying leadership roles to women to the belief that the only good priest is a celibate priest — has 60 percent of American Catholics favoring change on those matters. No wonder switching to other denominations or to the nones afflicts U.S. Catholicism more than any other religion.
Against this reality, the headlines coming from Rome are all about band-aids like married priests in the jungle.
I'm referring to last month's recommendation by Amazon-nation bishops that Pope Francis counter a priest shortage there by allowing married deacons to become priests. (Deacons are ordained ministers who aren't authorized to celebrate the Mass, as priests are.) A thumbs-up from Francis would be, NPR reported, "a fundamental shift in what it has meant to be a Roman Catholic priest for nearly a millennium."

Well, yes, but ... The plan, affecting only the Amazon region and only already married deacons, is not the stuff that would make skeptics of the church's sexuality views rejoice about a major doctrinal overhaul. Instead, in an op-ed, one historian summed up the response to the Amazon shortage as "do anything other than ordaining women as priests."
"To be sure, there are good doctrinal reasons for this, if one wants to find them," Sara McDougall of John Jay College and CUNY continued in her column. "According to the laws of the Catholic Church, known as canon law, that priests might marry or not is man-made law, therefore mutable, while the exclusion of women is divinely ordained," due to Jesus making only men his Twelve Apostles.
But McDougall cites scholarly research that women may have been ministers in Catholicism's infancy to a degree church leaders don't understand. (The bishops who crafted the Amazon proposal couldn't even bring themselves to support ordaining women deacons, calling tepidly instead for debate on that issue.) As for the Twelve Apostles' precedent, the trenchant Catholic critic James Carroll wryly notes, "No Celts were among Jesus's Apostles, but the Irish can be ordained."
Allowing female ordination would be a boon for gender equity. It's the best strategy against priestly pedophilia. And it might induce some nones to give the church a second look.

Catholic traditionalists who are also optimists cite evidence that nones mainly hail from the ranks of those who were weak churchgoers anyway. More robust affiliates of organized Christianity continue in their faith. Silver-lining seekers also note that churchgoing rebounded among baby boomers, who'd dropped out denominationally, only to return when they had kids and wanted insulation against society's amoral influences, from consumerism to porn. Perhaps millennials, the least churched of our age brackets, will make a similar beeline to houses of worship once they produce bundles of joy en masse.
That approach risks the Catholic future health on some sizeable "ifs." And even if the optimists are right, the church's treatment of women hardly fulfills the gospel call to make disciples of all nations.
Look, I'm unimpressed by dreamers who demand revolution, either in church or state, heedless of the value of incremental change in testing new approaches. But after a millennium of a celibate, all-male clergy, and an Amazon proposal that rates not even as a half-loaf compromise but as a mere bread slice, the church isn't practicing incrementalism. It's paralysis.