Planting A Trillion Trees Is A Worthwhile Undertaking. And Not Remotely Enough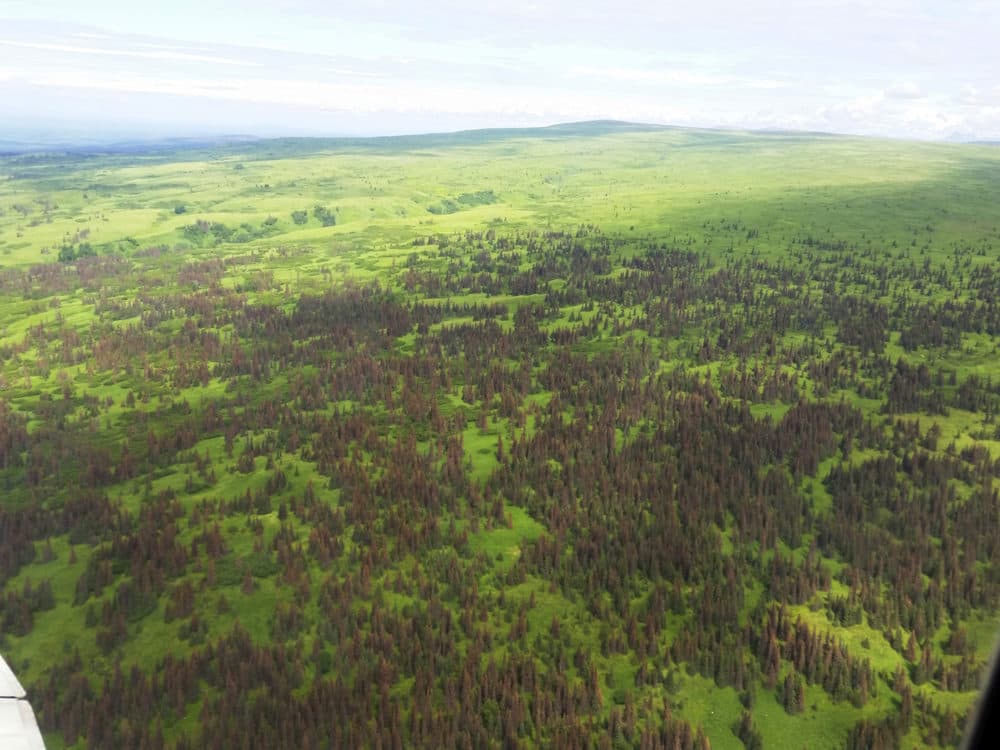 This article is more than 2 years old.
When a bathtub is overflowing, common sense says to turn off the faucet before mopping up the floor.
A Republican plan to address climate change would contravene that logic by prioritizing the drawdown of carbon already present in the atmosphere over curbing greenhouse gas emissions from the ongoing use of fossil fuels.
The Trillion Trees Act is the brainchild of Congressman Bruce Westerman of Arkansas, a graduate of Yale's forestry school and a licensed forester. His bill would establish a national goal for planting trees — not literally a trillion, but 100 billion over 30 years — for the purpose of capturing and sequestering atmospheric carbon, a primary driver of global warming.
Westerman's push is tied to the Trillion Tree Initiative, a program of the World Economic Forum. At the forum's annual meeting in Davos last month, President Trump — without using the words "climate" or "carbon" — announced that the U.S. would back the program.
Planting trees to capture carbon is not a new idea. It was an important component of the 1992 Kyoto Protocol and the Paris Agreement of 2015. A United Nations program, begun in 2008, focuses on land-use reform and preventing deforestation. Many nations around the world — Germany, Canada, Kenya and Pakistan are examples — have launched ambitious tree-planting projects over the past decade. Last August, volunteers in India planted 220 million trees in a single day.

The recent groundswell of enthusiasm for tree planting is due in part to the work of Thomas Crowther, a Swiss ecologist whose lab in 2019 published a paper on the potential of global reforestation to sequester carbon.
According to Crowther's research, there is enough land to plant 1.2 trillion trees in addition to the 3 trillion currently on the planet, without encroaching on agricultural areas or cities. As the trees mature, the increase in biomass would substantially diminish carbon dioxide levels in the atmosphere.
It is a seductive vision: vast armies of trees, each of them a stalwart soldier standing tall, dedicated to its sole task of ingesting carbon to be locked away for a century in roots and wood.
But Crowther's calculations immediately drew criticism from climate scientists who pointed out that his team made some questionable assumptions and grossly overestimated the amount of additional carbon that new forests could store.
In the cafeteria of climate change solutions, the Republicans are shunning the vegetables and heading straight to the dessert table.
The details aside, there are problems inherent in relying on reforestation to combat climate change. Planting a tree is a wager that nature will enable it to flourish. If the ecosystem of a planted forest collapses for any reason, it quickly becomes a carbon source rather than a carbon sink. And, perversely, climate change is making it more difficult for forests to thrive.
For example, the warming climate is causing devastating outbreaks of bark beetles in vulnerable areas, and it has enabled the mountain pine beetle to expand its range northward into Canada.
Drought due to climate change is a more dangerous hazard because forests that don't get ample rainfall are susceptible to fire. The bush fires in Australia this year released hundreds of millions of tons of carbon dioxide into the atmosphere.
Nevertheless, a responsible and comprehensive approach to atmospheric carbon reduction should certainly include aggressive reforestation. The Trillion Tree Initiative is a valuable and worthwhile undertaking.
And preventing further loss of existing forests must go hand in glove with reforestation efforts. The destruction of tropical forests in the Brazilian Amazon, for example, is an egregious abuse of critical ecosystems by logging and agricultural interests. A recent United Nations study says the planet lost 64 million acres of forest in 2018, which is an area larger than the state of Oregon.

But what all climate organizations agree on is that a strategy limited to carbon capture and sequestration, either by reforestation or technological means, is not credible. Climate models consistently demonstrate that a drastic reduction of greenhouse gas emissions from burning fossil fuels is an essential requirement of any effective plan to keep climate change in check. There is nothing in the climate proposals Republicans have floated so far that would directly discourage the production and use of fossil fuels.
Unlike policy proposals that Democrats have put forth, the GOP plans do not set emission reduction targets nor even promote conservative market-based measures, such as a revenue-neutral carbon tax. They assiduously eschew policies that would threaten the core business model of the fossil fuel giants.
In the cafeteria of climate change solutions, the Republicans are shunning the vegetables and heading straight to the dessert table. As Greta Thunberg said at Davos, "Planting trees is good of course, but it is nowhere near enough of what is needed, and it cannot replace real mitigation and rewilding nature."
The Republican plan is unserious, a sop, a box to check. Planting a trillion trees while simultaneously bolstering the fossil fuel industry and eviscerating protections for wildlife and public lands is a political fig leaf over the naked cynicism of the party that still isn't taking the climate crisis seriously.