I Voted In The N.H. Primary. Forget Excitement, 'I Just Want To Stop Being Nauseated'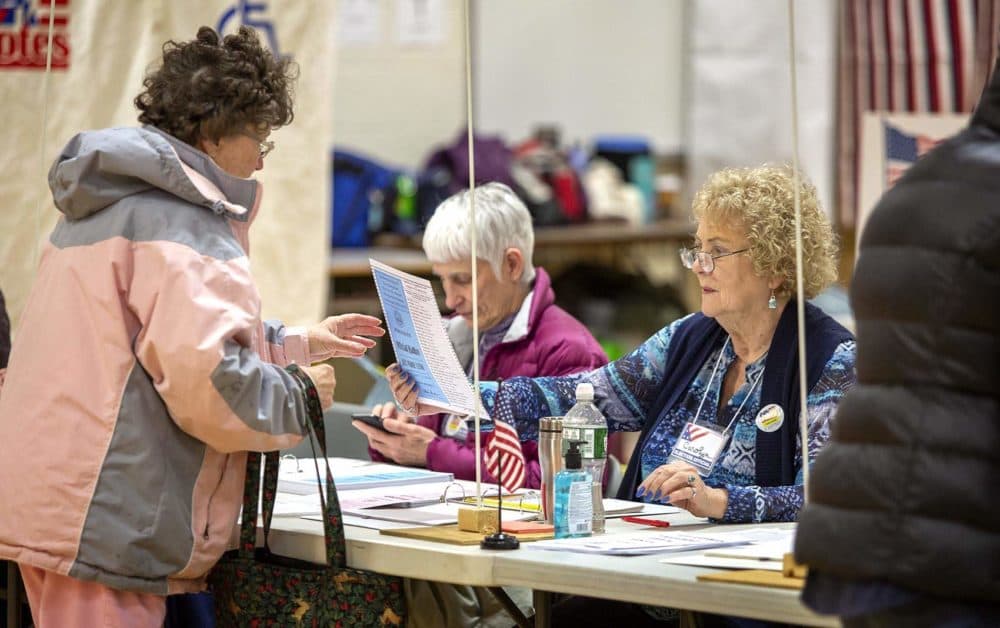 Getting to the polling station this morning -- also known as the school gym, home of everything from the middle school musical to town meeting in Lyme, New Hampshire (pop. 1,674) — required navigating around an enormous puddle.
"Climate change," said the Warren supporter, smiling, as he nodded at the puddle. He had a chair, which was being used by the person holding the Klobuchar signs. She was talking weather with the Mayor Pete campaigner. It's not a bad day to be out there: 34 degrees, snowing a little.
I punched a friend in the arm on the way into the building, then got my instructions along with a young man in a Trails Association jacket. IDs out! Walk forward and announce your name clearly!
In front of us, at the table, people were laughing. One called out loudly. "Patty — Patty, do you know this guy? I know him but it doesn't count."
Everyone turned to look. Everyone knew the guy. Patty, the town clerk, was seated at the far table with the ballot box. She stood up.
Yesterday, in the car, my 13-year-old and I talked over my voting options. I told him all the things I was weighing in my mind
"I hope she knows you," someone said to the voter without his identification.
"Oh, she knows me," he said cheerfully.  Everyone knew him. "Need your glasses, Patty?"
"No, I got it," she said, and hollered the voter's name across the gym.
In New Hampshire, some very specific election officials can personally identify you in place of presenting a photo ID. In our town, at this moment, that's Patty.
He took his ballot and sauntered off to a curtained table. My turn. I stepped up to the table, where Kris, who I've known for almost 20 years, grinned. "Please state your name clearly," she said, in the voice of someone who would be repeating that phrase all day long to people whose names she had written on holiday cards last month. I did. I've already made all the jokes in past elections, so I didn't bother, just waved.
There are 33 names on the Democratic ballot and 17 on the Republican one. I am undeclared, so I get to pick which one I want. In 2016 I voted in the Republican primary. I did not vote for the current incumbent, although I told at least one pollster of the many who called us in the days leading up to the election that I planned to, because at the time it seemed funny.
Sorry about that.
This time, I take the Democratic ballot and duck under my own curtain.
Yesterday, in the car, my 13-year-old and I talked over my voting options. I told him all the things I was weighing in my mind. Whose policies did I like, sure. But who could win a general election? What would the New Hampshire results mean to the primary as a whole, when one candidate (Bloomberg) isn't even on the ballot? The whole process frustrated him.
"Why do we even do it this way? Why not just have whoever wins the most votes win?"
"Because then no one would care about New Hampshire voters at all," I said. "Candidates wouldn't bother to go anywhere except big cities. Which might be fine, but that's why. People thought it would be more representative."
"Well, it's dumb."
"I've given up being excited," I answered. "I just want to stop being nauseated."
I was undecided until yesterday. Over the weekend, one of my closest friends started talking up a particular candidate (the outdated verb "buttonhole" best describes his persuasive tactics). Another, more distant friend sent an email explaining her support for the same person. And this morning, while he shaved, my husband and I agreed (and we often don't). We had a candidate. For now.
So filling in the ballot was easy. One careful penciled-in circle. I left my curtained triangle of table and approached Patty. "State your name clearly, please," she said. I did, and she checked me off, then pointed me to one of the two big wooden boxes. "Drop it right in there."
Tonight, after the 8th grade provides dinner for the ballot counters, we will get an email telling us how many of us were registered to vote, how many voted, and what the final tallies were. The papers will be tucked away in case of a challenge, the sign holders will go home. The candidates have already moved on.
I dropped my ballot in as instructed, took my "I voted" sticker for the requisite Instagram selfie, then, at one final table, changed my voter registration back to "undeclared." All ready for 2024.
I came out to a text from a friend.
"I don't know who to vote for."
I offered my choice, gave my reasons. If a text could sigh, hers did.
"I just want to be excited about someone who can win," she wrote.
"I've given up being excited," I answered. "I just want to stop being nauseated."
Three dots, then her answer: "I'd settle for that, too."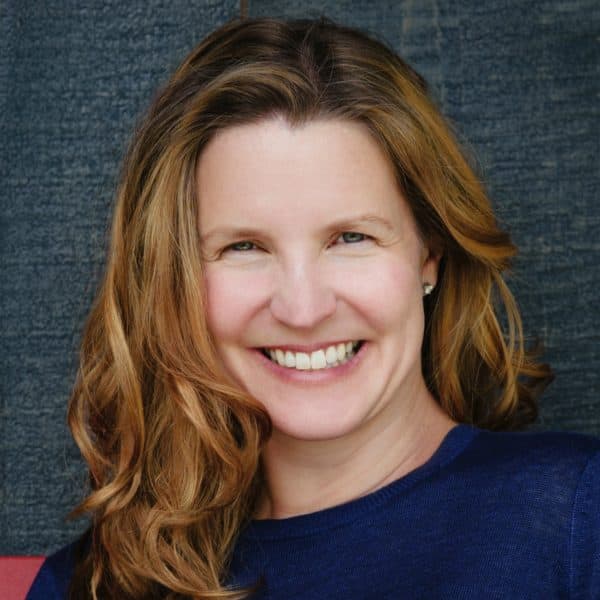 KJ Dell'Antonia Cognoscenti contributor
KJ Dell'Antonia is the author of "How to Be a Happier Parent (Raising a Family, Having a Life and Loving (Almost) Every Minute," the former editor of the New York Times' Motherlode blog and the co-host of the #AmWriting podcast.