You Can't Con Your Way Through A Pandemic
As I write this, the novel respiratory illness known as coronavirus has infected at least 114,000 people in 95 countries, and killed more than 4,000 of them. The number of cases in the United States is 670 and is sure to increase as tests become more available. Many leading health experts fear the disease will become a full-blown pandemic.
Of course, there is one global health expert who isn't worried about Americans at all. His name is Donald Trump, and despite having no medical training, he has offered a dizzying array of lies intended to downplay the threat.
If you want to hear some of those falsehoods, you can listen to this NPR report, or read this from CNN, or you can peruse his unhinged tweets.
But I don't recommend you do that.
What Americans need in a time of crisis is clear and accurate information. So if you want to know what coronavirus is, read this. And if you want to know how to protect yourself and your family, check out websites like this and this.
Americans are now seeing, in real-time, what happens when their leader treats a medical emergency as a media event.
I'm emphasizing this because the coronavirus isn't some political dispute that the president can spin. It's a deadly illness, one the president himself may have been exposed to over the past 24 hours.
That would come as a rather grim bit of karma, given that Trump has so blatantly sabotaged America's response to coronavirus. Not only did his regime dismantle the team assembled by the Obama administration expressly to handle global health crises, but his daily barrage of baloney has contradicted the scientists and health care professionals who are desperate to keep the epidemic from getting worse.
Americans are now seeing, in real-time, what happens when their leader treats a medical emergency as a media event.
On Monday afternoon, a Fox News story that parroted his mischaracterization of the outbreak, was the leading coronavirus story on Facebook. (I won't link to it here, but it's another example of the toxic influence of Facebook in our public discourse and now our public health.)
With Trump, as always, it's all out in the open: the mind-boggling insecurity, the transparency of his motives, the tiresome toggling between grandiosity and self-pity. Nowhere is there any sense that Trump cares about the actual human beings, American or otherwise, who might get sick and die from the disease, COVID-19, caused by this virus.
Oh, he's happy to pay a brief visit to the CDC, so long as there are cameras around to capture his ignorant bragging. But then it's off to play golf for the weekend.
While regular Americans face the possibility of quarantines, Trump refuses to cancel his rallies or fundraisers. Why should he? All he's ever cared about as president is making money and clinging to power. The governing part? That's for suckers.
In fact, the president made this crystal clear the other day. He told reporters that he wanted the dozens of sick Americans trapped on a cruise ship off the coast of California to be quarantined there, rather than coming ashore to seek medical treatment.
Why did Dr. Trump commend this course of action? "I would rather — because I like the numbers being where they are. I don't need to have the numbers double because of one ship. That wasn't our fault, and it wasn't the fault of the people on the ship, either."
Translation: I'm okay with a bunch of my constituents getting sick and possibly dying so long as the stock market, and my poll numbers, don't take a hit.
Of course, what Americans have also learned over the past month is that the folks who make their living buying and selling stocks can't abide uncertainty. Had Trump been able to tell the truth about the virus, and warn Americans of the rough days ahead, or had he simply kept his mouth shut and let the experts do the talking, the whizzes on Wall Street might have kept panic at bay.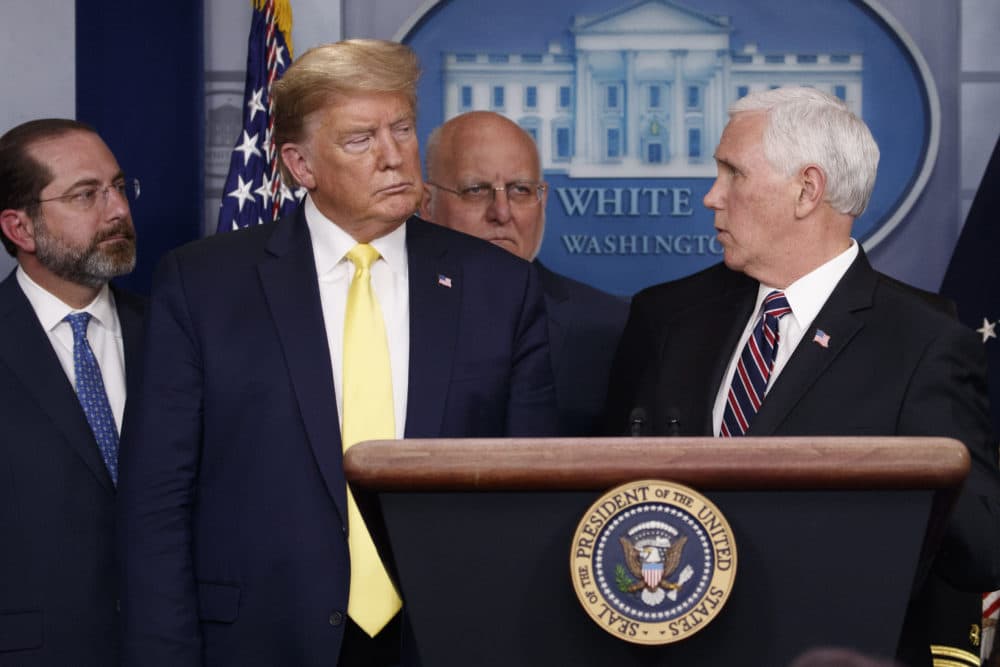 But our president is incapable of planning for the future, let alone learning from the past. He lives in the perpetual now of ego need, denying or decrying anyone who threatens to expose just how stupid and selfish he is.
Trump's dilemma is, in this sense, quite simple: he's not up against a political rival he can smear, or a vulnerable population he can scapegoat, or an issue he can demagogue. He's facing a disease that is as dangerous and virulent and indiscriminate as he is.
The American people will survive this outbreak, if we can remain calm, listen to the medical experts, and ignore the president's noxious propaganda. We may, by the same process, cure ourselves of Trump.