Why We Should Tell Ourselves Stories Of Survival And Resilience
Editor's note: What follows is something a little different for our page. Instead of the commentary you normally read here, this piece includes a short meditation exercise. The author highlights her grandmother Clara, and her remarkable story, as a beacon in difficult times. We hope readers will share stories (and pictures) of people in their lives who remind us of our ability to be resilient. Find Cognoscenti on Twitter and Facebook, and please tag @cogwbur in your posts. Your editors could use some inspiration, too. 
--
We keep hearing the words "wartime mentality." They signal the gravity of this pandemic, and that our actions carry life and death consequences.
We know we need grit and strength in this moment, but very few of us have lived through anything comparable. So how do we show up to this "war" against the coronavirus, without letting feelings of anxiety and fear become debilitating?
I'm offering up something a little different: it's a meditation experience, especially for anyone feeling anxious and panicked. I hope this might help you to tap into your own resilience, and to feel more grounded and centered.
It'll only take a few minutes. Ready?
Breathe in deeply. For five seconds. Then breathe out for five seconds. Do it again and again, until you are feeling fairly calm and clear.
With this kind of deep breathing, you are eliciting something called the "relaxation response"  in your parasympathetic nervous system, which can counteract the effects of stress. The relaxation response is the opposite of the "fight or flight" response, triggered in times of acute crisis and evolved to keep us from harm.
When the stress hormones of the "fight or flight" response are elicited too often — like in times of war, and, for many, right now — it can contribute to anxiety, panic and stress-related medical conditions, and be quite harmful.
So, breathe deeply and you should start to feel more relaxed.
Now, as we enter an unimaginable time of difficulty and sorrow, I think of Clara and the fear and uncertainty that she faced.
Now, picture someone in your life who has lived through war. Who comes to mind? Maybe it's a grandparent or great-grandparent. Do you have a family photo of the person? Take a look at it, or picture it. Where is he or she? What is she doing? What is she wearing? What do you know about her experience?
My grandmother, Clara, comes to my mind. She was 4'8" and fierce. She was 18-years-old when she immigrated to the United States with her family from Eastern Europe around 1920. She left behind the young man she loved, an orphaned teenager from the same village who couldn't afford the trip to America.
Clara worked as a seamstress in a factory in New York City and saved up enough money to bring her love over to the States.
Alone, she boarded a ship, and made the long journey back to Poland, first by sea, then land and then by horse and buggy. It was a harsh journey that, at the time, women didn't normally undertake by themselves.
She made it to her village, found her love — the man who would become my grandfather — and brought him back to New York.
They got married and lived a hard life in the tenements of Manhattan's Lower East Side. They had two children, including my father. She held her own family together through many tough challenges.
I remember Clara as a warm and lovely elderly woman, tiny, with thick glasses and grey curly hair, disembarking from the train ferrying the homemade cookies she took to visit us in Florida, where I grew up.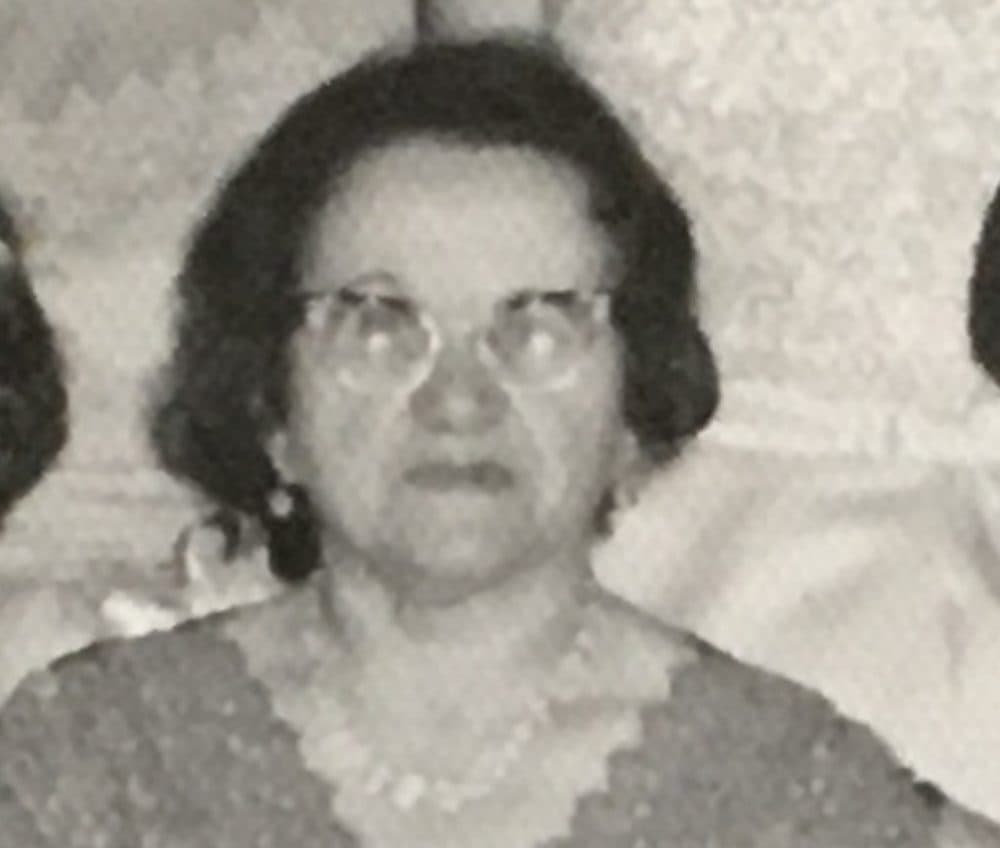 I named my own daughter after Clara. My children know her story, and I retold it to them last week, with more emphasis on her strength. I've removed photos of her from my albums, to display in my home this week so she is ever-present.
Now, as we enter an unimaginable time of difficulty and sorrow, I think of Clara and the fear and uncertainty that she faced. Clara's story soothes and reassures me. It tells me that I can survive.
Do you have someone like Clara in your life or have you heard a similarly inspiring story? Whom do you think of? How did this person persevere through hardship and uncertainty?
As you breathe, think of their story.
Imagine what this person would say to you right now. She might be telling you to take heart. You're not alone. If she made it through such hardship, so can you. She might say to stay strong and take care of yourself, and your family, and serve your community in whatever way you can.
When you wake up in the morning, try to find a few quiet minutes before you check your flooded inbox or the news to breathe deeply. Try to connect with the person who represents resilience for you. Her story might help to guide your actions. It might help you to get through the day.
We have the power within us to take care of, and even to heal ourselves. At a time when so much about life as we know it is threatened, having this kind of inner connection can make all the difference.