I Served In New York City As An Army Reserve Doctor. Here's What I Saw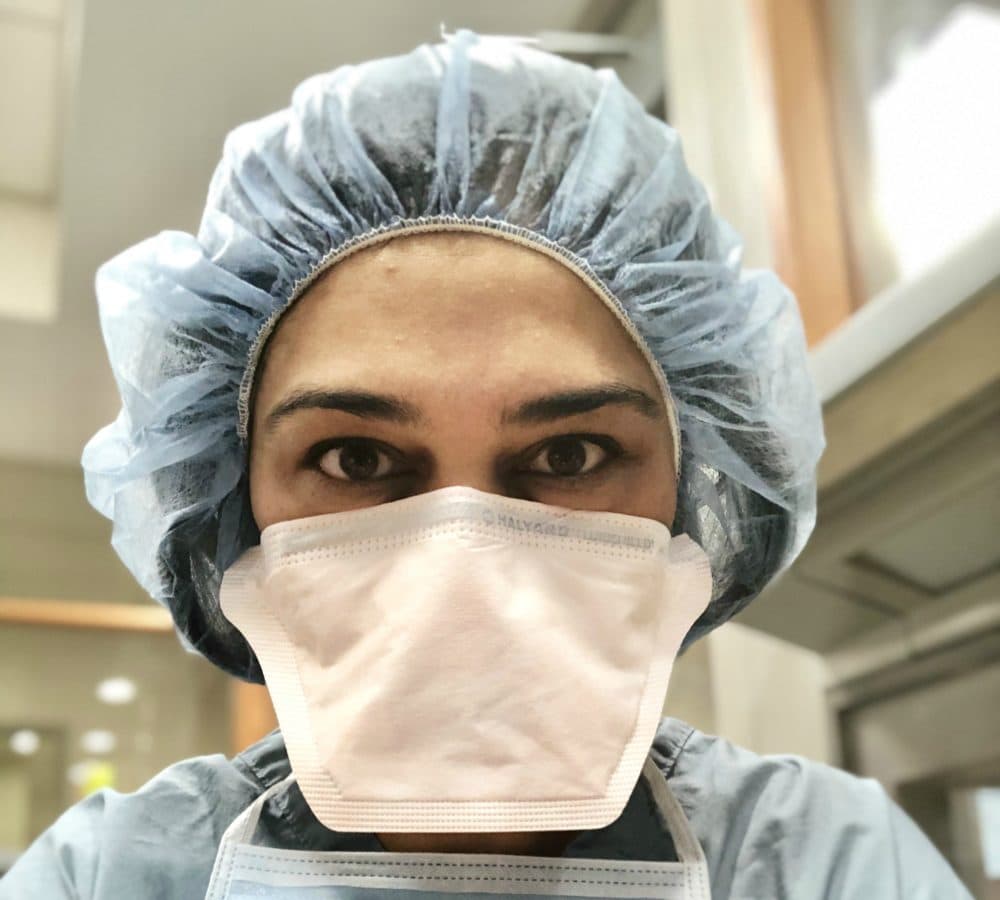 This article is more than 2 years old.
Lately I've found myself giving people directions to the hospital morgue.
It's not what I expected to do as a physician. I'm a highly trained Boston-area psychiatrist, recently called to active duty by the Army Reserves, to fight the COVID-19 pandemic in New York. But in my new role — as an emergency room psychiatrist at a hospital in Queens — I get stopped in the hallways and asked, "which way?"
To show them the way is a little thing. And growing up, my mother often told me that the little things we do are important. You can never anticipate the difference something small might make. Now that my days are stripped of the carefully constructed clinical protocols that have guided years of my professional experience, her advice seems more relevant than ever.
As a psychiatrist here, I feel like a soldier in the trenches, part of something too big to comprehend, even as this first acute phase of carnage wanes. I understand only fragments of what swirls around me.
When I arrived in New York in early April, I reported to the Javits Center. The massive convention center was converted to a temporary overflow hospital to treat some of the thousands of patients overwhelming New York City's hospital system. There, I met a young woman. She was desperate to find her grandfather — her family had heard nothing, since he'd been admitted five days earlier.

Colleagues helped me find the man, and we were able to contact the family to tell them he was stable and no longer in critical condition. They sent back a message, through Twitter, full of relief and gratitude. It was a little thing; one snapshot, from a sea of desperate relatives, cut off from loved ones.
Hospitals throughout the city have fallen far behind in getting back to families. Dr. Merle Miller knows. As a psychologist also volunteering at a Queens hospital, much of his job is to call the families of those who've died there — to offer support.
"You would think that one of the biggest things family members regret, is that they couldn't say goodbye," he says. "But that isn't it. It's the haunting feeling that their father, or mother, sibling or spouse died alone. The guilt that in their final moments they had abandoned the ones they love."
I don't know how much my knowledge and training helped me when I was holding an older patient's hand as he struggled to breathe.
For many, the call of a loved one's death is the first communication from the hospital of any kind. Emergency room doctors rush to intubate a patient, gasping for breath, who had been sitting up and talking minutes earlier. Such is COVID-19.
The first thing that struck me when I stepped into the hospital in Queens was the smell that hung in the air, in these seemingly sterile hospital corridors. It was death and disease. It permeated the spirit of the healthcare workers who walked by me, looking stricken and many times, defeated.
The neighborhood in Queens where I'm working, is a melting pot of new Americans. The block across from the hospital has only a solitary deli open now, but even its menu offers Jamaican, Korean, Chinese and South Asian items that reflect the community's diversity. Close-knit, multigenerational families live in close quarters here. And many are dying.

As a psychiatrist here to help, I have to muffle my own sense of helplessness and fear.
Nearly half the patients I'm assigned to care for have tested positive for COVID-19. Some have serious mental health issues, largely untreated since the pandemic began. Others have lost family members to the disease and are now sick themselves. Suicides are on the rise in this neighborhood, as people struggle with grief and loss.
One young adult patient I was treating lost his father to the virus a few weeks ago. When I saw him, his mother had just been taken off the ventilator; there was no hope for her recovery. He had been working on finding his mom a safer place to live, but now she wouldn't be coming home. He looked so utterly lost. All he could say is that he wouldn't allow anyone to see him cry. I could do little but stand beside him, as he got the definitive word of his mother's death. He looked at me,  tears rolling down his cheeks.
As health care workers, we are part of this struggle, right beside our patients. We put on our overused masks and don our scarce personal protective equipment before walk into a patient's room, knowing that lives are at stake, including our own.
I don't know how much my knowledge and training helped me when I was holding an older patient's hand as he struggled to breathe. I remember feeling scared with him. But as the fear and panic slowly began to subside, he suddenly offered, "it really helps that you're here".
Maybe somewhere in the bigger picture, these small things will matter.
These observations are personal and do not reflect the mission or values of the U.S. Army or FEMA.