Classical Music Had A Race Problem 20 Years Ago. It Still Does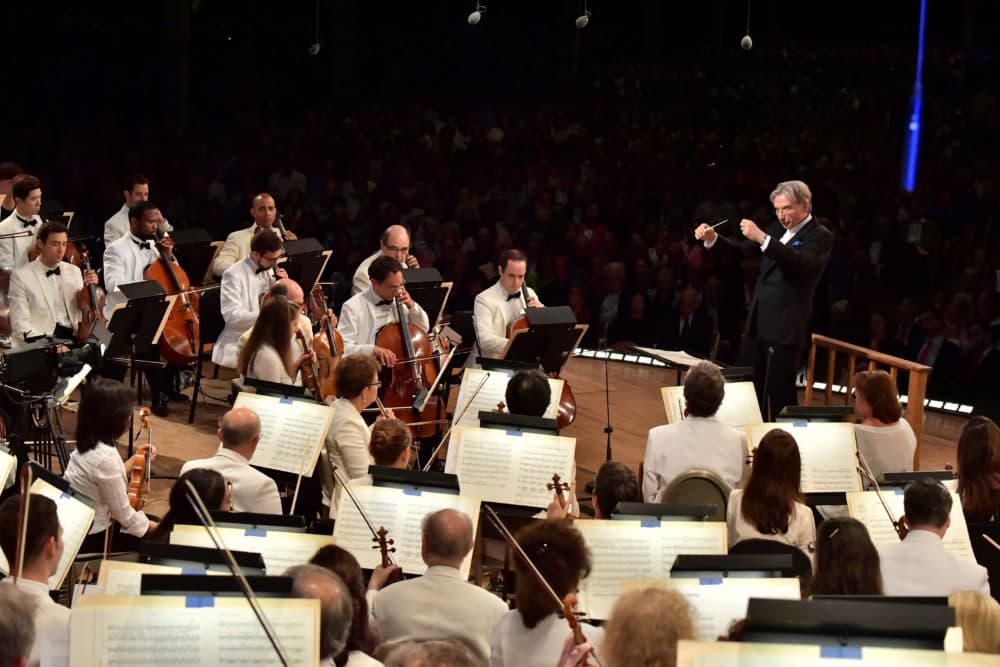 This article is more than 2 years old.
Twenty years ago, I got my first wake-up call to racism in my profession.
A Black piano student asked me, "Are there any Blacks in classical music?" As a white concert pianist and teacher, I remember my shock, thinking, she's an incredibly bright student headed for Princeton. How is this even a question?
"Jessye Norman is the most well-known soprano in the world," I told her, "following the inspiration of Marian Anderson, the first Black singer to appear at the Metropolitan Opera. Bobby McFerrin is the son of the first Black baritone to sing at the Met."
"I've heard of him," my student said. "'Don't Worry, Be Happy,' right?"
"He's best known for that," I said, "but he regularly wows the classical music world with his a cappella vocal renditions of Bach and Mozart."
She looked at me blankly. I was determined to open her eyes. But looking back, I realize she had opened mine. I'd never considered how white my own profession was. But now I see how the white supremacist history of our country led to her question, and my shock at being asked.
Months after that conversation with my student, I organized a concert and symposium at the Longy School of Music. We called it "Concerts in Black and White," and featured works by two well-known Black composers — William Grant Still ("Enanga" for harp, strings, and piano), and George Walker (Sonata for cello and piano) — along with music by two white composers, Antonin Dvorak and Aaron Copland.
I invited five Black colleagues who were prominent local classical musicians to participate. Two were players from the Boston Symphony Orchestra. One was an internationally recognized baritone I knew at Longy. Another was one of my former piano teachers, who had later become Dean of the Peabody Conservatory of Music. I also invited a long-time friend, a Julliard-trained concert pianist.
Just before the concert, my former piano teacher moderated the symposium. She asked each musician to describe any racism they'd experienced in classical music. It was painful for me to hear that my friend, now a cellist in the BSO, had been asked by the three white musicians in his string quartet while a student at Yale, whether he knew how to read music.
I was shocked to learn that my successful concert pianist friend, who was also an accomplished flutist, when entering a predominantly white high school as a teenager, was told not to even try out for the symphonic band. She tried out anyway, unseated the principal flutist, then was cornered by that flutist's father with the n-word.
It was devastating to hear that the principal harpist of the BSO, when starting the harp at age 14, was taunted by schoolmates with, "You can't do that — only angels play the harp, and whoever heard of a Black angel?"
It was equally distressing to learn that my friend, a baritone singing operatic roles the world over, was initially only offered the roles of Porgy in Gershwin's opera, or Otello in Verdi's.
In all major American orchestras, only 1.8% of the musicians are Black, a statistic that doesn't touch the field of talent that's available
Although I'd organized this event for the benefit of my student, I was the one who was learning something. And it shook me up. I was surprised that, in all our years of friendship, none had confided in me the racial barriers they'd had to face. I wondered why.
One possible answer came from my former piano teacher, who at the time was the dean emeritus of the Peabody Conservatory. She'd delivered the keynote speech to an annual meeting of college music educators that included a call for greater sensitivity to the dynamics that Black classical musicians face. She said one typical response among the community was that "one learns not to be a 'target' or draw attention to oneself." I wondered if this was why none of my friends had spoken about racism to me — no one wanted to stick out.
As I began facing my own lack of racial sensitivity, I woke up from my naïve assumptions about racial equality in classical music. Clearly, I'd had no idea of the realities Black classical musicians faced daily. I had no idea how the foot felt in that shoe.
What would I say now to a student who asked me whether there are any Black musicians in classical music? I'd say, yes, there are, but they've had to face barriers white musicians never have to face.

In my own case, coming from a family of little means that wasn't versed in classical music, I worked summers waitressing while wealthier friends went to music camps. I had to make my own way. I practiced hard — hours a day for many years — to get to perform as a piano soloist in Boston's Symphony Hall in my 20s. But even with my class difference, and fewer advantages going in, I never found myself to be a racial minority in a concert hall, never experienced the daily discomfort of being viewed as "other" because of my skin color.
These days, when I'm walking by Symphony Hall, and see the poster-sized face of my friend, now the only Black musician in the BSO, I wonder what orchestras are actually doing to include more Black musicians and administrators. Twenty years ago, there were two superb Black musicians in that orchestra. Now there is only one.
In all major American orchestras, only 1.8% of the musicians are Black, a statistic that doesn't touch the field of talent that's available, as there's a much higher percentage of Black classical musicians graduating from top conservatories. And those are the ones who found a way to get there, despite racial and economic obstacles, possibly because music was offered in public schools. That opportunity, too, is diminishing.
Author and activist James Baldwin wrote, "Nothing can be changed until it's faced." After watching George Floyd get killed under the knee of a white police officer, we can't look away at this point. But we must look at how entrenched white supremacy is in all our institutions, and demand change. And change might begin with asking hard questions, then paying attention to the answers.