Shutting Down Parks Won't Stop The Rise In Mass. COVID-19 Cases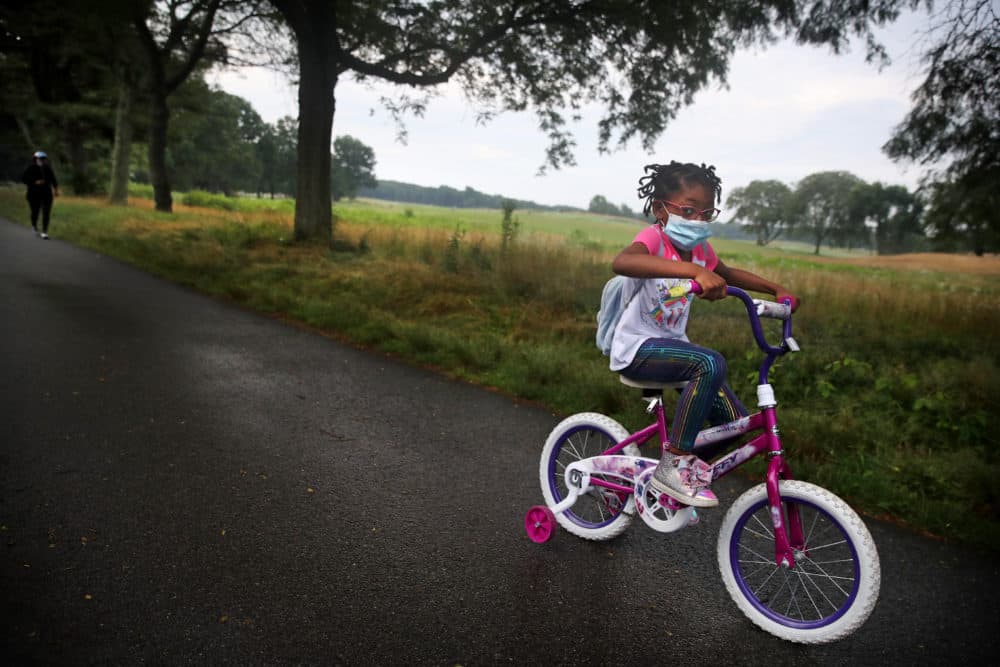 The park. Otherwise known as that grassy, wild-flowering plot of public land where all are welcome for a run, a picnic or to simply take a meditative stroll. The coronavirus pandemic has underscored the important role that parks play in American life, especially in cities. As VICE's Alex Zaragoza reported recently, Americans are now living much of their new, socially distant lives in parks. Everyone from hairdressers to pole dancing teachers is taking their game outdoors. And Boston is no exception. A walk around Jamaica Pond just the other afternoon featured sightings of families building with Legos, teens doing burpees and an outspoken young man Zoom--ing from a bench. I could hear him talking about wheat prices.
This strange pandemic summer follows a nightmarish spring spent indoors, as more than 8,500 people in Massachusetts died from COVID-19. But the thrill of getting to stay outside past sundown has been undermined by a steady creep of coronavirus cases that Massachusetts has seen since the state began to reopen. By late July, the troubling virus numbers were hard to ignore.
The consensus among several public health experts was that Gov. Charlie Baker ought to roll back the reopening: particularly the provision that allowed indoor dining to resume, since this activity has been recognized as one of the riskier things one can do right now. (The virus likes indoor environments and dining involves mask removal.) But last week, Baker unveiled another plan of his own making. Rather than restrict access to indoor environments, the state plans to enforce social distancing in outdoor settings: including our parks and green spaces.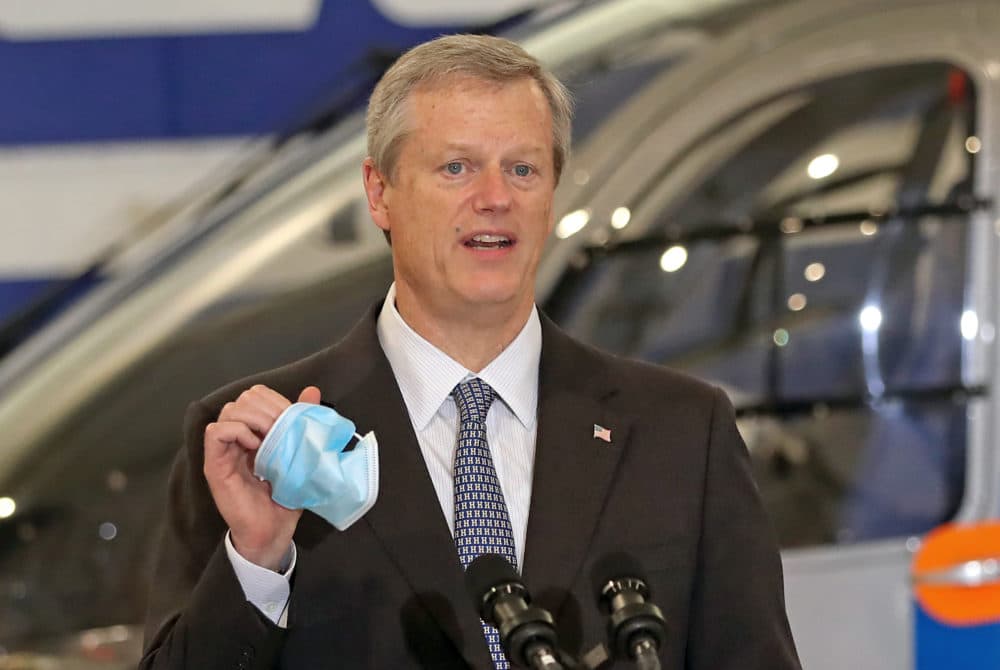 At his press conference, Baker announced that the state will create a new task force to enforce social distancing restrictions in public spaces where people recreate and gather. The state may choose to shut down recreational areas like parks in communities experiencing outbreaks of COVID-19. The message wasn't subtle: Obey the rules, or we'll take away your green spaces.
Considering the fact that parks and outdoor recreation zones are considered pretty low risk, if people keep appropriate physical distance, Baker's proposed crackdown seems like a reaction to all those viral photos of crowded beaches that scared the bejesus out of us, before we knew more about where and how the coronavirus actually transmits. Still, pandemic-induced agoraphobia abounds, and for Massachusetts residents lucky enough to have big yards or estates, Baker's new plan might sound harsh but necessary.
But let's think very specifically about where the new task force might impose park closures. If COVID-19 outbreaks are a deciding metric for whether a municipality loses access to its recreation spaces, then we all know which communities Baker's plan is going to hit the hardest. It'll be the working class communities where most residents are people of color, sharing tight living quarters, working jobs in service sectors where virus exposure is a risk, and frequenting parks that make up a small fraction of the vast green spaces that residents of Weston or Lincoln enjoy.
Threatening to close parks is performative leadership for the most well-off.
It's important to understand that access to green spaces is an age-old issue of structural racism and inequality, and it's gotten worse in recent decades. A recent study by the University of British Columbia found that in 10 of the largest U.S. metro areas, the average person's access to green space is directly proportional to their economic status and racial identity. But you don't have to steep yourself in studies to see this in play. Go for a walk around Boston and you'll see this disparity manifest. The Emerald Necklace, which snakes south from Boston Common through affluent neighborhoods like Back Bay and Brookline, will eventually leave you at Franklin Park. But head east from Franklin into Dorchester and quite suddenly, the greens fade to asphalt grey. You realize how far some of us have to walk, just to chill on a park bench under a big old oak tree.
The COVID-19 crisis and the case for spending more time outdoors has highlighted this disparity and prompted cities to adopt new ideas for creating more recreation space, such as closing certain streets to cars and creating "smart streets" where people can roam. We tried this in Boston and theoretically, we'd be planning more street closures as fall approaches and the looming risks of time spent indoors become more profound. And yet, at this critical juncture, Baker has decided that parks are part of the problem — it's a misjudgment that lacks empathy for the disadvantaged and scientific credibility. Threatening to close parks is performative leadership for the most well-off.
The more I think about Baker's decision, the more it starts to feel like punishment of those who lack the resources and occupational protections of wealthier communities. We don't know exactly where all these new COVID-19 cases are coming from, partly because Baker has been cagey about releasing case metrics that might highlight exactly where transmission is ramping up. (A recent request from the Boston Globe for data on coronavirus infections in childcare centers was shot down by the administration.)
Baker's frustration is palpable, and one would hope that after seeing cities like Chelsea get pummeled by the pandemic this spring, his strategy for the fall would account for structural racism and wealth inequality. (You know, those things people have been protesting for the majority of the summer.) But by aiming punitive measures at the high-risk communities of Massachusetts, he is symbolically blaming the most vulnerable for the spread of COVID-19, while allowing the well-off to continue engaging in dodgy activities like eating indoors at restaurants: activities that often put workers from high-risk communities in danger.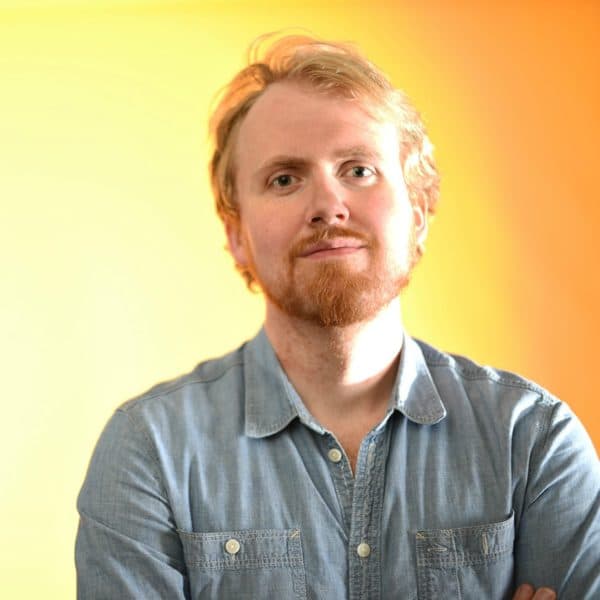 Miles Howard Cognoscenti contributor
Miles Howard is a freelance writer who covers culture, travel and transformational politics.