1 In 3 Restaurants May Not Survive The Pandemic. Here's How We Keep Them Open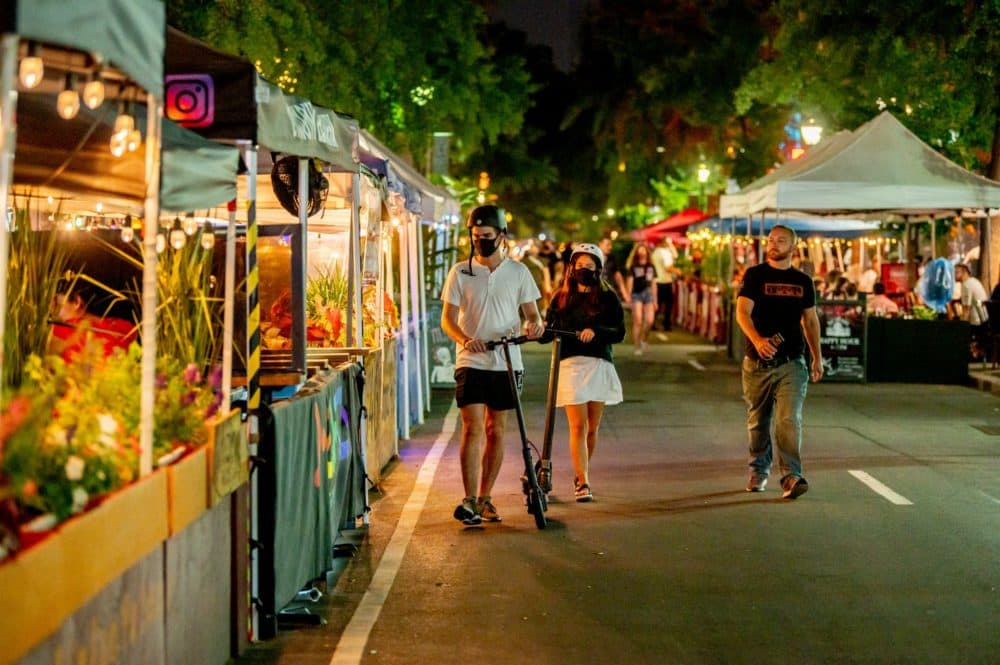 This article is more than 2 years old.
At the northern edge of the White Mountains, where the hiker hordes meet the ATV caravans, there's a cozy two-in-one restaurant called Libby's Bistro-SAaLT Pub that turns out some of the best East Asian and Middle Eastern-inspired food in New England. (Co-founder and chef Liz Jackson trained with Julia Child.)
I went there, twice, on an otherwise cheapo camping trip recently. The new socially-distanced operation was outdoors, in a garden and an open-air tent festooned with twinkly lights. The beef bone broth pho was velvety heaven. The servers were gregarious and asked me questions like, "What's that book you're reading?"
I hadn't been to a restaurant for a sit-down meal since early March, when I flew to Kansas City to report a story for an airline magazine. That piece was part of a feature series on how indie restaurants have been instrumental to the resurgence of small and midsize American cities. Savoring the rice noodles and ambiance at Libby's-SAalt on a crisp September evening, I felt like I'd traveled back in time. Or rather, into the future, when the pandemic is more or less over. Masks and social distancing will linger beyond the arrival of a vaccine, but at least we'll have our favorite restaurants.
Then I thought to ask Steve Jackson — the host and co-founder — what would happen to the outdoor setup when winter begins. Short answer: TBD. While plans to heat the outdoor space are in the works, the severity of the New England winter means that the party will likely have to move indoors. The interior of Libby's-SAaLT is cozy during the best of times, and tight in a pandemic.
Glance anywhere across the American landscape and you'll see stories just like this playing out in real-time.
After the spring lockdowns forced restaurants and bars to suspend operations (with a pittance of economic aid from the government), this summer has been something of a recovery period for the industry. The use of "something" is important here, because outdoor dining and takeout haven't been enough to stop nearly 100,000 restaurants (including about 1 in 5 Mass. restaurants) from closing permanently. Nevertheless, most restaurants and bars have hung on and weathered the storm. But that could change once winter arrives.
A perverse hallmark of the pandemic experience in America is the way we've essentially been abandoned by our government -- left to help ourselves and each other get through this historic crisis.
As much as we might like to think that Americans are capable of being gritty and open-minded enough to enjoy a patio brunch amidst snow flurries, warmed by fire pits and heat lamps (some restaurants are even planning to build outdoor igloos for winter dining), I wonder if this thinking is actually helpful.
A perverse hallmark of the pandemic experience in America is the way we've essentially been abandoned by our government — left to help ourselves and each other get through this historic crisis. States were told to procure their own PPE. The one-time $1,200 stimulus checks and supplements to unemployment insurance haven't been replenished. Many of the PPP loans for businesses were gobbled up by corporate entities like Ruth's Chris Steak House. (The chain did later return its loan after a rule change.)
The economic tremors of the pandemic have plunged millions of American households (especially Black and Latino Americans) into a state of financial emergency. According to a report from the Center on Budget and Policy Priorities, an estimated 1 in 5 American renters had fallen behind on rent payments as of late July this year.
As indie restaurants and bars reopened — many of them struggling to pay rent themselves — people tried to save them, by way of takeout or dining.
Nearly one third of U.S. restaurants may not survive the pandemic. That would be a loss some communities might not recover from.
But there are two substantial problems with this approach. First, restaurants and bars have to operate at reduced capacity to comply with social distancing guidelines. Adding indoor dining, while allowed in Mass. and many other states, is still one of the dodgier things you can do during a pandemic. So, in the short term, bringing diners inside could help struggling restaurants. But all it takes is one superspreader event for a city or state to partially or fully shut down its restaurants and bars again.
And second, on a symbolic level, the notion that it's on "we, the people" to sustain restaurants and bars during this crisis lets people like Mitch McConnell off the hook for obstructing legislation like the HEROES Act, which would actually help small businesses.
Even as we begin the fall — when COVID-19 cases could potentially spike again — the Republican-led Senate is more concerned about filling Ruth Bader Ginsburg's Supreme Court seat than passing a much-needed new installment of pandemic aid.
This could be a death knell to the restaurants and bars that help sustain us through the best and worst of times. Nearly one-third of U.S. restaurants may not survive the pandemic. That would be a loss some communities might not recover from. Restaurants and bars can be economic tinder for places that have suffered from industrial decline. Providence, St. Louis and Cleveland are just a few of the cities where I've gotten to literally taste this.
But on a more personal scale, restaurants and bars can mean something special to each of us. I shiver sometimes when I walk by Trina's Starlite Lounge, the bar where I had a first date that led to three years of love, or the old facade of Emma's, the pizza joint where my family and I celebrated events like graduations, or healed from traumas like a close call with melanoma.
So what can we do?
The prescriptive fix is simple, if politically unprecedented. Restaurants and bars need a bailout. Not loans they might struggle to pay back, and certainly not exemptions from social distancing rules. They need a direct infusion of cash from the government, to subsidize safe operations (or a closure) through the pandemic, and to ensure a future once this finally ends. Call it grants, call it UBI for the restaurant sector, or whatever. But the federal government must step in with a version of the limited relief funds that tourist-heavy states such as Maine and Vermont have rolled out.
None of this is news if you're a part of the restaurant and bar industry. This week, James Beard Award-winning chef Jody Adams and several other prominent chefs and restauranteurs in Boston and beyond, gathered on the State House steps, urging the legislature to pass an economic development bill that includes a fund for Massachusetts restaurants.
They know the stakes, and what's needed. It's time for the rest of us to listen and normalize the idea of bailouts. Because let's be real: Most of us could use one.