The U.S. Immigration System Was Already Cruel. Trump Made It So Much Worse 
At the final presidential debate, President Donald Trump and former Vice President Joe Biden sparred over the issue of immigration for the first and only time in the entire 2020 campaign.
The highlight of the exchange was this startling fact: More than three years after the Trump administration began a pilot program for what later became a full-blown policy of family separation, lawyers from the ACLU and other groups are still unable to locate the parents of some 545 migrant children.
Thanks to the U.S. government's total failure — and in some cases deliberate refusal -- to keep track of these families, many parents were deported to dangerous places in Central America without their children. Some may never be found. Given the kinds of danger these parents sought to flee, some may already be dead. And some of the children are so young that they've now spent more of their lives separated from their mothers and fathers than with them.
Eleven of those children are in Massachusetts today.
Let's call this "policy" what it is: an atrocity, a stain on this country's conscience and a tragedy beyond imagining.
The question of how these children will be reunited with their families will be answered by whoever occupies the White House come January.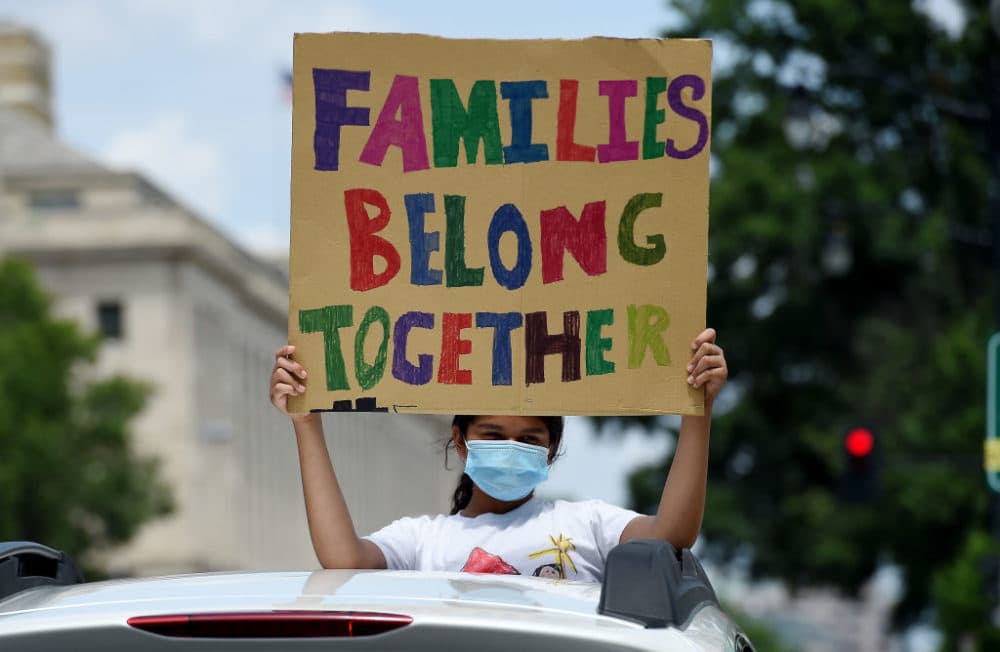 Trump's first term was marked by immigration policies of incomprehensible malice, but the "zero tolerance" practice of family separation was by far the most infamous. And though immigration has not been at the forefront of this race, these horrifying revelations are stark reminders that the issue is still on the ballot in 2020.
It's tempting, especially in Massachusetts, to think of border policy as something that doesn't concern us. But in truth, no part of the country has been left untouched by the cruelty of our immigration system.
In the Commonwealth over the past four years, we've seen families separated, sick children threatened with deportation, immigrants reported to ICE for asserting their rights as workers and tenants, and even U.S. citizens harassed by immigration agents as they go about their lives.
It's also tempting to blame Trump for everything that's wrong with this system, but that overlooks some important history. Trump has inflicted untold trauma upon generations of people fleeing the worst kinds of violence and persecution, effectively dismantled the asylum process (in violation of U.S. law and several international treaties), and generally made our immigration system crueler than it ever has been — but he did not create the system itself.
President George W. Bush laid the foundation when, in 2002, with bipartisan support from Congress, he created the Department of Homeland Security, which today includes agencies like Immigration and Customs Enforcement (ICE) and Customs and Border Protection (CBP), notorious for their long histories of abuse.
President Barack Obama conducted more court-ordered removals than any of his predecessors by far, although he claimed to prioritize those individuals accused or convicted of criminal offenses. Likewise, the Obama administration built some of the detention centers in which migrant families are still held.
Although, it is worth repeating, the widespread policy of family separation began with Trump -- and attacks on undocumented families continue under his administration.
[N]o part of the country has been left untouched by the cruelty of our immigration system.  
The ACLU is a non-partisan organization. We do not endorse candidates for public office. But we have made no secret of our opposition to President Trump's immigration agenda during his first term. Indeed, the ACLU has filed 400 legal actions against the Trump administration to date, many of which challenge his immigration policies. Should Trump win this election, and should he continue to violate the civil rights and civil liberties of migrants and asylum seekers, no doubt we will again see him in court.
But this election offers voters an opportunity, not just to judge Trump's record on immigration thus far, but to rethink our nation's recent tendency toward aggressive immigration enforcement.
It could take years, or even decades, to assess the damage caused by separating thousands of families and turning away tens of thousands of asylum seekers, but unless we strive to create a more decent, humane system for people fleeing danger in their home countries, the potential for cruelty will always be there.
"We are a nation of laws," the president is fond of reminding us. He's right: we are bound by laws — both legal, and moral — to protect those fleeing persecution in search of a better life. Let's treat our votes as a vow to uphold these laws, once and for all.
No matter who occupies the White House, we in Massachusetts must affirm that our neighbors — wherever they may come from — are welcome here.