Need A Respite From Doomscrolling? Buy Books (From Your Local Bookseller) Instead
You may be aware: there's an election next week.
As such, I've had some nervous energy to channel. I wrote letters and donated. I voted early. I bought books, because they are my comfort food.
Then I saw a tweet from writer Celeste Ng about holiday shopping at independent bookstores — sooner rather than later. She'd ordered from six different ones already. Vote early; shop early.
Books are a huge part of what's given me moments of escape and catharsis in these bazillion months since 2020 began, so this week I followed Celeste's lead. By trading doom scrolling for shopping, I knocked out half of my holiday list, supported some of the bookstores that I want to step foot in again next year — Fauci willing — and in December, I'll kick back with some cider and "The Prom" on Netflix instead of stress ordering, checking delivery dates and bathing in blue light.
October is the new December for booksellers.
Demand for books is high this year (which is great!). But printing shortages are expected (which is frustrating). Shopping early not only infuses the stores you love with the funding they need to stay open, it ensures that you have the books you want, when you want them. Indie bookstores need our help now if we want to buy stories from human beings — not algorithms simultaneously trying to sell us toothpaste — on the other side of this pandemic. I really just want to go smell a bookstore, but for now this love letter to the places I miss so much will have to do.
The election is looming, the virus is cresting, and soon it will be dark at 4:30. Let's all panic shop some books. 
I live near Boston and Providence, so I started there. You can find a handful of independent bookstores near you, or in cities you miss traveling to, on Indiebound. You can also use Bookshop.org to support a specific store, or place an order from the site and a percentage of total profits gets distributed to indie bookstores nationwide.
It's worth going to your favorite shop's website first. People work at bookstores because they enjoy matchmaking, and most online storefronts now have an email form where you can get personalized recommendations from staff members. You can also find more than books. Over the summer I started adding t-shirts to food deliveries from places I missed patronizing in person, like PV Donuts and Flour Bakery. I recommend this for bookstores as well.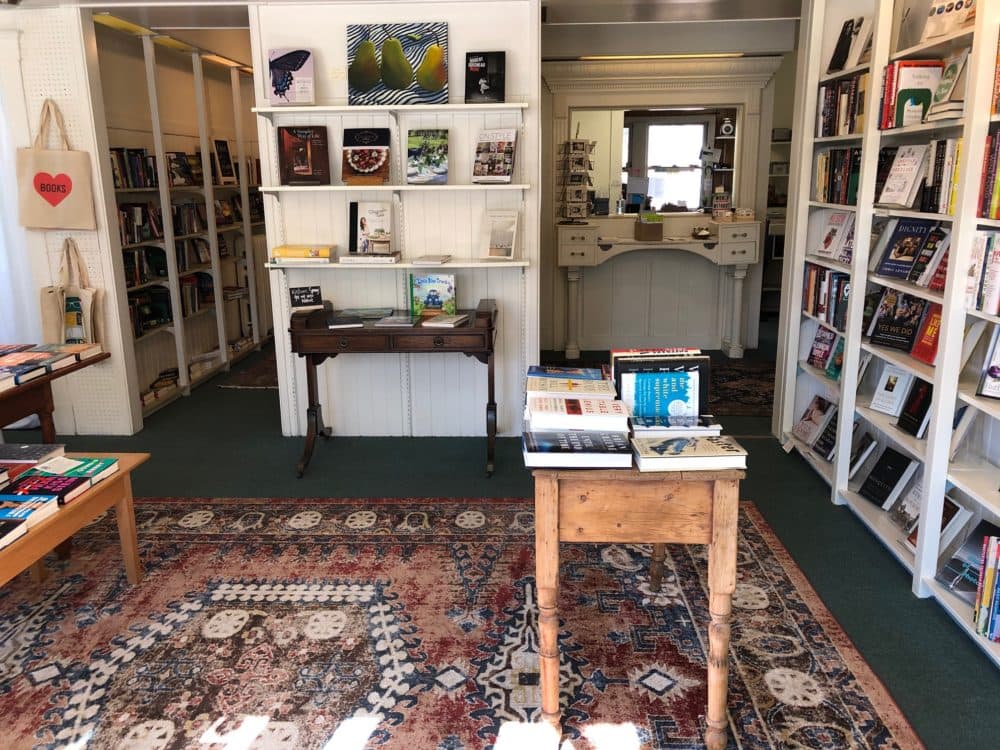 Twenty Stories has been my go-to since last spring. I order online or by email and my book arrives with a hand-written note. When you hardly see anyone but your own kids, Sharpie on a postcard is a boost.
My latest haul was "Leave the World Behind" and "We Ride Upon Sticks." I prefer doom and enchanted Emilio Estevez notebooks — in that order — during election season, and they'd make excellent gifts for the "Haunting of Bly Manor" fans in your life.
For my kids, I went to High Five Books. I love their boosting of inclusive titles on Instagram, and my kids would eat graphic novels for breakfast if they could. I wanted new ideas for my 8-year-old son, so I filled out the book recs form on their web site. Kinsey emailed me a personalized response that very night, as well as a link to a Bookshop.org page with 11 titles curated just for us.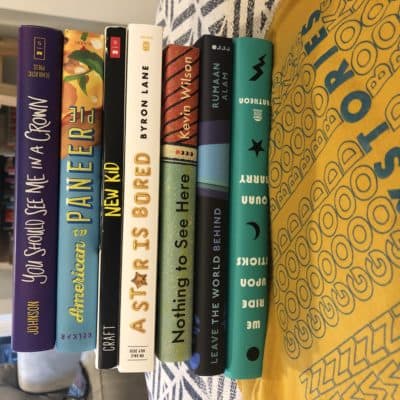 Frugal Bookstore is a Black-owned indie shop in Roxbury, Mass. and from their site I pre-ordered President Obama's memoir for my dad and my father-in-law. I plan on returning for the new Marvel "Black Panther" by Ta-Nehisi Coates and the novel "Deacon King Kong" — I saw both while browsing. I also impulse-added the kids' books "Who Is Barack Obama" and "Who Is Michelle Obama" to my order. Stanning the Obamas is a family affair.
From Belmont Books I ordered David Chang's memoir "Eat a Peach" for my husband and "Nothing to See Here," one of my favorite books of the past year, for my sister-in-law. I got "American as Paneer Pie" for my niece. To finish family gifting, I went to Brookline Booksmith and ordered some "Calvin & Hobbes" and "Ender's Game" for my two nephews.
Pre-orders are a wonderful thing. They get revenue to the bookseller, boost numbers for the author (this matters!) and get the books you want to your mailbox ASAP. So many books' publication dates were bumped because of, well, everything. Two titles I can't wait to get my hands on are "Your Corner Dark" by Desmond Hall, and "Waiting for the Night Song" by Julie Carrick Dalton, both due in January 2021. I pre-ordered them from Porter Square Books, then I bought my husband a puzzle of Edward Gorey book covers that will end up being for me.
There are so many other indie bookstores, and I plan on going back for more.
Love thrillers? Check out Vanessa Lillie — if you order from Inkfish Books in Warren, Rhode Island you can get a signed copy of her latest, "For the Best."
Need a laugh and a hug? Pick up Byron Lane's "A Star is Bored." Want to crush the patriarchy? So does Anna Solomon's "The Book of V."
My top pics for YA and kids are "You Should See Me In A Crown" by Leah Johnson, "Class Act" by Jerry Craft (the follow up to his wonderful graphic novel "New Kid") and How to be a Pirate, by Isaac Fitzgerald. These are all hits at our house, and they're good for the soul.
In book adjacent shopping, I ordered two tote bags from The Strand, the classic for a friend and one with a cartoon book giving a thumbs up for me.
I dearly miss walking around cities with a cup of coffee and popping into bookstores, so I got this travel mug from Books Are Magic, then I grabbed a tie dye book wizard tee for my daughter. For now, we can wear our t-shirts and browse the stacks in our house together.
The election is looming, the virus is cresting, and soon it will be dark at 4:30. Let's all panic shop some books.