4 Things Mass. Must Do Immediately To Prevent Another COVID-19 Crisis In Nursing Homes
Residents of nursing facilities in Massachusetts are once again at risk as we enter the second wave of the coronavirus pandemic. As of November 30, there were 27,323 probable or confirmed cases of COVID-19 among residents and healthcare workers at the facilities statewide, and 6,788 COVID-related deaths. To date, long-term care facilities have accounted for 65% of COVID-19 deaths in Massachusetts.
Nursing homes are ground zero of the pandemic. They have responded by taking on new responsibilities, such as implementing novel infection control practices and procuring never before seen volumes of PPE. With recent announcements on vaccine availability, prioritizing COVID-19 treatment and management in nursing homes has become a critical moral imperative.
Nursing homes have little political power, a shortage of personnel and rising operations costs. The well-being of nursing home residents and staff depends on the state. Gov. Charlie Baker should not allow the state to revert to its traditional role as an enforcer — instead it must become an active partner in nursing homes' management of the pandemic.
Last spring, the state was a crucial partner to long-term care facilities, allocating $130 million to support critical needs in the areas of workforce recruitment and pay, PPE, testing and infection control. In October, the state announced another round of funding of up to $140 million (nearly $60 million is earmarked for COVID-19 relief funding, but will only be released when certain strict metrics are met), and to date it has helped nursing homes make significant progress against the virus through statewide surveillance testing of staff, improved PPE supplies and implementation of evidence-based infection control and prevention standards.
Nursing homes lack the resources of other institutions. They aren't states, they aren't cities, they aren't major hospital systems.
But it's not nearly enough. Massachusetts lags behind states like Pennsylvania, which has provided a pathway to certified nurse aide (CNA) certification for frontline workers who step up to serve as nurse aides during the pandemic; like New Jersey, which has issued expansive requirements for staff testing; and like New York, which will offer COVID-19 vaccines to nursing homes residents and staff in the first phase of distribution and at no cost to the facilities.
New national data, as well as chilling daily news reports about increasing infections here — and in every other state in the nation — clearly demonstrate an urgent need. The first wave of COVID-19 exposed substantial gaps in the preparedness of our nursing homes. As we enter the second wave, the state must take a more active role by adopting actions in four key areas to save lives.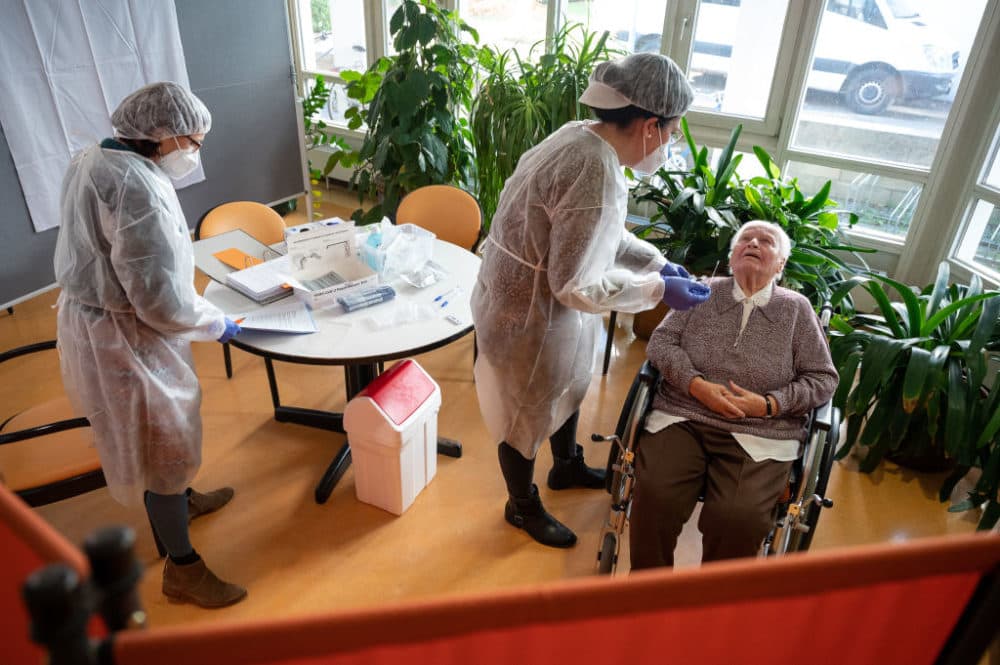 Workforce: Immediately provide funding for hero pay during the anticipated surge and provide accelerated CNA certification. In its important role as a regulator, the state recently introduced new staffing requirements to ensure that nursing homes have adequate frontline staff to care for residents. The state must also provide funding to hire additional staff and to pay a "hero wage" (typically 1.5 times the regular rate) during the anticipated surge to keep people safe and alive. Nursing homes can use this funding to attract new frontline workers to fill vacant positions, and incentivize existing staff to work overtime and cover hard-to-fill shifts, as well as work on COVID-positive units. Currently, in the absence of additional surge funding, it's estimated that less than 20% of Mass. facilities are offering hero pay. In addition, the state must amend state law to provide a path to CNA certification for frontline workers, who step up to serve as nurse aides during the pandemic.
Personal Protective Equipment: Immediately procure PPE for the health of residents and staff. The state is already playing an important regulator role in monitoring and auditing facilities' PPE availability. Now the state needs to use its expertise and purchasing power to become a procurer of these critically needed supplies. State government must proactively both create and ensure that there is a clear and affordable supply chain ready to deliver much-needed face shields, masks and gowns to these facilities, because residents and staff are incredibly vulnerable. By pooling demand for PPE across the commonwealth's 300+ nursing homes, the state could become a de facto supplier using its superior purchasing power to supply individual facilities. Currently, Massachusetts nursing homes can apply to the state to bridge temporary supply shortages but — unlike New Hampshire, Rhode Island and Connecticut — Massachusetts is not proactively sending PPE to facilities.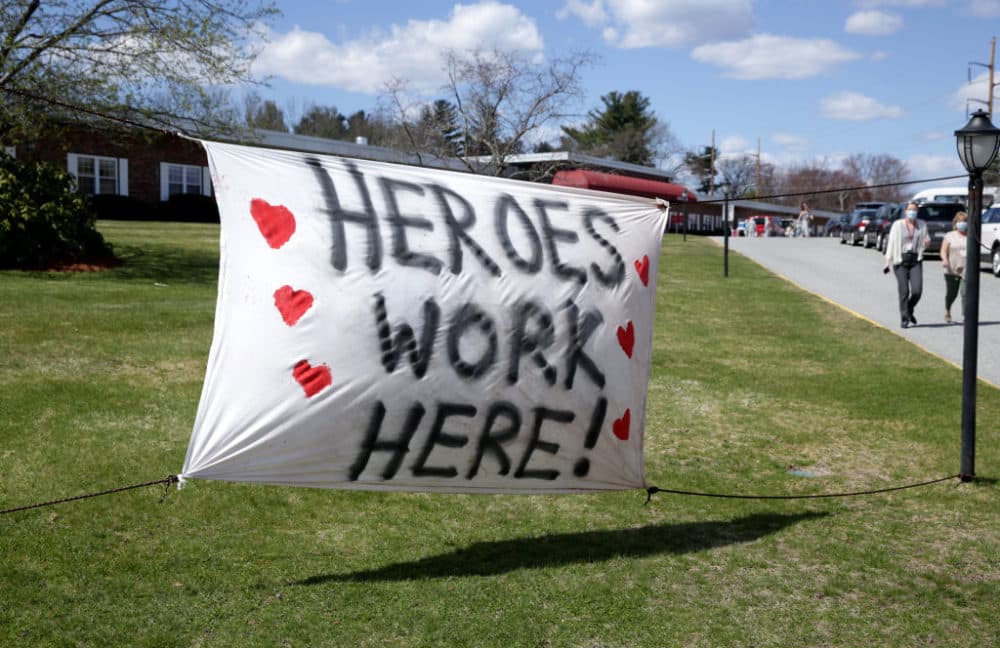 Vaccination and Testing: Immediately place nursing homes at the top of the priority list for funding and distributing vaccines, and fund and mandate testing of hospital patients discharged to nursing homes. The state is requiring and funding baseline and surveillance testing of nursing home staff, which is both important and necessary. However, the most important moves the state can make are to place nursing home residents and staff at the top of the priority list for vaccines and to provide these vaccines at no cost to the facilities. There also needs to be a requirement for hospitals to test patients for COVID-19 before they are transferred to nursing homes, so that nursing homes have the information they need to safely manage incoming patients. Testing of nursing home surveyors from state public health infection teams and of visitors to facilities is also critically important.
Infection Control: Immediately share data on effective practices and act as a primary source of timely evidence-based guidelines. The state is providing strong and important oversight of nursing homes via frequent inspections. Through this work, regulators are collecting valuable data on infection control practices. Massachusetts regulators also need to share with nursing homes and clinicians this real-time data, so that nursing homes can immediately identify and implement highly-effective best practices. Moreover, the state's public health agency must be the definitive source to quickly clarify conflicting infection control guidance from various municipal, state and federal agencies so that nursing homes can immediately put in place evidence-based practices.
The COVID-19 Policy Alliance at MIT has developed, in partnership with the Massachusetts Senior Care Association, Hebrew Senior Life and nursing home leaders, a playbook to ensure best practices to prevent devastating illness and unnecessary deaths among patients and staff in long-term care facilities. This playbook is designed to help government leaders implement strong public policies, and the sector, as it works around the clock to protect the residents of long-term facilities, and the people who care for them.
Nursing homes lack the resources of other institutions. They aren't states, they aren't cities, they aren't major hospital systems. They are individual 120-bed facilities, often underfunded by Medicaid, and filled with frail and elderly people.
Massachusetts must be the active partner that residents, healthcare workers and all of us deserve. These facilities need help now, before another crisis.