Sometimes A Goose Is What's For Christmas Dinner. Sometimes It's Much More
This article is more than 2 years old.
On the eve of this most challenging of Christmases, when there is so much loss, so much suffering, and so much uncertainty in all of our lives, I find myself remembering the Christmas when I had just emerged from chemotherapy.
It was 2002. Gone were my long curly brown locks and some of my weight and strength. But in sharing a culinary challenge, I discovered just how much there was to celebrate.
The Christmas goose was a mixed blessing. When Karl suggested that we serve it for dinner, I hesitated. Karl's father, Eric, tended to avoid all birds (having had to pluck the family's Sunday dinner chicken growing up). But it was Christmas. Eric and I had just married, nine days earlier. I'd just succeeded in procuring a stove with a functioning oven, and was recovering my taste buds after chemotherapy.
Eric and I bought a tree at a church sale, and carried it up the stairs to our second floor Cambridge apartment (where Eric had recently moved in). We stocked our kitchen with wine, olives, cheese, bread and fruit. I made a salad. Eric made a bagna cauda and, for dessert, a Tarte Tartin.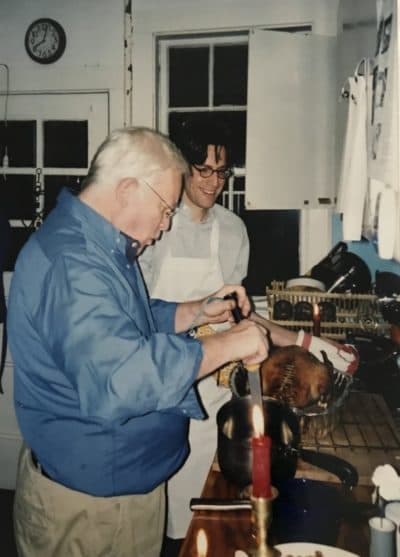 Karl and his partner, Lloyd, arrived in a snowstorm on Christmas Eve. It looked like they were moving in with the goose. Karl ceremoniously carried the butcher-paper wrapped bird up the long front stairway, while Lloyd followed with what looked like the inventory of Williams Sonoma: an All-Clad roasting pan, smaller pots, pans, plates and every kind imaginable utensil, including a mammoth suction baster. The goose was so big it didn't fit in my rent-controlled issue fridge, already full with everything else we'd prepared. So we lodged the bird in the fridge of a neighbor friend who had gone home for Christmas.
At the time, to this Gorp-eating journalist, it seemed that food held a different — even reverential — place in the family I'd just joined. It's a place I've come to appreciate over the years.
After everyone was safe and warm inside, I stepped out on the porch to check the storm, and was pelted by icy wind and a wet, heavy snow. Shivering, I suggested we all sit down for a holiday toast. Minutes later, the lights flickered. And then went out.
Eric, a longtime sailor, lit his old kerosene boat lantern. I scrambled for a flashlight and candles. Lloyd fetched the goose. Eric and Karl set to work: Eric held the lantern while Karl salted and peppered the bird, removing what fat he could, and pricking the thick skin so the remaining fat would drain into the roasting pan, rather than igniting a fire in our gas oven.
I remember feeling glad to have made it through cancer treatment, glad to be part of this new family, glad to be alive. 
Then, the rota began: Every 20 minutes, Karl removed the pan holding the bird in its boiling bath of fat, using his mammoth baster to suck what he could into a coffee can. When the can filled, we resorted to saucepans. The bird kept exuding fat. An hour into the cooking — and an hour to go — it seemed that the fat letting might go on forever.
Eric and Karl are both seasoned cooks, but neither had previously taken on goose. Meanwhile, I hesitated to confess my own goose disaster from a decade earlier, when a quiet family holiday turned into a minor family drama. I'd been wholly unprepared for the culinary challenge — thinking that goose would be like chicken — and ended up scalding my eyelid with splattering fat.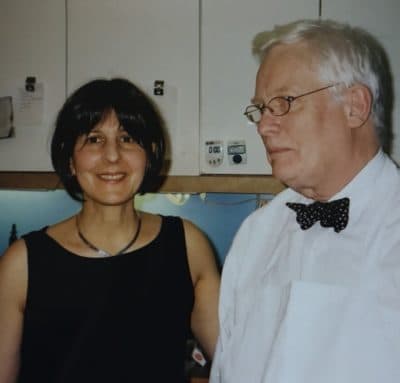 By contrast, Karl and Eric seemed methodical and calm, if a little incredulous about what they'd undertaken in a dark and unfamiliar kitchen. We began a relay system for goose fat, from baster to coffee can and saucepans. 
But the bird kept rendering fat. I wondered what, if anything, would be left. Maybe just bones?
It must have been 9 or 10 p.m. by the time we finally sat down to eat. (A coffee can and two saucepans of fat sat on the porch, in the snow.) I don't remember what the bird tasted like — Eric says that it was tough. I do remember that it had diminished considerably in size; it looked positively shrunken on the serving plate. I also remember the relief of finally sitting down, together. And, I confess: I had enjoyed so much wine, so many hors d'oeuvres, so much cheese, bread, vegetables and bagna cauda, that the goose didn't seem to matter.
After dinner, we bundled up and went for a walk. The electricity was still out. But the wind had let up. There were no cars moving. And the street was silent with falling snow. The whiteness softened the shapes of brick and stucco buildings, of bare trees and evergreens. Karl and Lloyd walked ahead.
I took Eric's hand, pausing to breathe in the fresh, cold air. And taste the wet flakes. I remember feeling glad to have made it through cancer treatment, glad to be part of this new family, glad to be alive.