The Obituary Rush Limbaugh Deserves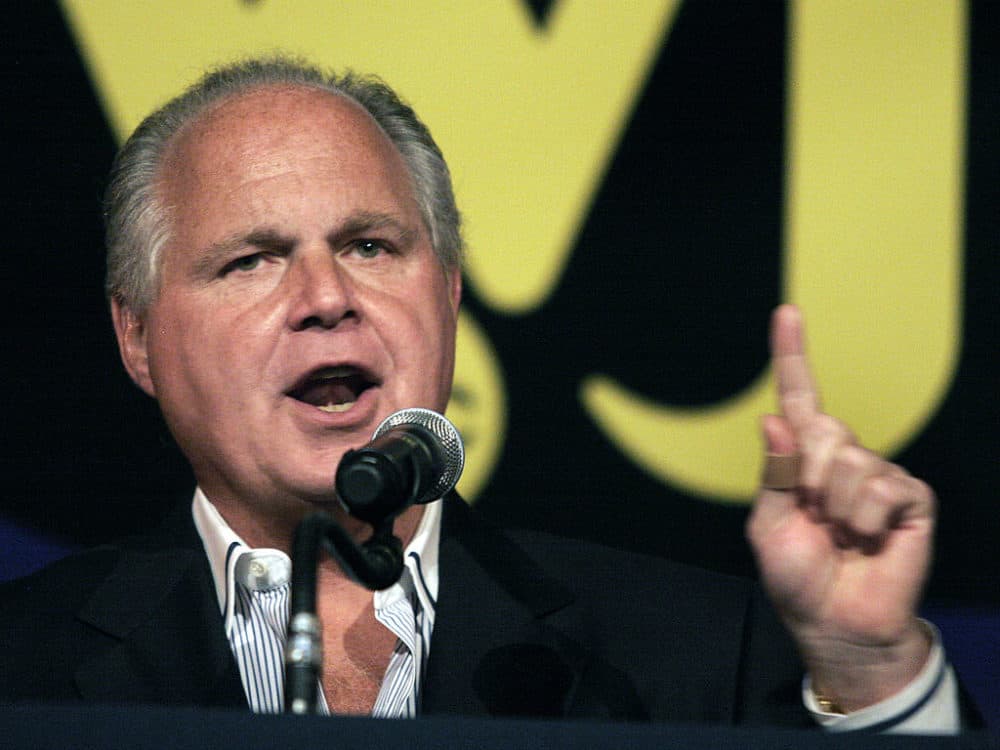 This article is more than 1 year old.
I listen to some talk radio hosts who indulged a bit of black humor on the news of Rush Limbaugh's death. Recalling Limbaugh's mantra that he had "talent on loan from God," they noted that the almighty had called in the loan. That I can listen to their show — and a massive menu of on-air gabbers — owes in no small part to Limbaugh, who busted the bronco of Reagan and Clinton-era conservatism to become a pioneering host of national, political radio.
But the admonition to speak no ill of the dead is waived in the case of those whose legacy includes serious public harm.
If all El Rushbo had done was entertain adoring "dittoheads" and some outrage-enjoying liberals, with taunts of "feminazis" and animal lovers (playing "Born Free" to the sound of gunfire and squawking wildlife), he'd be remembered as controversial but innocuous.
Unfortunately, the trajectory of his career arced from entertainment revolutionary to Donald Trump's sock puppet, the Father Coughlin of 21st-century racism, fascism and sewer-level discourse.
At first, he kept a smidgeon of perspective. I remember a New York Times interview in the 1990s that noted how Limbaugh tugged the reporter's recorder close to him to make sure it caught his words that he was just "an entertainer." Sure, the self-description was self-serving: absolution for abdicating truth, by a man who'd plugged the conspiracy theory about the Clintons as murders. Yet at least it put a patina of realistic humility on his social role.
[T]he admonition to speak no ill of the dead is waived in the case of those whose legacy includes serious public harm.
But as ego swelled with his wealth, girth and marriages (the wife who announced his passing from his microphone was his fourth), Limbaugh found just "an entertainer" unsatisfyingly limited.
By Barack Obama's presidency, he was rapturously greeted at conservative confabs as a philosopher of the right, waxing definitionally about the movement's meaning. Yet as he discarded the entertainer disclaimer, he kept up his old distance from the truth. In dangerous ways.
It's not a good sign when nationally broadcast postmortems include the words "racist conspiracy theory." But Limbaugh, along with Trump, gleefully cannonballed into the birtherism pool. During Obama's first year in office, he declared that the new president "has yet to have to prove that he's a citizen."
Besides being a pants-on-fire lie, the claim pushed Limbaugh's conspiracy-theorizing into deadlier territory. That the Clintons were killers was nutty enough to confine it to the most extreme set. But there are enough racists in America that as late as 2015, one-fifth of the country still doubted Obama's birthplace. The same year saw the launch of the Trump candidacy, rooted — contrary to its defenders and misguided progressives alike — not in economic need, but racial fear and white supremacy.
Limbaugh subsequently ambled through casual if well-advertised cruelties — mocking Michael J. Fox's disability, calling a birth control advocate a "slut". That was all before his life-capping lie:  trumpeting Trump's delusion about a stolen election. The resulting insurrection on January 6, Limbaugh claimed, was carried out by patriots who "know that this is something that's been arranged rather than legitimately sought and won."

Research showing that media coverage of polarization hardens consumers' dislike of the opposite party — and Limbaugh didn't just cover election polarization, he fostered it — his buffoonery can't be dismissed as mere "entertainment." His millions-mesmerizing microphone reinforced aggrieved nuttiness, the consequences of which we witnessed in early January.
Every action spurring an equal and opposite reaction, the polarization Limbaugh promoted infected his haters after his death, with some accusing the mainstream media of whitewashing Republican "hatred and bigotry." That's bunk to make bunk-meiser Limbaugh proud; the indictment I've made here comes from MSM coverage. The New York Times headline and subhead writer who penned "venom" and "bigotry" in their Limbaugh appraisal will seem laudatory only to the type of people who attempt armed insurrections on federal property.
So it comes as no surprise that Trump was on the phone to Fox News literally minutes after Limbaugh breathed his last, offering a eulogy, one show horse to another. One "entertainer" to another.
Capitol Police officer Brian Sicknick died protecting members of Congress from the mob inflamed by election lies. His grieving family and friends likely won't remember Rush Limbaugh as entertaining.