'Fearless (Taylor's Version)' Is Finally Here. We've Both Come A Long Way In 13 Years
On April 9, Taylor Swift released "Fearless (Taylor's Version)", a re-recording of her second album, originally released in 2008. The re-release is coming on the heels of one of her most prolific periods as an artist. In 2020, Swift released two (two!) surprise albums, "Folklore" and "Evermore," featuring some of the most extraordinary music of her already dazzling career.
There's a tremendous amount of buzz for the re-release of an album that technically already debuted 13 years ago. Brand new bonus tracks are exciting, of course. But most importantly, the re-recordings will put Swift in control of her musical legacy after the master recordings of her first six albums were sold without her consent. "Fearless (Taylor's Version)" and future re-recordings will allow Swift to determine once and for all when and how her songs are used, from movies to commercials to future compilation albums.
I've been a fan of Swift's for a very long time. I pre-ordered "Fearless" in 2008, and I did the same this time around, ensuring its midnight addition to my music library. I'm excited to support her, and I'm happy she's reclaiming the songs that she wrote.
But mostly, I'm looking forward to hearing the album anew and taking it as an opportunity to see how far I've come in 13 years. Swift's music has been with me as I've grown up — and found my own voice.
I was a senior in college when "Fearless" was first released. My friend and I would blast "Love Story," the huge hit single from the album, singing along at the top of our lungs as we drove to debate tournaments. We especially enjoyed the contrast between the self-seriousness of college debate and the song's unapologetic earnestness. When the re-release was announced, I texted her right away.
My college boyfriend teased me about my love for Swift's music. I think he was surprised at what he saw as the contrast between who he thought I was, and what he thought Swift represented. At the time, I was studying art history and spending my days and nights tapping away on an honors thesis about mid-century pop art paintings. I'm guessing he'd absorbed some of the media narrative on Swift that dominated at the time: the wide-eyed princess of country music, singing about boys and fairy tales, a fiddle playing distantly in the background.
Such assessments have always missed the point — one that fans of Swift have known all along: she's an uncommonly gifted writer, and has been from the beginning.
I'm excited to hear Swift's voice as she sings the words she wrote as a teenager, songs that have been the soundtrack to my friendships and heartbreaks and life changes.
On "Fifteen," the second track from "Fearless," Swift writes about her experience as a freshman in high school, meeting her best friend, and beginning to explore the world of romantic relationships. In the song's lyrics, she describes being 15 as the age "when all you wanted was to be wanted."
I've always been struck by that line. From a writing perspective, it's incredibly economical and incisive, describing the negotiation between the desire to be loved and the call to be true to oneself. Impressively, she was not far from 15 when she wrote it.
It's a line that's only grown more poignant to me as I've lived and reckoned with my own experiences over the years, including divorce. My relationship with my first husband was, in many ways, defined by orienting myself around what he wanted, all because he wanted to be with me. I found myself coming back to that line over and over again. I've used it as a reminder to listen to my heart, and to take the time to think about what I really want.
A few years after college, when I realized I was desperately in love with my friend Will, I told him how I felt, and he told me he wanted to stay friends. Naturally, I turned to "Fearless."
I nursed my heartbreak singing along to "You Belong With Me" alone in my apartment, drunk on white wine and full of emotions only Swift seemed to be able to put into words for me. The song is about a high school crush, sure, but it's also about incandescent and evergreen emotional states: desire and bitter jealousy, and feeling so sure of something that you'd stake your life on it. The song couldn't change what had happened, but its cheeky lyrics and propulsive energy filled me with fire — and made me feel less alone.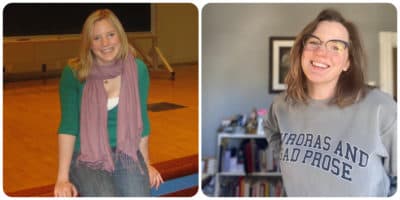 My life is so different now than it was in 2008. Since "Fearless" first came into the world, I finished college, started working, moved across the country and back again. I also started writing, inspired in part by my devoted dissection of Swift's lyrics. I'm no musician, but I've taken lessons from her work, her playfulness with language and her deployment of imagery. If you want to get me started on the narrative nonfiction brilliance of "All Too Well" from her album "Red," well, let's just say you should set aside at least a half-hour.
For me, "Fearless (Taylor's Version)" is a rare and beautiful invitation to reflect. I'm excited to hear Swift's voice as she sings the words she wrote as a teenager, songs that have been the soundtrack to my friendships and heartbreaks and life changes.
I'll listen and I'll think about how we're both women in our 30s now, both stronger for the experiences we've had, and how incredible it feels to express powerful emotions without shame. I'll listen and I'll think about the space between what was and what is, walking into the dark places in my mind and bathing them in glowing light.
One more thing. Will, the "You Belong With Me" man, is now my husband. He finally figured it out, what Taylor Swift and I had known all along.