Why Joe Biden's Plea For Bipartisanship Is Shrewd Strategy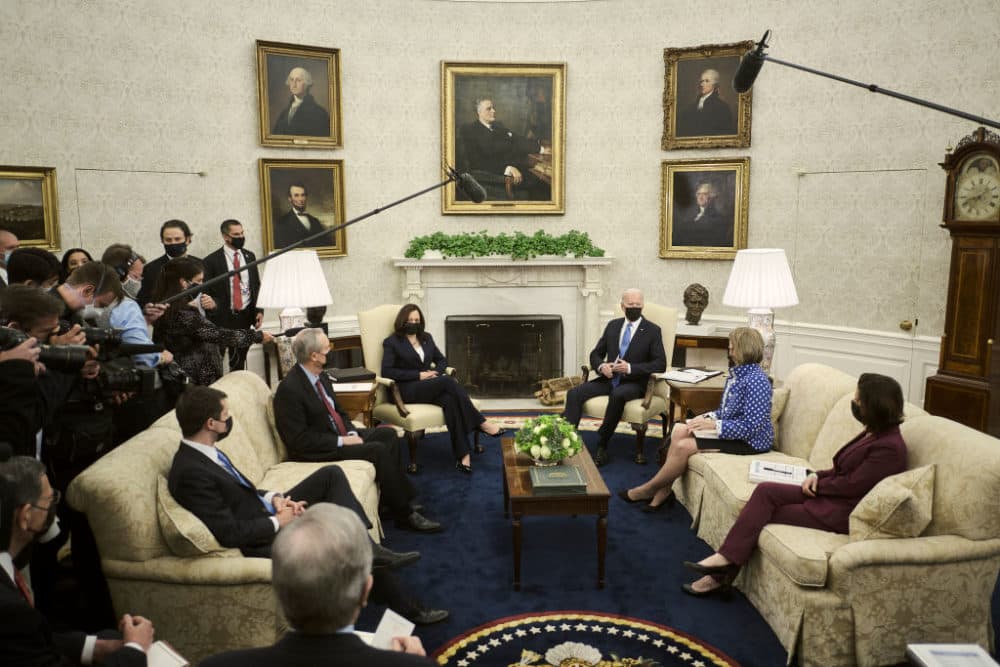 Many Democrats, especially in progressive circles, have been lamenting: "Why is Biden still meeting with Republicans on the infrastructure bill?" Every day those negotiations drag on is one fewer day for the Biden team to advance its agenda.
We hear those concerns loud and clear. But from many years of negotiation research, writing, and teaching government officials, diplomats, executives, graduate students, and others, we see Biden's approach as demonstrating  the deftness of a dealmaker with a lifetime of negotiation experience.
You might recall that Biden's original infrastructure plan, unveiled in April, proposed spending $2.3 trillion on a range of projects — from investment in electric vehicles, to support for organized labor, to more traditional "infrastructure" initiatives such as bridge and highway repair.  The president proposed paying for the plan primarily through rescission of the Trump-era corporate tax cuts.
Republicans responded with a $500 billion alternative — just 20% of the Biden's proposal — and a categorical refusal to raise corporate taxes to foot the bill. The Biden team announced a counterproposal of approximately $1.7 trillion, to which Republicans responded with a proposal that's just under $1 trillion, but with only $257 billion in new spending (since the rest of the proposal would be funded by re-purposing monies from the $1.9 trillion COVID-relief bill).  The negotiation isn't going anywhere fast, despite pleas from the administration voiced by Transportation Secretary Pete Buttigieg that, "time is not unlimited here." 
The refusal to engage on so many of the Biden team's initiatives — and the red line on funding, announced even before negotiations began — make it easy to be skeptical of Republican claims that they are ready for bipartisan deal-making. After all, an infrastructure deal isn't in the interest of Republicans seeking to win back Congress in 2022. A bipartisan deal is a victory for Biden:  the president would deliver the infrastructure itself and fulfill his promise to work across the aisle.
Against this backdrop, it's easy to see why progressives are anxious about Biden's willingness to meet with Republicans and make concessions to his plan.
We see two explanations for the administration's continued efforts.
First, Biden misguidedly believes, based on his long tenure in the Senate during a different era, that meaningful bipartisan compromise is possible. But we doubt the president or his team is that naïve, especially after eight years of watching Republican intransigence when he served as vice president under Barack Obama.
We think the current efforts to work across the aisle have little to do with Republicans. Instead, they are likely directed toward lynchpin player — West Virginia Democrat Sen. Joe Manchin.
Without 10 Republican votes needed to break a filibuster, the administration's only path to passing an infrastructure bill (or any bill) is through "reconciliation." Reconciliation allows the Senate to pass legislation pertaining only to budget-related items with a simple majority. But to win a majority means to earn the vote of all 50 Democratic and independent senators.
Biden's ongoing overtures to Republicans, while sincere, are not based on the improbable assessment that he will shift 10 Republican votes in his favor.
And here's the rub.  Joe Manchin is on the record as insisting on a bipartisan vote and as opposing passing the infrastructure bill through reconciliation. In a recent essay in the Washington Post, he wrote, "I simply do not believe budget reconciliation should replace regular order in the Senate….Republicans, however, have a responsibility to stop saying no, and participate in finding real compromise with the Democrats."
While Sen. Krysten Sinema (D-AZ) has also pressed for a bipartisan deal and is opposed to eliminating the filibuster, she has not gone on record with a position on reconciliation. The Democratic left is not giving Biden sufficient credit for working strategically within a system in which Republicans' core interests are not in reaching a deal.
To be clear, Biden's ongoing overtures to Republicans, while sincere, are not based on the improbable assessment that he will shift 10 Republican votes in his favor. Biden, like all great negotiators, is playing a multi-level negotiation strategy on two different fronts.
He's negotiating in good faith with the apparent counterparty, the Republicans.  This might be futile, except insofar as this approach relates to the second strategy to legislative victory: reconciliation.
Biden knows his alternate path to "yes" goes through Joe Manchin.
While many on the left criticize and pressure Manchin as an apparent roadblock to advancing wildly popular legislation, the president has wisely and studiously avoided any public criticism of the West Virginia senator.
Biden's decision to stay above the noise and his assiduous engagement with bipartisan negotiation is part of the "second front" strategy with Manchin. By working to meet Manchin's interest in bipartisan compromise, Biden is likely doing more to win Manchin to his side than are the critics on the left. Biden has also met with Manchin and Sinema to invite their input (and ensure significant funding for projects in their states), increasing their early sense of ownership in the plan and investment in its passage.
It is a simple fact — and an early lesson we teach our students — that negotiators who demonstrate that they understand their counterparties' interests and work to meet them are more likely to achieve favorable and sustainable outcomes than those who use pressure tactics.
Biden's bet is that by repeated shows of openness and compromise Manchin will be persuaded of a shared interest in bipartisanship. The president hopes that Manchin and other Americans who are sick of gridlock will see that the locus of the problem rests not in the White House, or in the Democratic majority, but rather in a party that has prioritized "no" over constructive engagement.
Biden is offering Manchin a face-saving way to drop his demand for a filibuster-proof majority and an easy glide path to a "yes" vote on reconciliation. It just may work. 
Robert C. Bordone is a senior fellow at Harvard Law School where he founded and directed the Harvard Negotiation and Mediation Clinical Program. He is also the founder and principal of the Cambridge Negotiation Institute. Sarah Doktori is an attorney and a consultant at the Cambridge Negotiation Institute.