How The Pandemic Changed Us: 5 Lessons From A Horrid Year
The pandemic appears to be receding at last. Bars are open. More people are maskless. The vaccines are working, and summer is here again. But even though things appear to be back to how they were before the pandemic, life is still quite different because we're different. So much so, that going maskless is now a common anxiety dream.
While our return to normalcy has been much anticipated, and everyone is eager to resume their regularly scheduled programming, it's important to understand what happened to us in order to understand how we'll feel and behave, both now and down the road. (This is also the subject of a new book by Bruce D. Perry and Oprah Winfrey.)
Not only did the pandemic kill 4 million people globally and 600,000 in the U.S. (as of June 10, an average of 387 people in the U.S. are still dying every day from the disease), it fundamentally changed us — by altering how we spent our time, how we interacted with each other, and by making us question whether we considered each other safe or unsafe.
As we're being asked to shift back to pre-pandemic ways, it's crucial to recognize how those changes altered us.
In my work as a psychiatrist, I conducted numerous webinars over the past year to help struggling parents and educators cope. But I also needed to find my own way of adapting and managing the anxiety of my patients and family. I did that by honing in on the good, the things we may carry forward. These are the lessons I found most helpful to think about:
We reexamined our key relationships — including to work. After an initial spike in divorce rates earlier in the pandemic,  divorces are now dropping. While social scientists speculate that these rates may rise again, there's no mistaking that being trapped inside with a spouse or partner — or living single and solo — spurred deep self-reflection over our romantic needs and desires and, in some cases, forced a break-up or made us more likely seek connection by dating during the pandemic.
Beyond personal connections, our relationship to work also dramatically changed. While unemployment skyrocketed, many of us reassessed how we spent our time working, and either abandoned jobs, switched careers entirely, or felt so empowered by remote work that we made radical departures that allow for freedom and reinvention.
We tangoed with uncertainty, fear and anxiety for a long time. Being thrust into an unprecedented pandemic felt like trying to escape quicksand. We just didn't know what was going to happen next — or if we'd come out safe. For many of us, death was no longer a looming specter in the far future but something that seemed uncomfortably close. Coping with this for 15-plus months, as we have, may allow for post-traumatic growth in the long term, which psychologists Richard Tedeschi and Lawrence Calhoun say can make us more resilient, appreciative for what we have, open to spiritual change and better equipped to handle crises in general.
As we're being asked to shift back to pre-pandemic ways, it's crucial to recognize how those changes altered us.
We found places and rituals that provided solace. Because travel, dining out and most recreation were off the table, we sought self-preservation by finding new ways to calm our minds. Many of us started meditation, exercise and yoga regimens. We spent more time in the natural world and learned new skills, like cooking or knitting. Many families created time capsules to commemorate this unique moment. While studies do show that our pandemic alcohol consumption is worrying, we found healthy ways to cope, too. Many of us tapped into our creative spirit with writing, painting, music and more, to make meaning and sense of events that seemed illogical, whether the pandemic, the insurrection, the election — it's been a crazy 15 months.
We did our best to stay grounded in the moment. The early days of the pandemic were a blur, with many of us asking, What day is it again? But then we dug in. Staying home forced us to adapt quickly, which gave us a chance to pause from our hectic commitment-packed schedules, spend more time with family (if we were lucky) and take stock. And we did it by being grounded. Because we had no idea when things would improve, we learned to manage stress, reprioritize, develop endurance for uncertainty, and navigate our relationship with mortality. What may have seemed like a waiting time was actually when we did some of our reflective inner work.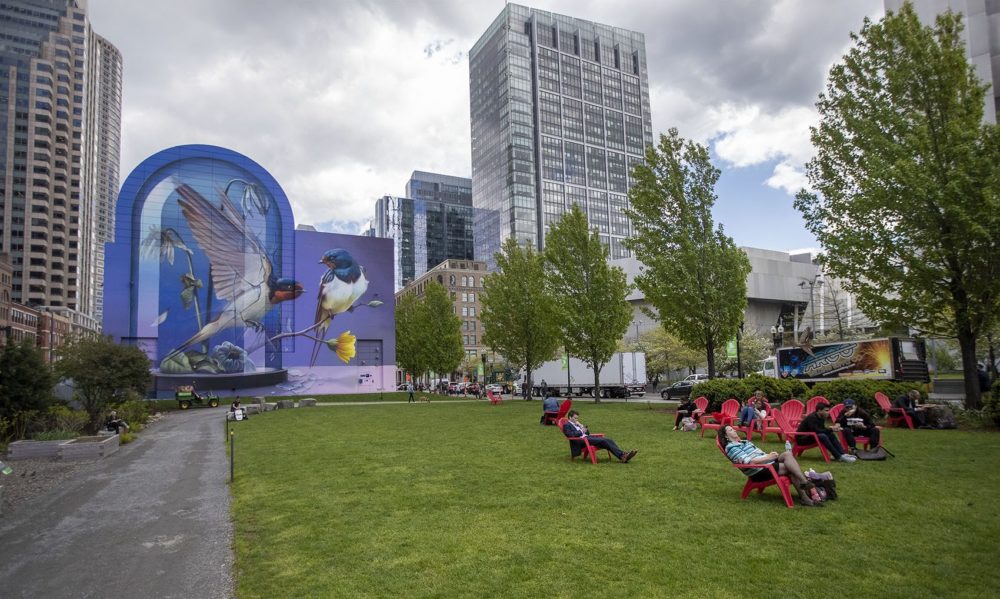 We embraced our narrative. That inner work redefined who we are, and now, with the world reopening, we have a chance to put into action our newfound learnings, while introducing our new selves. As we unmask, we're feeling both relief and appreciation that we survived (and maybe a little apprehension, too). As we introduce our new selves, we can appreciate that we are part of a human tribe that longs to be seen and that our faces and new selves tell a story. And we can commune and connect again, however simply — saying hello on the street feels revolutionary, as does that giddy bond that comes with being seen by one another.
"It is good to have an end to journey toward; but it is the journey that matters, in the end," wrote the fantasy author Ursula K. Le Guin. Meaning-making is the true task of history and that process moves slowly, as it requires perspective.
We'll only understand the repercussions of this pandemic years into the future, when we're able to really look in the rear-view mirror and see the full scope and context of how society and culture shifted — and how, with any luck, we were changed for the better alongside them.