'He Followed A Benign Beat': Remembering Balloonist Brian Boland
"Legendary" Vermont balloonist Brian Boland's fatal fall to earth last week made news from Boston to Los Angeles. His prominence in the ballooning world — as outsized as his 6-foot-4 frame — and the freak accident that ended his 72 years guaranteed the attention. Police said he became snared in gears under his basket while trying to regain control of his yo-yo-ing craft, only to plunge to his death. His four passengers escaped unhurt.
But the sorrow and horrific circumstances of Boland's passing shouldn't obscure the lesson of his life, which matters today more than ever.
I glimpsed that lesson on July 23, 1992, when, as a young reporter, I took flight in Boland's balloon with a photographer and Ashrita Furman, a New Yorker who was attempting to break the world's knee-bend record, 1,000 feet up. By transporting Furman on his quirky quest when no one else would, Boland honored a kindred spirit's and his own freedom of expression, before those three words were disfigured by our 21st century discourse.
---
More from WBUR
---
If a phrase could sue for defamation, "freedom of expression" would have an ironclad case against the evolutionary throwbacks who, in 2021, invoke it as justification for evil. Some claim it as license for insurrectionist rioting; others, for putting minimal self-comfort above neighbors' safety in managing COVID-19; still others, for online sewers of dangerous deceits.
No one marched to his own drummer more fervently than Brian Boland. But he followed a benign beat, one pitched not to deceive or hurt but to exhilarate, himself and others.
He built his first balloon as a university project in 1971, instead of writing his master's thesis. He became a high school teacher, but when passion beckoned, Boland packed in that career, built more balloons and took to the clouds. He ended up owning the Post Mills Airport in Thetford, Vermont, where he further indulged his taste in the offbeat by erecting a 122-foot-long "Vermontasaurus" out of scrap wood.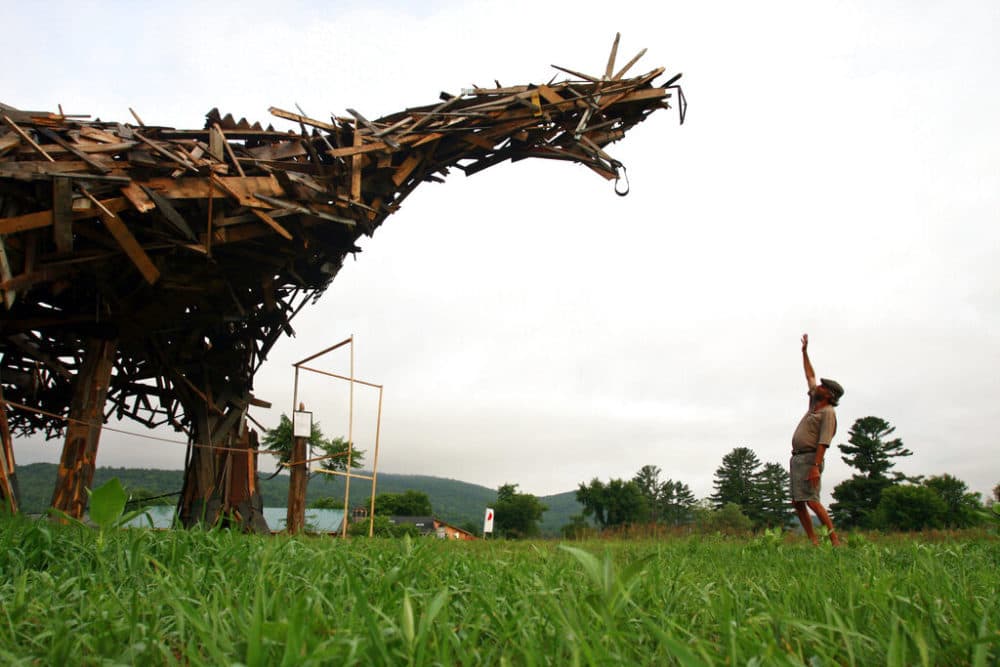 In 1992, when Furman set his sights on doing more knee-bends in an hour than any other human, he thought a gravity-defying venue would make the challenge more interesting. "[I] tried practicing on an airplane but created a stir with the stewardesses who demanded that I stop," he recalled this week, after I reached out after Boland's passing. "I made calls to several hot air balloon companies in my area, but they all thought I was crazy and turned me down. Then I called Brian. He was intrigued and within minutes, he was all in."
So, on a glorious morning 29 years ago, we watched Furman squat furiously — groaning, fighting nausea from the gas exhaust, fighting for balance as his exertions rocked the basket — until the hour ended with  his 3,038th bend, about 60 better than the old record.
Between the breathtaking, shamrock-green landscape below and the oddball circumstances, I was infected with Boland's joie de vivre. "The world record," I exulted as Furman finished, beginning the applause. After we landed in a field, Boland produced the champagne he'd brought to toast the new world squat champion — one individualist celebrating another.
Between the breathtaking, shamrock-green landscape below and the oddball circumstances, I was infected with Boland's joie de vivre.
Boland's self-expression could be another person's eyesore. The scrap-wood sauropod at his airport triggered demands that he get a building permit — the "only-in-Vermont controversy" was settled when authorities decreed the dinosaur permissible art. But no one ever claimed Boland's expression would overturn a fair election or risk infecting someone else with a deadly virus.
Sorrow and joy entwine in every life, and Boland had his share of mourning. His friend Justin Galenski told one obituarist that ballooning, for all the joy it brought, was also Boland's response to the unexpected death of a child: "He wanted to be up in the sky as high as he could be because he wanted to be close to his son."
His death has activated a human instinct to alchemize good from grief. "I'm happy that he was able to pursue his passion for hot air balloon flying right up to the very end," Furman told me. For my part, I'm grateful that our flight with Boland was all pleasure, and that dumb luck has been kinder to me, so far, than it was to him last week. (I survived cancer and a truck accident.)
Boland had an open-heart and an adventurous spirit. He spent a life time lifting people up, literally and figuratively – that was his self-expression. If only he could have taught it to those whose "expression" deems fellow beings worthy only of being misled or disregarded.