Chin up, climate crusaders. We're about to rebuild America
Although you'd never know it — between the Democrat vs. Democrat squabbling, a multi-trillion dollar price tag, fossil fuel company greenwashing and Terry McAuliffe's loss in Virginia this week — the United States is on the verge of making biggest the investment to tackle the climate crisis the nation, and probably the world, has ever seen. We should be shouting that from the rooftops, not hanging our heads in shame or frustration.
The urgency of this moment is multi-faceted and well documented. Almost one in three Americans experienced a climate-related disaster last summer: supercharged forest fires, extreme heat, major floods, droughts, hurricanes and more. World leaders are meeting now, at the U.N. climate conference in Glasgow, to reaffirm their commitment to keeping global climate temperature from rising more than 1.5 degrees. Meanwhile, all of humanity is still navigating the health and economic toll wrought by the pandemic.
Acting boldly on climate has the potential to deal with all of these at once. Yet, oddly enough, for many people — even longtime climate advocates and activists I know — the opportunity before us is largely flying under the radar. I have a few ideas why.
First, climate is only one piece of a much larger bill being debated in Congress. About 40% of the Build Back Better legislation is aimed at communities that have often been left behind and while some of these benefits are climate-related, the bill also includes big investments in children and the elderly, in healthcare, in supporting lower-income Americans and others in need.
Unlike climate legislation in the past, this bill doesn't set standards for how much pollution is allowable. Instead, its focus is on investments — in research and development, in building a clean energy economy, and in creating the healthier communities we all want to live in.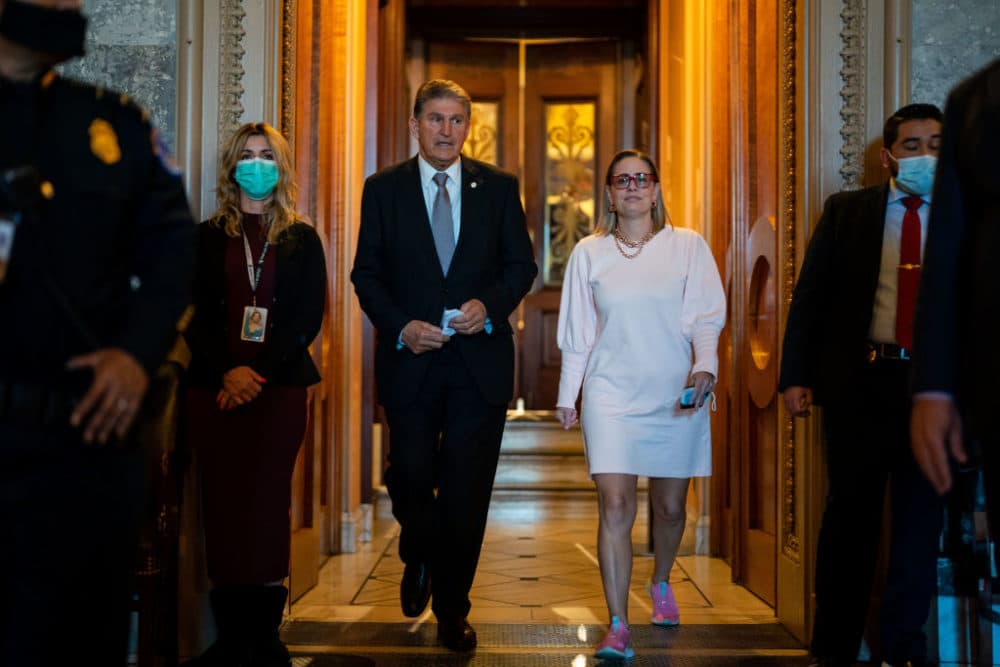 Second, creating massive legislation is messy process, especially in a Congress that is so closely divided. Since the runoff for two U.S. Senate seats in Georgia was decided last January, establishing the Democratic "majority" of 50 votes, two moderate hold outs, Sen. Joe Manchin (D-W.Va.) and Sen. Kyrsten Sinema (D-Ariz.), have been the center of attention. Instead of recognizing and reporting on how much work has been done — all the hearings, votes and successfully brokered compromises — what's portrayed in the news media reads more like a soap opera than a deliberative process.  It's as if the public has the attention span only for cat fights and eye-popping numbers.
So, allow me to set the record straight by explaining what the bill will actually do to tackle the climate crisis. As it stands, when we get the Build Back Better Act over the finish line, there will be over $550 billion to spend on:
*Increasing the amount of clean energy we produce through tax incentives, and other investments, that will make it easier to get solar panels on every roof, from apartment buildings to big box stores, and encourage all sorts of other clean energy sources;
*Research and development of battery technology and other technologies that have the potential to make the country more efficient, enable us to power ourselves with clean renewables, and find ways to capture carbon dioxide that is being emitted;
I'm optimistic because I have to be -- it's my job. But I'm also optimistic because despite the bumps in the road, the signs all point in the right direction.
*Electrifying everything — from homes and schools, to office buildings, factories and transportation;
*Investments in smarter agriculture and conservation that help prevent erosion and make our crops more resilient through natural solutions;
*And massive retrofitting of government buildings including public housing.
When Build Back Better is enacted, over the next 10 years, every community across America will be a winner when it comes to mitigating climate pollution, having cleaner air and more resilience to the challenges our warming climate presents. The new law will enable us to rebuild America in ways that are equitable, that put people back to work and that put the U.S. on track to reducing climate pollution down to the levels scientists say are necessary and that the president has committed us to. A long cry from nothing, this will be historic progress.
I've been in this fight for decades. I started as an organizer almost 40 years ago, working with college students to increase recycling. I've gotten to celebrate lots of victories along the way: reducing the use of toxic chemicals, cleaning up our air and water, protecting pristine landscapes around the country. And certainly, I've mourned at least as many losses.
Somehow, I'm as focused and passionate and optimistic as ever. Today, I sit at the helm of a coalition of 14 major national environmental, environmental justice and public health groups. Together they represent over 15 million members, employ over 5,000 staff and have nearly a $1 billion in assets.
This isn't my first climate legislative rodeo. In 2009, coming out of the Great Recession, President Obama included $30 billion targeted to clean energy investments in the American Recovery and Reinvestment Act (ARRA). That same year, climate legislation passed the U.S. House, but fell short in the U.S. Senate. It was devastating. But things are different now.
A long cry from nothing, [Biden's Build Back Better plan] will be historic progress.
For starters, the cost of inaction are adding up. States, cities, private companies are taking climate change seriously, and acting to limit pollution. The cost of enacting climate solutions has gone down — in many places, renewables are now on par or cheaper than coal. Climate change is a major story now; not just on Earth Day, but every day — we have the American people's attention and support. And our coalition is stronger and more diverse than ever. We have scientists and racial and economic justice leaders, young people and climate grandparents and everyone in between. All of this helps embolden the country's elected leaders to lean into the issue.
The bottomline for me is this: I'm optimistic because I have to be — it's my job. But I'm also optimistic because despite the bumps in the road, the signs all point in the right direction.
That said, I'm just superstitious enough not to want to tempt fate. So let me remind you: fossil fuel companies, many in the Republican Party's leadership, divisions within the Democratic caucus, and plain old gridlock and status quo in Congress all must be overcome if we are to win. And win we must.
It ain't over 'til it's over. And I'm sure even once the Build Back Better Act passes there will be more to do. But, every day, you'll find me fighting the good fight. Let me know if you want to help.