The COVID winter surge is here. This is what Charlie Baker should do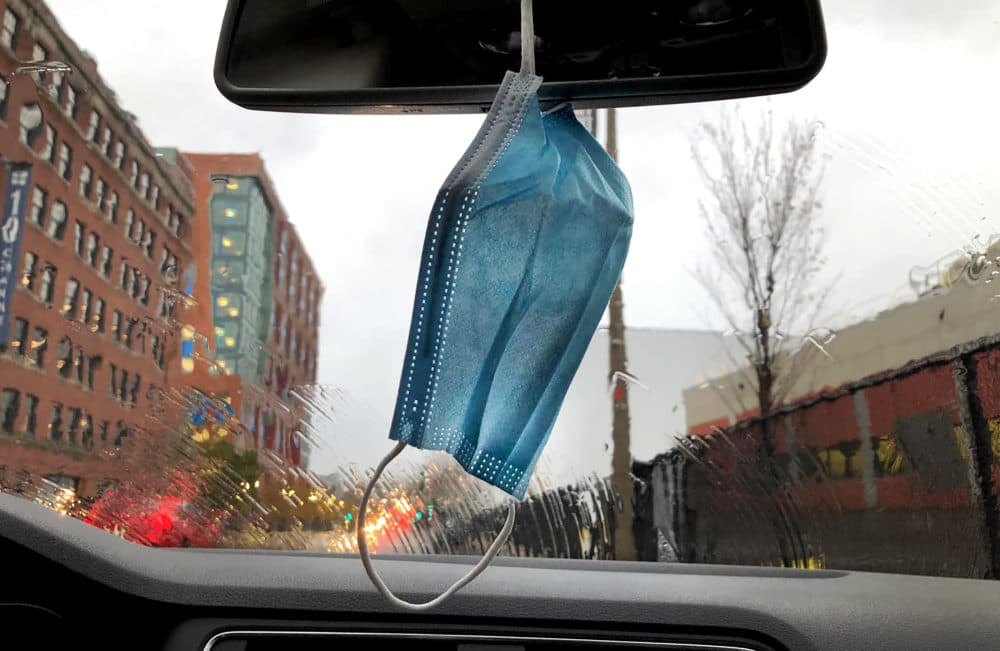 Massachusetts was in the midst of a deadly and disruptive COVID surge even before the new Omicron variant hit the state. In just a month, COVID-19 hospitalizations more than doubled, with rates among people ages 20 to 59 far greater than last December. More than 1,000 children in the Commonwealth have lost a primary caregiver to COVID-19. This is a tragic cost borne unequally by children living in poverty and children who are Indigenous, Black, or Hispanic.
A COVID-19 prevention strategy that relies on vaccination of 70% of the population alone is not sufficient. The proportion of people who are not fully vaccinated is 40% or more in eleven Equity Communities, or communities designated by the state to receive additional support for vaccine distribution. They need more investments, quickly.
Using the full array of public health policies and tools can more effectively combat the virus. We call on the governor to lead rapid response action and communication using each of the following tools to reduce the toll on our lives, health, kids, and the economy across Massachusetts.
Communicate the urgency of the surge
Many Massachusetts residents do not realize the extent to which COVID-19 cases are surging. Alerting people about the rapidly increasing surge may prompt people who were waiting to get vaccinated or boosted to act quickly and may help everyone to recognize the importance of wearing masks indoors. It is important to deliver the message and information about where people can get vaccinated in Spanish, Haitian Creole, Arabic, and other languages commonly spoken in the Commonwealth.
Implement a statewide data-driven mask policy
Gov. Charlie Baker can implement a data-driven mask policy that will turn on in counties with surges and off when cases are lower. COVID-19 spreads through shared air in crowded indoor spaces even amongst vaccinated individuals. Mask policies allow us to keep crowded indoor spaces, including schools, open more safely when community transmission is high. Community mask policies that ensure everyone wears masks in shared spaces reduce the amount of COVID-19 in the air in a way that no individual can do on their own. Data-driven mask policies also prepare us for surges of a variant like Omicron, which causes more reinfections in patients who have already had COVID-19.
Deliver vaccines to low-vaccination communities
There is an urgent need for the state to fund local health departments and community organizations with proven success delivering vaccines to expand vaccination in the eleven Equity Communities with vaccination rates of 60% or less: Brockton (56%), Fall River (56%), Fitchburg (55%), Haverhill (60%), Holyoke (57%), Lawrence (60%), Lowell (60%), Methuen (60%), New Bedford (51%), Springfield (54%), and Worcester (60%). La Colaborativa has contributed to high vaccination rates in Chelsea, pairing vaccine delivery with services such as legal aid and yoga classes. Further funding for the organization could scale their approach to other Equity Communities.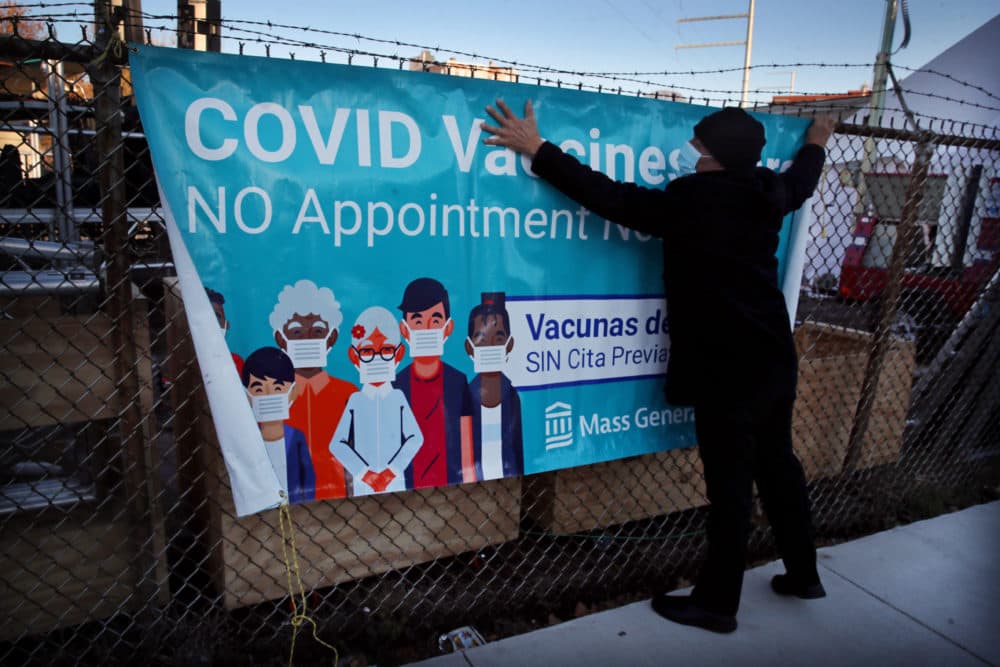 The state should organize vans to deliver vaccines directly to workplaces, neighborhoods, and schools. The state should also organize school-based family vaccine clinics, including during evening hours in all Equity Communities to help counter wide income, racial, and ethnic disparities in child vaccinations. The state should make health providers and community and faith organizations aware of flyers to promote vaccine events in several languages. Communication about vaccine clinics across multiple forms of media, including television, Instagram, and TikTok, and in many languages could help reduce inequities.
Expanded booster eligibility means many will be eligible to receive vaccines at such events and there is likely to be more attendance. Community-based approaches are necessary, as availability of vaccines at pharmacies does not translate into accessibility, especially as many pharmacy appointments require filling out several pages of forms.
Improve testing and contact tracing in schools
The state needs to make urgent investments in testing and contact tracing to make schools safe. School-aged children currently have the highest case rate of any age group in the state, followed closely by people of parental age, 30 to 39. Most school-aged children in Massachusetts are not yet vaccinated.
Recent Boston Public Schools outbreaks and associated closures brought to light significant gaps in testing, contact tracing, and outbreak response, with a call by parents for a CDC investigation to inform school efforts. While the Massachusetts Department of Elementary and Secondary Education works with CIC Health to provide testing, the state is currently only testing families who opt in. Boston lags behind the state, with average consent across the district of 50%, while only a quarter of students in Lowell have consented.
The state could switch to opt-out testing, giving parents a chance to decline participation but otherwise include students. Alternatively, the state could contribute to a robust outreach program to encourage families to participate in testing, as some school principals have done.
Deliver free rapid tests and masks to communities with surges
Gov. Baker was right to suggest that families use rapid tests before gathering for the holidays, but rapid tests remain prohibitively expensive for low-income people and new federal plans for reimbursement from health insurance is insufficient to increase access well. Massachusetts should emulate neighboring states providing free tests for low-income communities and essential workers immediately this holiday season.
The state should also deliver N95 or KN95 masks to school-aged children, as well as essential workers in grocery stores, retail, transportation, and manufacturing to help keep workers healthy and able to work, as Project N95 has successfully done in Arizona and plans to do in Massachusetts.
Clear communication about the surge, indoor mask policies, vaccine delivery to communities with low vaccination rates, improved testing and contact tracing in schools, and free masks and rapid tests could help more Massachusetts families celebrate these holidays and many to come together.
About the authors: Mei Elansary, MD, MPhil is a pediatrician at Boston Medical Center. Julia Raifman, ScD is an assistant professor at Boston University School of Public Health. Bevin Kenney, MD is a primary care internist at Brookside Community Health Center. And Alexandra Skinner, MPH is a research fellow at Boston University School of Public Health.