Riding the (latest) COVID rollercoaster
Yesterday, I saw two friends while walking in the neighborhood. "Don't get too close," one said. "I just found out I'm positive."
"What about you?" I asked our other friend.
"Not yet," she said. "Though at this point, I'm kind of hoping I'll test positive just to get it over with."
We're talking about COVID-19, of course, our new normal-as-a-fire-hose. With Massachusetts having just hit 20,000 COVID deaths, the Massachusetts College of Emergency Physicians and Massachusetts Emergency Nurses Association recently urged people to avoid using ERs for routine COVID tests or even for "mild symptoms."
"We are overwhelmed," the statement said. "Our Emergency Departments are at critical capacity and things will get worse."
I've seen this firsthand. My mother's doctor recently urged me to take her to our local hospital's ER because a CT scan showed a pancreatic tumor, saying, "It might speed up our ability to transfer her to Boston for surgery."
We were in the ER for five hours, where there's a "no visitors" policy because of COVID. Eventually, the triage nurse let me in any way, because my mom was alone in a hallway for lack of beds. We watched a parade of crises tended to by a nurse and a PA who were rushed off their feet. Bells and alarms rang constantly. Finally, we were told that the beds in Boston hospitals were full. "She can stay here or you can watch her at home," the PA advised.
We left. It took many phone calls over two weeks to find an oncologist who could fit my mother into their schedule. Meanwhile, one of my sons tested positive for COVID during his trip to Curacao and is quarantining there for 10 days — alone, because his friends all tested negative. Another son tested positive after a concert that allowed only vaccinated attendees; he has to leave his apartment to quarantine elsewhere because his roommates are freaked out.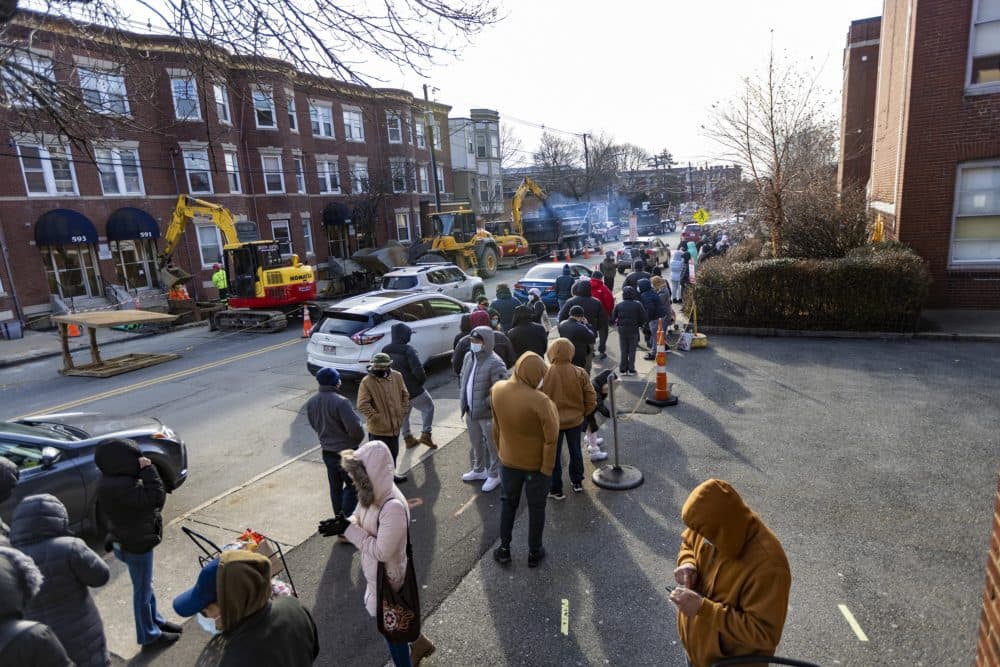 My mother lives with us and I'm her only caretaker. My main concern since the pandemic began has been to protect her. I've been careful. Very careful: for instance, I refused to ride in a car with a friend yesterday until she did a rapid test because she'd just returned from Florida. Her antigen test was negative. Soon afterward she called me in tears, saying she'd also done a PCR test a few days earlier. That test was positive. "I hope I haven't put anyone in danger," she said.
All of the people I've mentioned here are vaxxed and boosted. We all hope we haven't put anyone in danger. Yet, now I'm faced with a dilemma: How do I keep my elderly mother safe, when she lives with me and I've been exposed to COVID? There are no rapid tests available at our drugstores and they're not 100% conclusive anyway. (Is anything these days?) The first appointment I could score for a PCR test isn't until next week. Meanwhile, do I drive my mom to her doctor's appointments? Is it still safe for me to fix her meals?
Every article I read is more confusing than the last.
Every article I read is more confusing than the last. Isolate for 10 days or isolate for five, the experts say. It's safe to be with vaccinated friends if you're vaxed, but you may have a breakthrough infection, they add. Test even if you're asymptomatic. Oh, wait. There are no tests, but that's OK. Infections are mild for most vaccinated people. Still, wear a mask and be careful!
Our new normal means living with COVID and the variants that keep cropping up. Many of us are anxious, tired, irritable, and stressed as a result. Guilty, too: I feel awful that I believed in my friend's negative rapid test and might put my mom at risk.
It's a COVID fire hose and tough to handle, but all we can do is hold on, forgive ourselves for mistakes, and keep trying to protect each other.