'This is the hill I will die on': Readers react to a potential ban on abortion
A leaked version of Justice Samuel Alito's draft opinion overturning Roe v. Wade set off a political earthquake Monday night. The news came through at about 8:45 p.m. We were both just wrapping up dinner when our phones started buzzing.
If you've been paying any attention to this issue in recent years, the reality of Roe being overturned isn't all that surprising. Especially when you consider the Supreme Court's newly conservative majority and recent decisions regarding legislation in states like Texas that permit the restriction of abortion access. And yet. Roe has underpinned a legal right to abortion for nearly half a century, and recent polling suggests that as many as 70% of Americans don't want to see the ruling overturned.
The response to the news was loud, swift and overwhelming.
Anti-abortion advocates and their Republican allies in Congress cheered the news, a decades-long fight now seemingly a foregone victory. Reproductive rights advocates and their Democratic partners expressed outrage, taking to the streets in protest, vowing to pass federal legislation. If the draft becomes the official ruling, abortion would become illegal almost immediately in some 26 states.
The abortion debate has been one of the biggest fault lines in American politics for many years. It's an emotional, visceral issue, and we were curious to know how people were feeling. So, we asked our readers, from across the political spectrum, to share their reflections on this big news. As you'll see below, the responses reflect the majority of the country's view on the access to abortion Roe stipulates – and an overwhelming desire for the ruling to remain the law of the land.
We posed three different questions. Answers have been lightly edited for clarity and style. Here's what people told us.
---
If Justice Alito's draft opinion becomes law, about half of American women of reproductive age will no longer have access to legal abortion. What does that mean to you?
"It sends a chill through my body thinking about it and fills me with rage. It means that women are not safe, that in the eyes of many of our government officials, we are not respected enough to make our own decisions, that we are seen as objects instead of people, and that our welfare and the welfare of our families mean nothing to them." – Hannah S., Somerville, Mass.
"My father was an internal medicine doctor before Roe v. Wade. He used to tell me of the horror stories of women who visited him after they had to seek unsafe abortions." – Cantor T.  
"This ride will be rough, but this is the hill I will die on." – Casey A., Concord, Mass.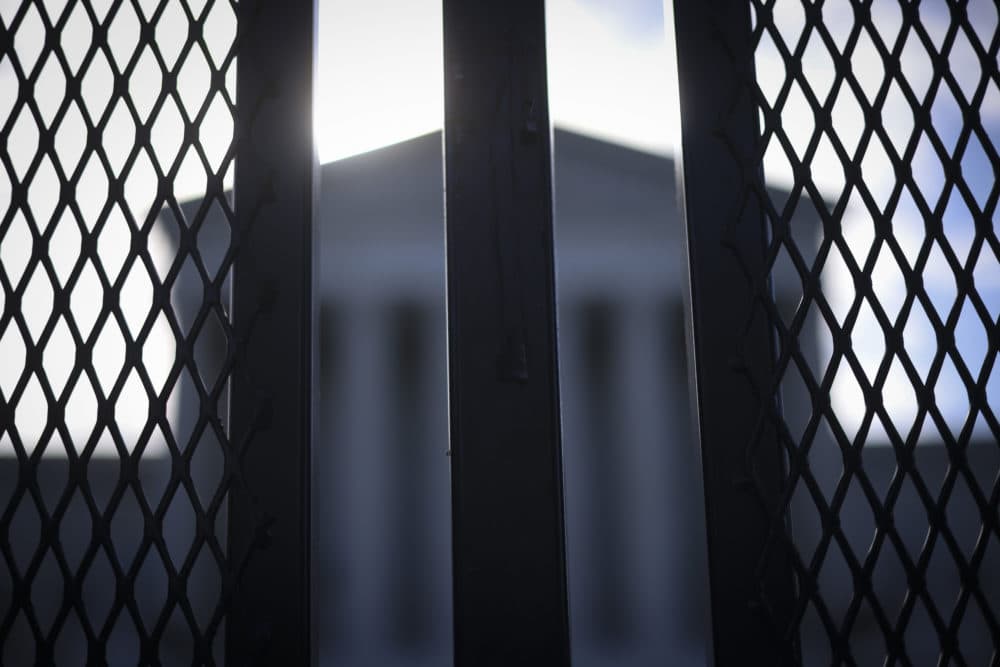 "It means that anything not inherently Christian and white is on the way to being attacked. If they start here, same-sex marriage is next. It's so unfair. No one should be policing anyone else's body." – Duncan P., Quincy, Mass.
"Women in red states who care about reproductive rights need to get out and vote. In blue states like Massachusetts, we need to circle the wagons, expand services, and shore up our laws to protect abortion rights. We can also begin to operate 'abortion tourism' businesses, including subsidized ones." – Roger K., Wayland, Mass.
"It feels like half of America has gone insane! It looks like 'A Handmaid's Tale!' Republicans claim to prefer smaller government, yet controlling women's bodies is just fine? I'm past childbearing age, but I'm frightened for younger women who may die needlessly because of these draconian decisions." – Martha, Massachusetts  
How is it that we are fighting the same battles for reproductive rights that we were fighting prior to 1973?
"I've raised two children. The oldest was from a teen pregnancy and abortion wasn't an option for me. I'm so disturbed by the prospect of overly restrictive parameters or loss of abortion access. I can't wrap my head around the idea that lawmakers, politicians or the supporters endorsing this, feel entitled to do so. The fallout of unwanted pregnancies is enormous. Not just for mother and baby but possibly for generations. Those who want this change should foot the bill for the next 18 years for each off-spring." – Christine D., Quincy, Mass.
"How is it that we are fighting the same battles for reproductive rights that we were fighting prior to 1973? How is it that when the majority of Americans support abortion, the minority will have the power to control women's bodies?" – Jennifer S., Templeton, Mass.
"Precious hard-won rights, such as marriage rights for gay couples, are being threatened by a Court that will overrule precedent. The courts have become now very dominant in changing people's lives in areas that are very private and very personal." – James B., Boston, Mass.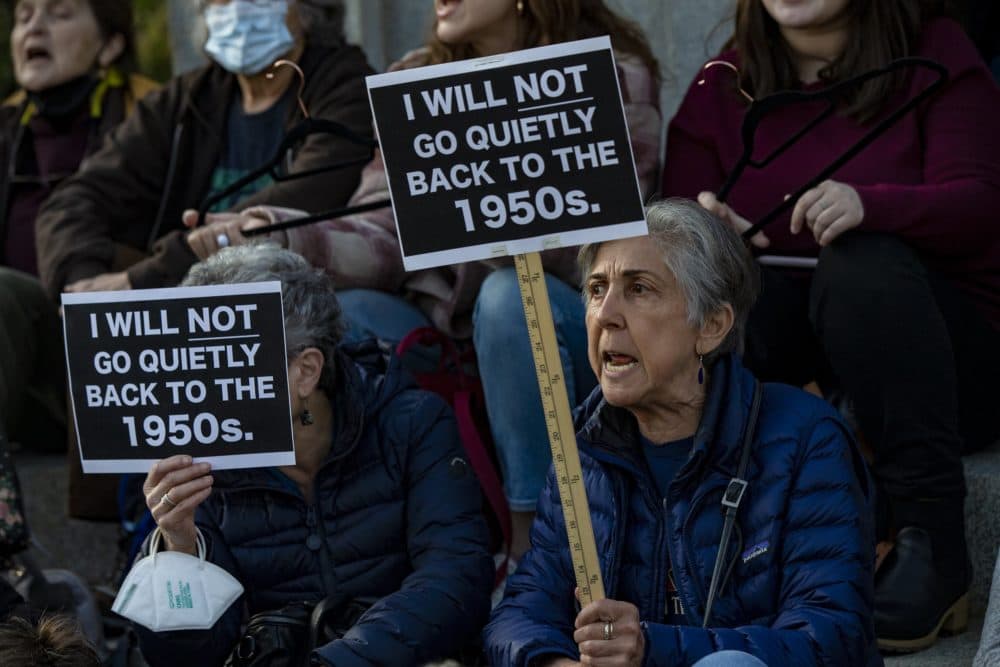 "Hypocrisy rules. It's a violation of individual freedom to make [people] wear a mask, but [the Supreme Court] takes away a woman's right to control her own body. Sad." – Rob S., Ashland, Mass.
"Taking away the ability to choose keeps poor women poor … perhaps that is the idea." – Nina K., Massachusetts
"I live in a state that makes no pretense of supporting women's health care. The end of Roe will mean no place to go for help when a woman makes the decision to terminate a pregnancy. I expect the Kentucky legislature to make it a criminal offense to travel outside Kentucky borders to terminate a pregnancy." – Jill C., Campbellsville, Ky. 
"I remember my mother (born 1915) telling me that she remembered women asking the priest for help, as she was pregnant once again. The priest told one mother that she must remember her spousal duty: her duty to have children she neither wanted, nor could her family care for. Surely, our country has evolved from this 19th century attitude toward conception.  Unfortunately, the Supreme Court has not." – Susan T., Ontonagon, Mich.
"I am personally against abortion, but I absolutely believe and defend a woman's right to her own body, since a decision about pregnancy will only affect her." – Caterina Z.
"As a woman, and as a woman who has a sister seeking an abortion, it kills me knowing that if this truly is passed then she would have to give birth." – Jos, Massachusetts 
"How did we get to a point in our society where refusing to wear a mask for public health purposes during a global pandemic became a flashpoint for 'freedom,' yet the autonomy and freedom to make personal, private healthcare decisions for millions of women can be determined by four men and one woman?" – Thea P., Arlington, Mass.
---
If you could send a message to the justices of the Supreme Court right now, what would it be?
"Legislating control over a person's body is wrong. The American people overwhelmingly support choice. Women will continue to have abortions. Women will die because of your vote." – Eileen M., Gloucester, Mass.
"Dismantling Roe v Wade will not affect me directly, but it will deny women of color, poor women, young women access to reproductive choice. At the same time the Republican party – both in the states and nationally – will continue to deny any form of support to families with children." – Susan W., Newton, Mass. 
"You saved lives and correctly interpreted the absence of abortion in the constitution." – Edric, Harwich, Mass.
"You should be ashamed. What year do you think this is? We should be moving forward, not back in time. I am so sad about the state of our country and world." – Joanne B., Salisbury, Mass.
It sends a chill through my body thinking about it and fills me with rage.
"Trust women to make the decisions for their bodies and in consultation with their doctors. This decision lacks the dignity, empathy and robs women of our agency to make our own decisions. You are creating two Americas as you walk back settled case law. Do not make an already impossible choice more difficult." – Kathy G., Concord, Mass. 
"Reproductive rights are human rights and our democracy is supposed to allow individuals freedom to choose." – Roberta D., Massachusetts
"The Supreme Court has become a political organization at this point. This is not about the law but about advancing an agenda." – Steven K., North Providence, R.I.
---
Do you have any personal experience with abortion? What can you tell us about it?
"My mother had a necessary therapeutic abortion prior to Roe, and was profoundly distressed by it. I always knew that personally, I could not ever have an abortion, however, I would do everything in my power to protect the right to abortion." – Leslye H., Great Barrington, Mass.
"Yes, I have personal experience. We could not afford more than two children. I would have kept and raised and loved them all if I could have." – Ellen C., Foxborough, Mass.
"I am 62 years old. I had a legal abortion when I was 18. If abortion was not legal, I would have found a way to get an abortion anyway. Thank god it was legal. I have never regretted that choice and will continue to fight hard for our daughters to have that same right. I thank the women that came before me who fought so hard for me." – Eileen M., Gloucester, Mass.
"My mother aborted her first child, my older brother, and has regretted it every single day of her life." – Dan, Boston, Mass.
"I have never been pregnant, due to health issues. I would have loved to have a child. I am now a very happy grandmother through a stepdaughter. I know a few people who have either had an abortion, or were married to a woman who had an abortion. In each case, it was a painful decision. No one I know considered abortion to be a cavalier form of birth control or family planning. They agonized over the decision. I can't imagine if they had also faced an obstacle from the law. I am so tired of (mostly) men making policies about the lives and health of women without their consent." – Karen R., Marshfield, Mass.  
I always knew that personally I could not ever have an abortion, however I would do everything in my power to protect the right to abortion.
"I had an abortion in college. The father would never have married me. My father was a gambler and my mother was dying of cancer. Having a baby then would have forced me to drop out of college, I would have had no help, no money. It was not an option to have a baby. Did I "want" an abortion? Of course not." – Kay, Newton, Mass.
"I've never had to make this choice. But if the sexual assault when I was 15 years old had produced a pregnancy, I would have wanted the option to abort." – Kate S., Newton, Mass.
"I had an abortion approximately 30 years ago. I have not regretted it for one moment of my life." – M.B, Massachusetts
"I had two medical abortions. Both were very much welcomed pregnancies, but the fetuses were not healthy. It was emotionally devastating. I was shocked to realize that my option to have this medical abortion in the privacy of my own home is a 'luxury' not available in all states already." – Kathy G., Concord, Mass. 
"I have never been pregnant, but I have counseled women who were unable to obtain abortion services (pre-Roe) and thus forced to carry a rapist's child to term. They were still dealing with the trauma 40 and 50 years later. I have also counseled women who knew they made the right choice for themselves to have an abortion earlier in life who experienced delayed grief (but not regret!) for the child they did not have. These women went on to have fulfilling careers and families at a time of their choice, but still felt the ache of a hard choice well-made." – Ruth S., Pawtucket, R.I.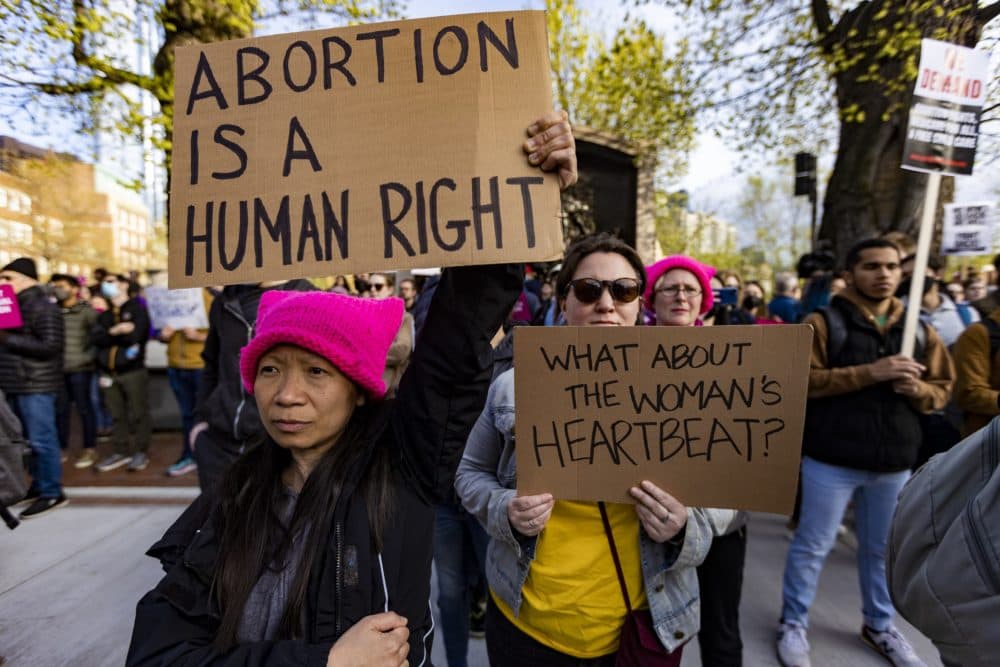 "Thankfully not. I decided to keep all my children. Was it hard? You bet. It is hard, as an 18 and 21 year old, to have a child and go back to school to continue studying. It was fighting to have a good education and at the same time have a family. But doable! No, we were not from a rich family, but simply worked hard and didn't spend a lot of money on 'things'. If you choose to have sex it does not mean that the result of that should be killed." – Ann
"I am 53. I had an unplanned pregnancy in college and had a abortion. It is something I've never regretted. I am grateful that I was in Massachusetts and didn't encounter any ridiculous systemic obstacles or rules that made my access difficult. Something as important as a child needs to be considered carefully and planned for." – Holly C., Beverly, Mass.
Editor's note: Thank you for sharing your stories with us. We'll continue to pay close attention to this issue in the weeks and months ahead. If you have a story you'd like to share, send it to us at opinion@wbur.org.