There's room for all of us on the Celtics bandwagon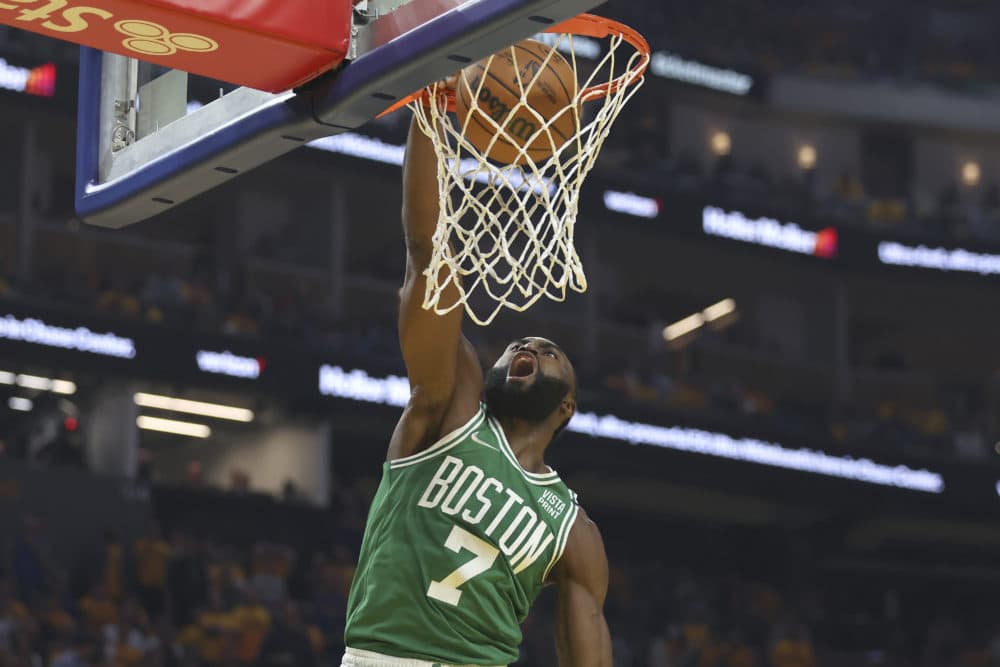 I love these Celtics. And win or lose, you should, too. Even if you are just now tuning in, this is the perfect moment to jump on the bandwagon, before game six. If you are coming to NPR for your sports coverage, this is your personal invitation to join the moment. Because it's fun. And whatever happens next, it's a great ride.
After the years we've had, it's really OK to have something fun in our lives. You have my pastoral blessing to have fun. These Celtics are the best of Boston: communal, bold, brave, and diverse.
I happen to think we're going to win the NBA Finals in seven because hope is a spiritual commitment, and because this team is as scrappy as those old Orange Line cars. I believe 18 championships are possible. And in a city where so often people are "from" somewhere else, it's a joy to graft myself on to this deep-rooted tradition. You should, too.
What these Celtics have offered as a team is a broad invitation for everyone to get on board.
This season has been remarkable as first season coach Ime Udoka led a team that was in 11th place in the Eastern Conference back in January to the NBA finals in June. Udoka's own history as a player is a story of not quite finding his place to flourish. I think he sees what others may miss — how players fit, not just with their own gifts but as a team. In the second half of the season, and with a few good trades, Udoka's coaching mixed to form magic.
At each stop along the road to the NBA Finals, these Celtics took on and took out some really excellent teams. We have some "star" players, but what we have most of all is a strong team and a deep bench. We were able to defeat the luxury brand Brooklyn Nets (née New Jersey), St. Giannis of Milwaukee, and Jimmy Butler's perennial thorn in the side, Miami Heat. Each of those teams were built around marquis players, but we were deeper and our teamwork won out. And I write "we" as if I was somehow involved, my cheers and devotion willing the team along.
Fandom should not be like the coolest band you've never heard of: inaccessible and smug. This city has far too much culture that is unapproachable by class, race, gender or social location. What these Celtics have offered as a team is a broad invitation for everyone to get on board.
It's fine to be a fan who doesn't know the whole history of this franchise. It's OK to not understand the difference between traveling and a Euro-step. You can just enjoy that Marcus Smart has re-dyed his hair green, Al Horford's sister Anna has the best Twitter feed, Coach Ime Udoka made it to the finals in his first season, how cute Jayson Tatum's son Deuce is, and why on earth Robert Williams III is nicknamed "The Time Lord." You can just cheer extra loud when others do. It's OK to join a parade.
I only came to the Celtics a few years ago. It was an intentional decision after my wife and I gave up on the NFL. As Christians and feminists, we could no longer stomach putting our eyes and our money with this corrupt institution. Between the blacklisting of Colin Kaepernick, the blatant destruction of players' bodies for profit and the condoning of domestic abuse, we could not stay with pro football. But there was a loss: with our parents (Giants and Steelers fans respectively), with community, and with the ritual of Sunday afternoon football. And boy, did I lose out in conversations here in New England.
And look, I'm a clergy woman in Boston. Only 13% of this nation's churches are led by women. If you can't talk about sports in this city, you can't talk to a whole lot of people. Sports are a social lubricant. So when we left the NFL and the sports of our families, I intentionally sought out new connections. Which led me to the Celtics.
As a Celtics fan now, I feel like I can demand more of this team and the ownership group.
Far and away, Celtics games are the most racially diverse sporting events I've been to in Boston. One of the unintended consequences of becoming a Celtics fan is just how many new conversations I find myself in, people with whom I would not have another reason to meet.
The Celtics are (mostly) a Boston tradition I'm proud to graft myself on to. As a Celtics fan now, I feel like I can demand more of this team and the ownership group. I can march and shout and advocate alongside the Celtics, as when the players wrote editorials and spoke out in support of anti-racist policing reform as we worked to pass state legislation in 2020. I can ask what more can be done by my team to support WNBA player Brittney Griner, being held as a political hostage in Russia, even after the U.S. State department has declared the detention illegal. I can ask why her name isn't on their jerseys and warmup shirts. I can ask what in NBA culture has made it so very hard for queer athletes to live out freely. I can ask why it is so hard to buy a Bill Russell shirt from the Celtics online store, while there's plenty of Larry Bird paraphernalia. Because now that I'm a fan, I can also be a loving critic.
And best of all, I can ask why on earth we don't have a WNBA team yet in Boston. The Celtics taught me to love this game. They've made me a fan. I want a win in these NBA finals and I want a parade. For the players, and for us fans. And then I want to cheer for a Boston women's basketball team and invite others on to that bandwagon, too. Because if we're going to be a championship city, we better be champions for all of us.