Beyoncé's 'Renaissance' is like being together again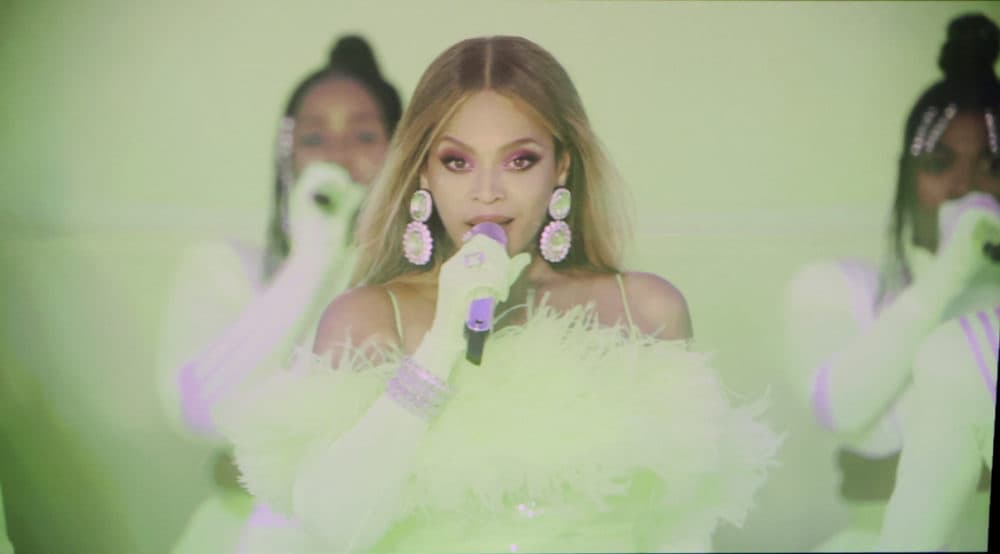 Beyoncé's latest album, "Renaissance," is a vivid, immersive soundscape that remembers — even as it recreates — the feeling of being together: dancing in clubs or house parties, hearts beating in sync and in rhythm, grinding on the club floor anticipating other forms of intimacy. It is a fantasy project that recalls those physical delights taken away by social distancing at the start of the pandemic.
At first glance, "Renaissance" is simply a dance album that recalls the legacies of house, disco and Afrobeat. Certainly celebratory, the album is less a resurrection of "old" musical forms and more a reminder that the groove of Blackness — historically developed in juke joints, advanced by Chicago House pioneers, reinvented in urban balls, popularized in New York discos — remains as strong as ever.
However, "Renaissance," the first act of an expected trilogy, is greater than a series of tracks engineered to work up a sweat. Similar to Beyoncé's "Lemonade" (2016), the album frames and reframes our cultural moment: the insights gained from our global health pandemic and more. "Break My Soul" could be the summer anthem for the Great Resignation and the need for personal and professional renewal. Beyonce spotlights the introspection that has occurred throughout the past 2 1/2 years:
And I just quit my job

I'm gonna find new drive …

I'm takin' my new salvation

And I'ma build my own foundation.
Life is too short for jobs and relationships that are neither fulfilling nor nourishing. Her advice: Walk away from them and head toward those things and people who will embrace and brighten your glow.

"Renaissance" has moments of profound social commentary, particularly drawing attention to the increasing presence of white nationalism and the distressing rise of anti-Black racism. Politically active in support of Barack Obama, the nation's 44th president,Beyoncé urges her listeners to be politically engaged. In "Energy," she sings, "votin' out 45, don't getta outta line." A subtle nod to the power of voter registration and the effects of voting, she reminds us that politicians serve at our pleasure.
In the same song (and echoing the flow of Childish Gambino's "America"), she raps:
I just entered the country with derringers,

Cause them Karens just turned into terrorists.
With these words, she calls out white women who have served as antagonists in the everyday drama of Black life. We've all witnessed these ill-effects relayed via cell phone videos: disrupting grocery stores and even interrupting the serenity of bird-watching.
Beyoncé's success anchors itself, in part, in highlighting resilience over grievance. In "Renaissance," she celebrates Blackness, Black folks, Black love. She places an emphasis on "survivance," activity and agency in opposition to forces that seek to oppress. And she understands her unique, galvanizing role at the center of this movement as she recognizes the many ways that Black lives matter. In "I'm that Girl," she declares:
From the top of the mornin', I shine …

Touching everything in my plain view

And everything next to me gets lit up too.
Beyoncé understands the reach of her halo and the power and necessity of amplifying the radiance of Black women and Black girls. She centers womanist agency and authority. Across 15 tracks, everything from desire to self-image to sexual appetite is addressed frankly and (as the track labels caution) explicitly. The songs are few and far between that a person might feel comfortable singing aloud with children, but the album exists as an anthem that undoubtedly will empower them in the future.
There's a moment in the nightclub when exhaustion sets in but somehow the beat drives; keeps you going. This is what "Renaissance" does. It is akin to a military cadence, assisting with the movement forward. But the beat is faster, more intense. It is an energizing series of pulses that motivates us to continue to weather the disruptions of COVID and to keep fighting those forces of prejudice and racism.
Of course, "Renaissance" is only Act I. It is the opening, the amuse-bouche of a potentially longer, more sustained engagement. What Beyoncé offers is a call to listeners to recognize our shared moment as well as our shared frustrations with both a pandemic and the fracturing elements (white nationalism, racism, inequality, homophobia, gender bias) of society.
It is unclear what will follow but the artist's societal critique is likely to be sharper, and the embrace of Blackness more firmly held, in the next act.