10 years after the massacre in Oak Creek, I remain committed to my faith — and my country
As a service member in the U.S. Army (the Massachusetts National Guard), I wear the American flag on my uniform with pride. I do so because I know it stands for a set of fundamental values that I have in common with my brothers and sisters in uniform, as well as my country — freedom, a willingness to sacrifice for others and be courageous in the face of adversity.
My Army uniform also includes unshorn hair, beard and turban — articles of faith for Sikhs like me, who are members of the world's fifth-largest religion. This past weekend, I joined Sikhs across the nation as I commemorated and committed to action on behalf of a terrible tragedy that befell our community 10 years ago in Wisconsin.
On the morning of Sunday, Aug. 5, 2012, the gurdwara (a Sikh house of worship) in Oak Creek, Wisconsin, was attacked by a white supremacist and U.S. Army veteran. The gunman killed six worshippers and injured several others, including Baba Punjab Singh, a community elder who was paralyzed (and ultimately died from his injuries in 2020), and Lt. Brian Murphy, a heroic responding police officer who was shot some 15 times in an exchange of gunfire.
The assault remains the worst-ever attack on Sikhs in our country, and at the time, it was the deadliest attack on a U.S. house of worship of any kind in decades.
I remember serving Langar (communal meal) to others at a gurudwara in Richmond, Virginia when I received the breaking news alert on my cellphone about the tragedy that was slowly unfolding. It was shocking to learn that my community had been attacked. It made me wonder if my community and I could ever pray in peace again. This terror attack became a defining moment in my life: It galvanized me to action.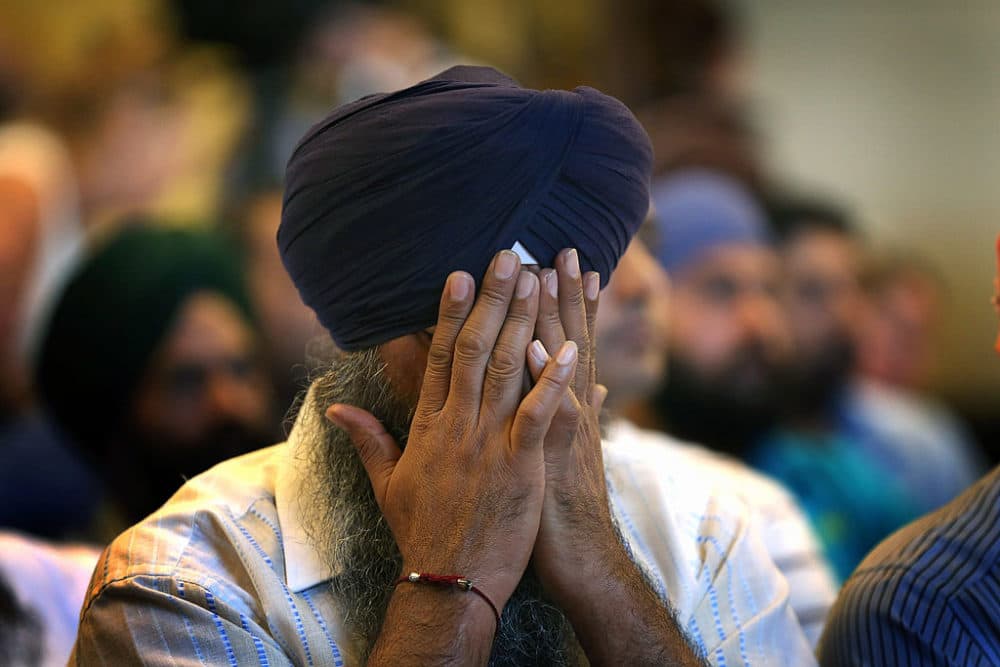 I had to do more to help the broader American community understand the Sikh community. I began an improbable journey to serve in the military and become a commissioned officer. I wanted to demonstrate to my fellow citizens, including military veterans, that Sikhs are not a threat — that we are proud and patriotic Americans.
Ten years later, Sikhs around the nation are remembering this tragedy in many different ways. In Oak Creek, the community at the center of the tragedy held continuous prayer services all weekend, as well as a candlelight vigil with elected officials, interfaith leaders and family members who lost loved ones. They also organized a half-day community event open to all, with interfaith workshops, turban tying demonstrations, tours of the gurdwara and activities for kids.
But the mass shooting in Oak Creek has had significant impact beyond that local Sikh community. The profound sense that violent hate was a real threat to us all was accompanied by a shared desire — the same one I experienced — to stand up and give back to our communities. Since the tragedy, the Sikh Coalition (a national civil rights organization) has organized a National Day of Seva, or selfless service, a core value of our faith, on Aug. 5. Communities in more than 20 cities have organized projects to clean up community parks, host food drives, provide meals to homeless shelters and more.
This terror attack became a defining moment in my life: It galvanized me to action.
All of these efforts and more will be undergirded by the values of our faith: Sarbat Da Bhala, peace and prosperity for everyone; Chardi Kala, eternal optimism; Nirbhau, living without fear; and Nirvair, living without hate.
Tragically, the Sikh community in Oak Creek is far from the only racial or religious minority to have experienced this level of horrific violence.
It is incumbent on all of us to take action to prevent the next Oak Creek or Buffalo or Pittsburgh or El Paso from happening. As citizens, we should raise our voices in support of policies that make preventing hate crimes and acts of domestic terrorism easier. Our elected officials should continue to strive to promote diversity and inclusion in the lawmaking process. We also need to ensure that more resources are available for houses of worship that want to strengthen their own security.
I've been praised for wearing the uniform. I've also been subjected to harassment, racial profiling and even threats for wearing my turban. Such is the duality of being a Sikh — that is, being a visible member of a minority group — in serving my country. The people who have harassed and threatened me live amongst us.
As my hero, the late Civil Rights movement legend Rep. John Lewis used to say, get in "good trouble." He said:
When you see something that is not right, not fair, not just, you have a moral obligation to continue to speak up, to speak out.
Ultimately, we must take a stand. It isn't just law enforcement or members of the military, but all of us who can take action to make America a safer place for our neighbors. For me, the Oak Creek anniversary is a good reminder of that responsibility. I urge you not to wait until your community is impacted by violent hate before doing the same.
As the Sikh faith teaches us, we need to live without fear and hate, and also do our part to make the world a better place for all human beings. Chardi Kala and Sarbat Da Bhala.
Kanwar Singh is a volunteer for the Sikh Coalition and a commissioned officer in the U.S. Army (Massachusetts National Guard). Per the request of the author, it is noted — as is the case with all Cognoscenti commentaries — that the views expressed in this article are those solely of the author. They do not reflect the official policy or position of the National Guard, Department of the Army, Department of Defense, commonwealth of Massachusetts or the U.S. government.