A letter from Edinburgh: I watched the Scots mourn their Queen with 'extraordinary generosity'
"A 96-year-old woman dies peacefully at home, surrounded by her family, and an entire country shuts down," our Edinburgh whiskey tasting guide wryly observed. The 20 of us — all Americans — sitting in the cozy room over the Waverley Bar, laughed. Emboldened, he continued. "I confess I did wonder about the timing of her passing. Was she hanging on long enough to ensure that Boris Johnson wouldn't be able to speak at her funeral? Or did she meet Liz Truss and decide 'That's it. Time to go.'"
This low-key but pointed stand-up routine by a young Scotsman — undoubtedly not a royalist — resonated with our American irreverence for monarchs. But it clashed with our reverence for celebrity. And though I chuckled along with everyone else, in light of what I'd just experienced spending the day with tens of thousands of mourners, I found it jarring and, to my shock, unseemly.
It was September 12, our second day in Edinburgh on a long-deferred vacation. Almost every museum we'd hoped to visit was shut down to honor the Queen. Every city bus we'd tried to take to attractions outside the Old City had been diverted or halted for the day. We couldn't walk anywhere without being herded into detours that added at least a half-mile to every destination. Although we had vowed that we weren't going to spend our limited time in Edinburgh standing for hours behind barricades craning for a glimpse of the royal motorcade, it became clear that there was little else available to us.
I didn't stay disappointed for long. The mobbed streets were fascinating, peopled with locals and tourists who'd either deliberately come to "be a part of history" or, like us, had just coincidentally ended up there.
Black-clad snipers and cameramen crouched on nearly every rooftop, actively scanning the crowds below. Near St. Giles Cathedral, where Queen Elizabeth II was to lie in state, two young women in hijabs were separated from each other by the barricade that had been erected while one stopped to window shop. Now they stood on opposite sides of the street, talking frantically to one another on their cell phones. They remained separated by metal fencing and a line of police who politely but firmly refused to let anyone to cross the street for the next several hours.
On every block, newscasters gestured in front of mobile broadcasting setups offering the same blow-by-blow of what was going to happen in a multitude of languages. Reporters with Dutch and Caribbean and Polish accents earnestly asked the same questions of mourners, who were more than eager to talk about why they'd come.
The answers I heard were a perplexing meld of abstract and heartfelt. "She had such sparkling blue eyes," one woman said. "I met her once when I was working at a pub in Windsor and she took such interest in everyone," shared another. Many other responses featured language like "duty" and "honor." Sadly, I couldn't — and still can't — quite grasp what these people so valued in "duty" that, based on my minimal knowledge, mostly took the form of shaking thousands of hands, offering a hinged wave to millions of people, periodically donning heavy costumes and never publicly expressing anything but vaguely soothing platitudes.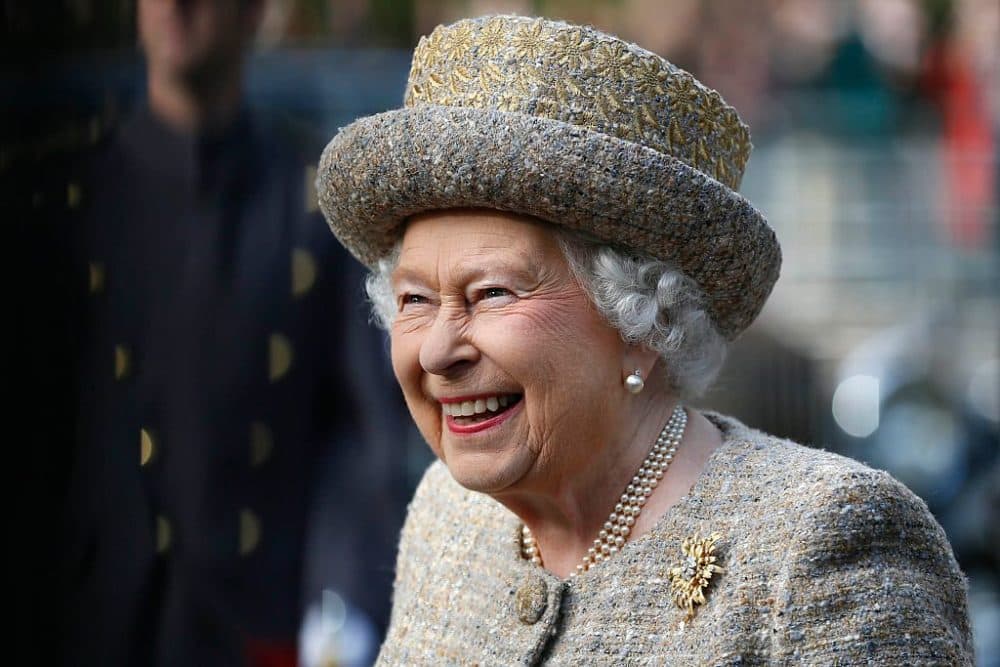 Still, I couldn't help but acknowledge the sincerity of their feelings. And more than earnestness, what these thousands of people demonstrated was extraordinary generosity to each other.
Despite massive crowds, closings, detours, delays, and a baffled and disoriented Google maps system, everyone we encountered — police and citizens alike — was kind to one another. I witnessed several people help an exhausted husband prevent his wife's wheelchair from slipping out of his grasp and careening down the cobblestoned hill. A young man with a semi-colon tattooed on his neck ("A symbol we use here to signal to people with mental health problems that it's safe to approach us if they need someone to talk to," he explained) rocked a squalling infant he'd never met before, while her mother took photos. Nobody swore, let alone pushed the person blocking their view out of the way. In fact, those who had a good view of St. Giles Cathedral offered to step aside so that others could see the black limousines bearing the Queen's coffin and the live, undoubtedly weary bodies of the new King and the Royal Consort drive slowly up the hill.
As Queen Elizabeth's hearse came into view, tens of thousands of people fell absolutely silent. Had there been a lone baby sparrow perched atop the cathedral's soaring spire, you could have heard it chirp. The hush was palpable, glorious and deeply moving in the respect that these strangers were showing not just for the Queen, but for one another. I've never experienced anything like it, and am so very grateful that I did.
If Queen Elizabeth's memory endures ... Maybe it will be because in her death, if not in her life, she aroused decency.
My husband and I have been trying to imagine who might inspire such a similar mobilization of good behavior in the United States. Certainly no political leader since FDR or maybe JFK has had the power to elicit civility, let alone kindness, from our diverse citizenry. And as beloved as they are, it's hard to imagine the death of Tom Hanks, Oprah or Bruce Springsteen generating a massive outbreak of goodness.
But it seems that even in Scotland (a country more oppressed by than included in the British Empire and quite eager to leave the "United" Kingdom), a devotion to duty, to public service (however alien or silly its form), has the power to at least temporarily unite people — royalists and anti-Imperialists alike — in mutual consideration.
If Queen Elizabeth's memory endures, perhaps it won't be due to the ubiquitous handbag, the picture on plates and stamps and pound notes, or even the sheer duration of her reign. Maybe it will be because in her death, if not in her life, she aroused decency.
In that cozy room over the Waverley Bar, when the host's Queen jokes ended and we finally sniffed and swirled and sipped our single malt Scotch, it was to that legacy that I drank.