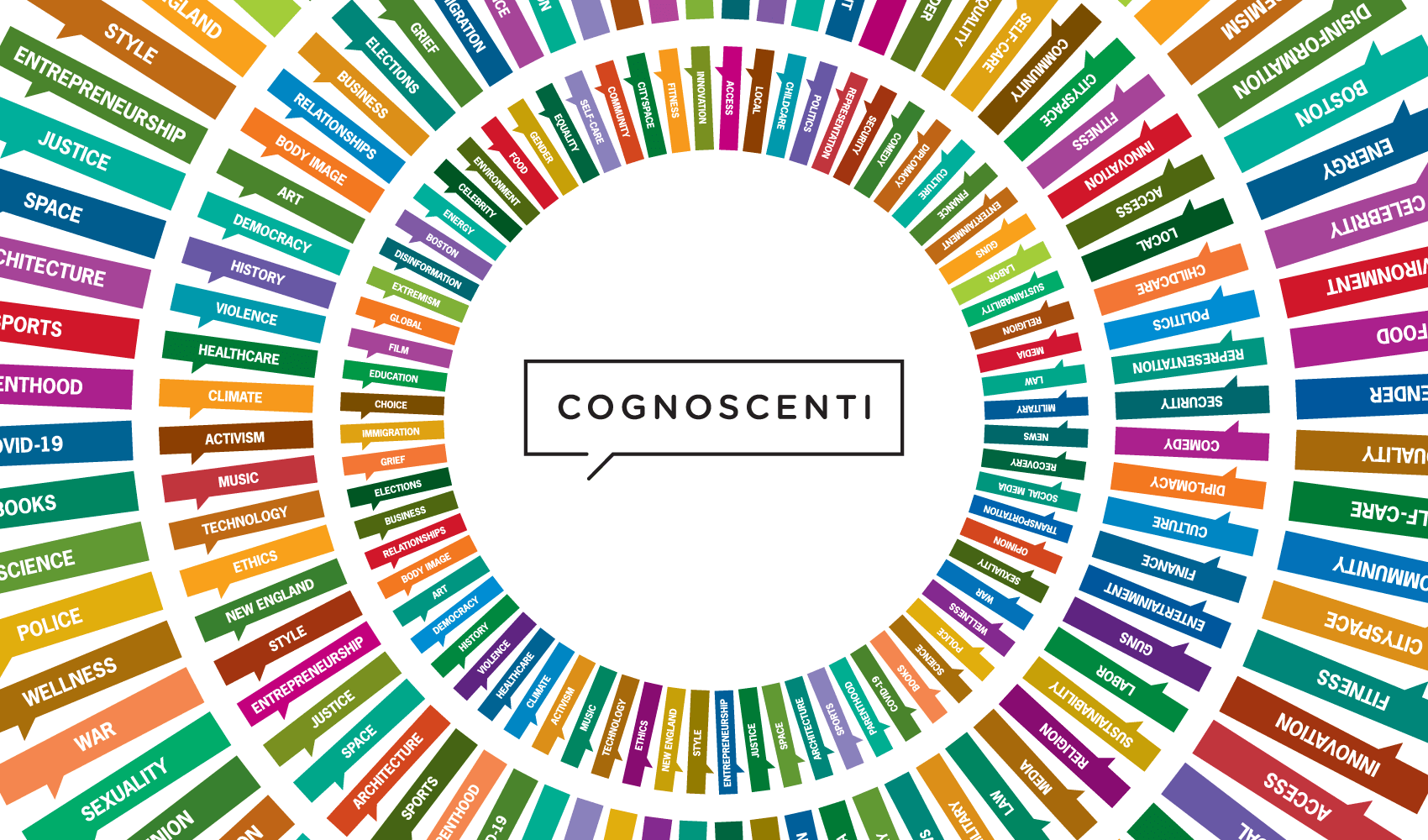 Celebrating 10 years of Cognoscenti
---
It may come as a surprise to no one — our readers and contributors — that your Cognoscenti editors are fans of the writer George Saunders. In the letter he wrote to his students at the start of the pandemic, on the eve of so many cataclysmic changes in how we understand and experience "normal," he noted, "It's only when we expect solidity—non-change—that we get taken by surprise. (And we always expect solidity, no matter how well we know better.)"
Truer words…
From now until the end of the year, Cognoscenti is celebrating our first double-digit birthday, our 10th anniversary. We'll be sharing retrospective notes, like this one, and featuring special guests and insights in our weekly Sunday newsletter (please sign up here). We are producing several essays for WBUR's Morning Edition and organizing a special event in October at CitySpace.
In preparation for all this, we've been taking ourselves on a little tour of the archives these past few months. Anchored and energized from the get-go by our mission to amplify, celebrate and share "thinking that matters," the work we've published in this last decade  — some 4,700 pieces — is, in part, a living record of how we grapple with the constant of change. It's how we, your editors, and our authors, have wrestled with the non-solidity of the human experience as it manifests in community, politics, medicine, parenting, love, health, even baseball.
Cognoscenti started as an idea. No one was quite sure what to call it. For sure, no one knew how to pronounce it (look no further than the video announcing our launch). It's worth a reminder that cognoscenti means "people who are well informed." But in Italian, it also means "acquaintances" or "getting to know," a sentiment we think has also born out over these many years.
The project, an experiment, was the brainchild of Charlie Kravetz, WBUR's former general manager. Frannie Carr Toth was our very first editor (the work we'll be sharing these next few months is as much hers as it is ours). And Sharon Brody bylined our very first piece, published on July 5, 2012. To this day, there is nothing else like it in the whole of the NPR ecosystem, and our experiment has proven to be successful over and over again — in the number of writers we've published, the unique (and sometimes) startling perspectives we've shared, and the resonance we've found in millions of readers' and listeners' lives.
We've evolved over the years, of course. But a decade on, we've arrived at a place that feels like an inflection point. At our very best, the work Cog publishes is deeply personal, while adding perspective and depth to important news stories. We scout for pieces that are hopeful, that seek out beauty in all its many forms, and maybe most importantly, help our readers and listeners feel a sense of connection to one another.
We're thinking about Holly Robinson's iconic essay about praying for boring days. Or Chris Ritter's piece about surfing and uncertainty. Or Desmond Hall's piece about police violence. Or Julie Wittes Schlack's meditation on parching despair before it takes root. Or this collection, authored by so many of our contributors and readers, about the greatest gifts they've ever received.
George Saunders once said in a conversation with novelist Mona Awad, that his creative writing students at Syracuse University come to him already simmering, boiling over even, with immense talent and experience. As such, he feels what he can offer is a hand in guiding each toward "your essential YOU being available on the page." As editors, that is our essential work.
As we look back at 10 years of Cog, at essays and radio commentaries, the voices of women, men, parents, immigrants, politicians, teachers, climate activists, journalists, sons, daughters, winter warriors and Red Sox fans; in stories of illness and death, love and connection, despair and hope, we think we can safely say to Cog's writers, that you brought your essential you to our pages.
Thank you for reading and writing these last 10 years. We're excited for all that's yet to come.