Maura Healey, 'first of her name': May she be unabashedly herself
Ten Johns, seven Williams, three Georges, three Samuels, two Alexanders, two Charleses, two Levis, one Mitt, one Deval, one Arego, one Increase, one Elbridge and exactly one Jane.
Before last night, of the 75 people to serve as governor of the Commonwealth of Massachusetts over the past 242 years, only one had been a woman; and no woman had ever been elected to the post. Yesterday, that changed.
Add to that male-dominated list: One Maura.
We should celebrate loudly and frequently this belated and necessary change. May the next Massachusetts governors more accurately reflect the gender, racial and ethnic diversity that has always been here.
And yet, what has been clear from Governor-elect Maura Healey's campaign is actually how little the campaign chose to emphasize the historic opportunity voters had to elect the first woman — and the first openly LGBTQIA leader — to the highest office in the state. While a good part of me wishes they would have underscored the significance of this moment, I can empathize with why perhaps they did not.
Those of us who go first often feel obliged to downplay our distinctiveness from our predecessors.
There is a cruel privilege in being perceived as "normal," whatever that is.
I will forever remember another female clergy colleague who told me I needed to drop my voice and buy more blazers, rather than wear the feminine Michelle Obama-styled cardigans I favored. In her mind, she was helping smooth my entry into the majority-male clergy ranks.
There is a cruel privilege in being perceived as "normal," whatever that is. I took her advice to heart; I bought more blazers at the old Filene's Basement.
I've spent the entirety of my career as an ordained minister in a profession that, in this country, has been dominated by straight white men. Everything from the cut of the clerical shirt I wear, to the titles by which I am addressed reminds me that this profession was not initially intended to include me, however talented or God-called I am. According to the 2019 National Congregations study, 13.5% of all religious congregations in the United States are led by a woman. I'm sure far fewer are led by openly queer women.
And as so often true, in the lie of a progressive state like Massachusetts, we think this work is already done.
I think of my friend and president of the board of the Massachusetts Council of Churches, the Rev. Jennie Barrett Siegal, who now serves as senior pastor at Old South Union Church in Weymouth. The church was founded in 1723 and had never been led by anyone other than a man. The "normal" history of that place predates the founding of the state.
When I asked her what made leading that nearly-300 year old church possible, Rev. Barrett Siegal said:
I remember so many people telling me I had 'big shoes to fill.' But someone wise said to my church, 'Jennie's not called to wear someone else's shoes. She already has her own.' And so, it has been my honor to serve this congregation wearing my own shoes, leading with my own gifts, trusting in my own call.
When we fail to mark occasions like these, and adequately celebrate when barriers are broken, we minimize how many walls come tumbling down, and what imaginative space opens up. Because there are many seeking to rebuild walls. Many are trying to threaten and constrain women, people of color and queer folk into less visibility in public life.
To be clear, we need the celebrations to be just as definitive and bold as the protests.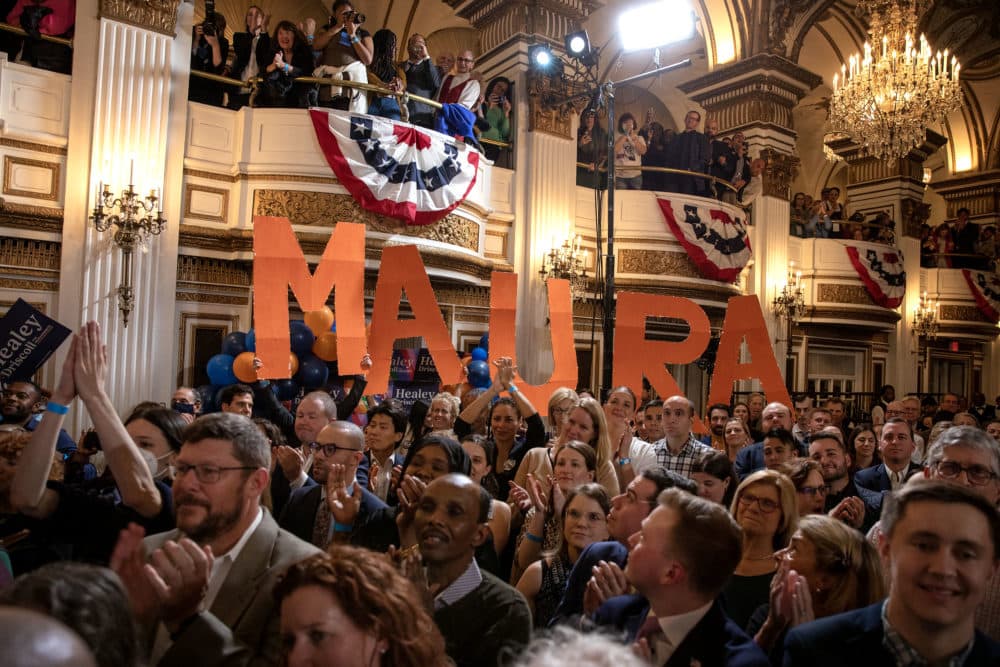 In recent months, we've seen a visible, violent presence of white nationalists in Massachusetts. We're witnessing more antisemitic, anti-Black and anti-LGBTQIA attacks, not elsewhere but here. In particular, the online and in-person attacks on women in public service should give pause to anyone thinking we've achieved equality or safety for women, the Black community, people of color and queer leaders: the attempted kidnapping of Michigan Gov. Gretchen Whitmer; the violent assault of Paul Pelosi; the relentless threats and attacks on Boston Mayor Michelle Wu; and the vitriol directed at Rep. Ayanna Pressley.
The myth of assimilation seduces some into thinking that because queer people are recurring primetime television characters that we are safely mainstreamed. Meanwhile, courts, school boards and elected officials' chip away at human rights. At the same time, queer youth are ever more likely to experience bullying, homelessness, and suicidality.
I do not care about Pride "merch" and TV shows if people aren't safe and free.
When we are the first of our name, we don't need anyone else's blazers or shoes but our own.
What I know — and can testify to — is that my distinctiveness as a public and visible queer clergywoman in church leadership is that it has both brought me high levels of animosity and incredible blessings. I try to be honest about the heat and heartache it brings. I will not hide that pain any more than I will hide who I am.
And, the blessings are profound. I've learned that I am creating space for others because I am present. I know that I can change conversations by how I lead, and who I bring along. Not every place is ready to hear these stories. But I hold fast to mothers who bring their daughters to me in women's bathrooms and ask me to bless their baby girls.
After 242 years of only electing men and no openly queer leaders, my deep hope for Governor-elect Healey is that we allow all of her distinctiveness to shine through.
We've seen her boldness as attorney general. We've seen her ability to listen carefully, to think deeply. But we also need that 5'4" point guard, third-place all time Harvard assist leader. We need her to pass to others who've had far fewer opportunities to shoot and score. We need her to be unabashedly herself.
When we are the first of our name, we don't need anyone else's blazers or shoes but our own.