Massachusetts women poised for historic gains on Election Day
Resume
Election Day is shaping up to be a big day for women candidates in Massachusetts this year.
Seven women from the two major parties are on the ballot for statewide office, including Maura Healey, who is favored to become the state's first woman and first openly gay governor. Healey and Lt. Gov. candidate Kim Driscoll also represent the state's first all-female ticket.
Jesse Mermell, who ran unsuccessfully for Congress in 2020, said the wave of women candidates this year sends an important message and will ultimately help increase the number of women who win elections.
"When women run, women win," said Mermell, the former executive director of the Massachusetts Women's Political Caucus, which works to increase the number of women elected to public office. And research from the Center for Women and Politics at Rutgers University shows that, across the country, women have won elections at higher rates than men in recent years.
This year, polls show Democratic women in Massachusetts have a good chance of winning five of the state's six constitutional offices in the deep blue state.
That includes Healey and Driscoll, who are running for governor and lieutenant governor. Andrea Campbell is leading in the contest for attorney general. Diana Dizoglio is ahead in the race for state auditor. And Deb Goldberg faces a third-party candidate — another woman named Cris Crawford — in her race for state treasurer.
Two Republicans running for statewide office this year are also women: Leah Allen, who is running for lieutenant governor and Rayla Campbell, who is vying for secretary of state.
The only man likely to win statewide office this year is William Galvin, also a Democrat, who is seeking an unprecedented eighth term as secretary of the state.
Mermell said the number of women expected to win statewide office this year is particularly remarkable, since only nine women have served in constitutional offices in the state's history. That's just nine women in 242 years.
"And all of them were white women," she said. "And here we are about to have nearly every statewide office in the commonwealth held by a woman."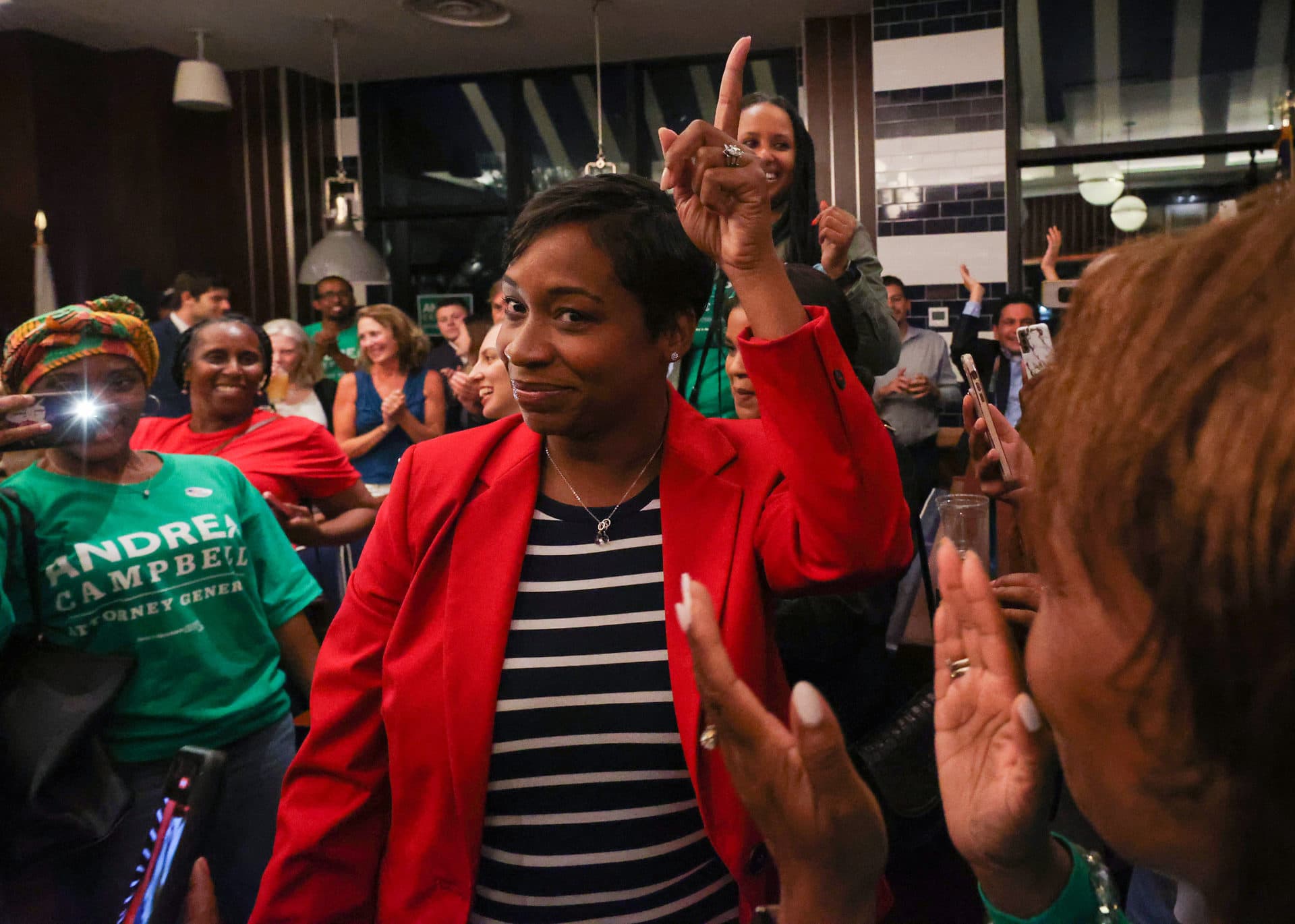 Healey said she appreciates the "historic nature" of the election. But she said what's more important is delivering results to residents, from childcare to housing to protecting abortion rights. Healey also praised the backgrounds of the women running under the Democratic ticket, saying they are exceptionally well qualified for the jobs they are running for.
"What it's a sign of is that people with great resumes, experience, competence are ready to serve and deliver for people in this state," Healey said.
It's about time, according to Evelyn Murphy, who was elected lieutenant governor in 1987, the first woman in state history to hold a constitutional office. Murphy said she faced skepticism about whether she was up to the job, despite having a doctorate and serving as a cabinet secretary.
"The skepticism was, 'well, she's nice enough and smart enough but is she tough enough?' " Murphy said. "Nobody is raising that nowadays about these women."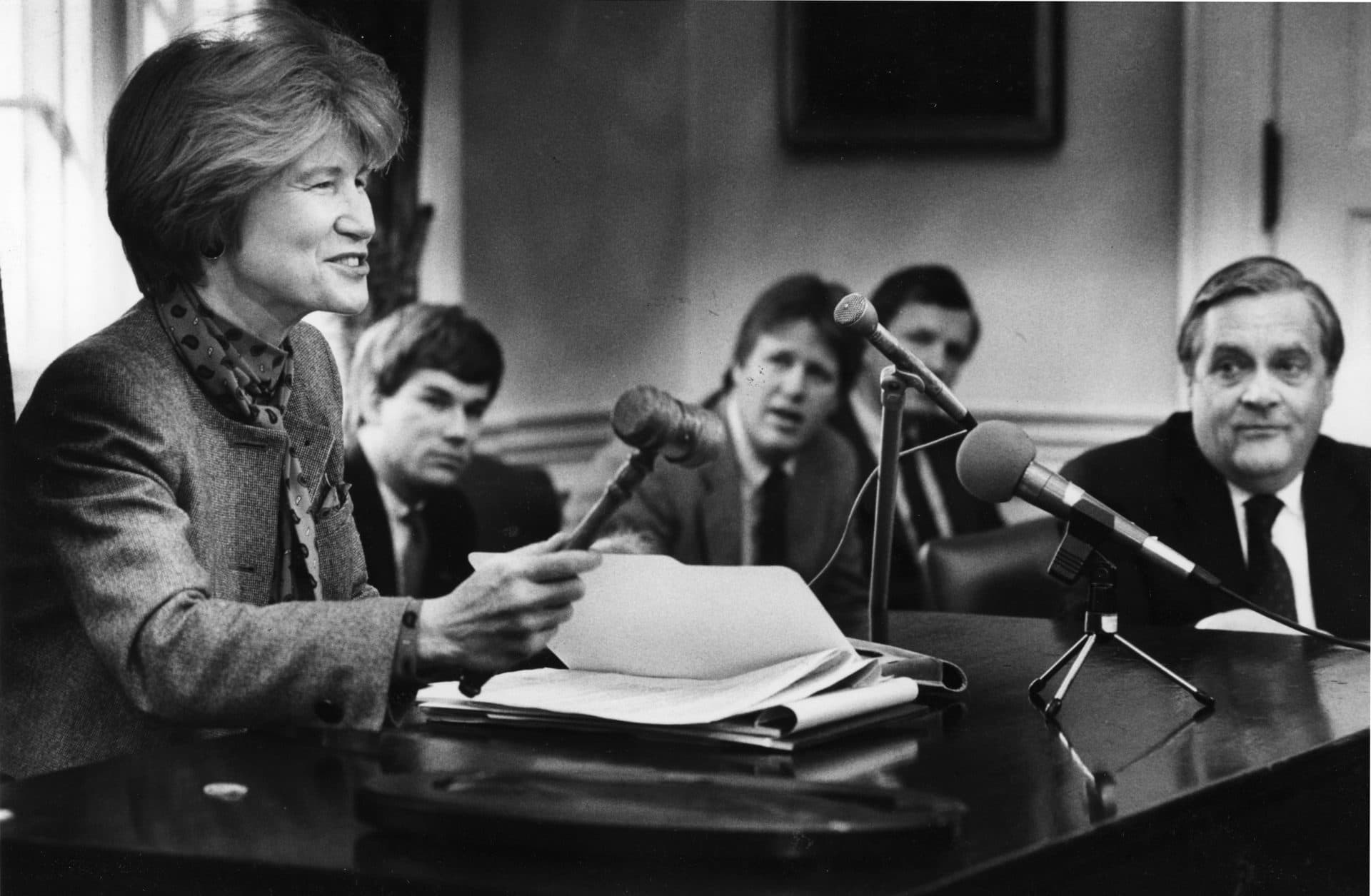 Elizabeth Warren, the first and only woman from Massachusetts elected to the U.S. Senate, also regards this year as a sign of progress for women striving for political power.
While Warren said she's frustrated that it's taken too long for so many women to break through the state's political glass ceiling, she said it's important to acknowledge how much the conversation has evolved in just the 10 years since she beat Republican Scott Brown in her historic Senate win.
"I got about a zillion phone calls from people who said, 'Oh, you should run. You've got some great ideas,' " Warren said. "'Of course, you're going to lose.'"
Back then, Warren said it was almost an article of faith that Massachusetts would not send a woman to the Senate.
"At least we're not having that conversation today," she said.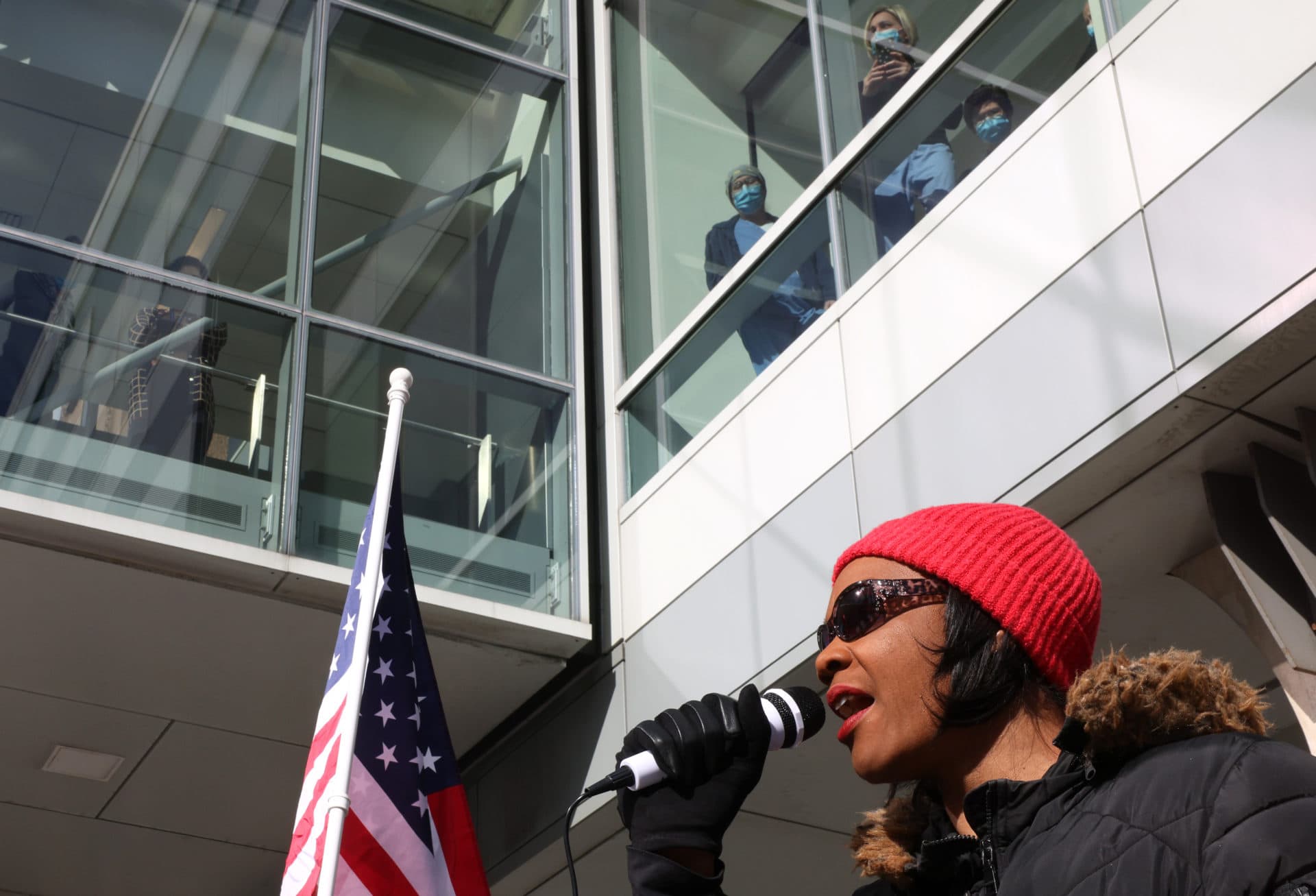 Electing more women to public office isn't just about representation, according to Warren. It's also about public policy. She said women are apt to promote issues like pay equity, child-care and abortion rights.
Republican Lt. Gov. Jane Swift took over the corner office on Beacon Hill in 2001 when then-Gov. Paul Cellucci was named ambassador to Canada. She'd just had a baby and was surprised to learn the union contracts for state employees provided no help with childcare or flex time.
"I was astounded and frankly dismayed," Swift said.
Swift said she got involved with the contract negotiations to make sure women received the support they needed.
"Having [been] someone who had just gone through a high-profile pregnancy, I was acutely aware of the importance of that issue," she said.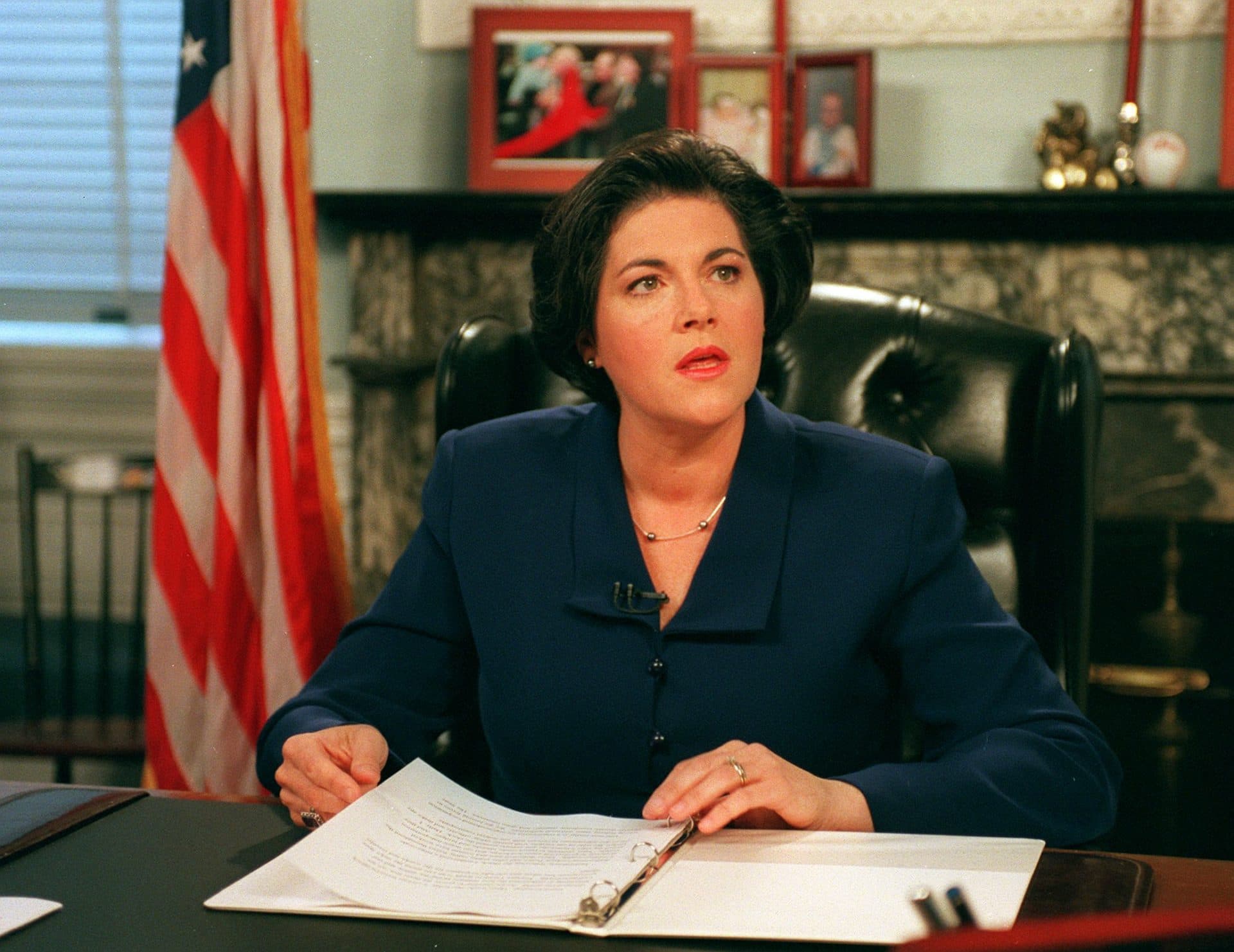 Jacquetta Van Zandt says that if the polls are correct, it will not only be a breakthrough for women, but also for women of color.
Van Zandt, who hosts of the podcast Politics and Prosecco, points to both Campbell, who grew up in Mattapan and could become the state's first Black attorney general, and to Driscoll, whose mother grew up in Trinidad.
"It's going to be the most diverse pool of thought, and that will play a part in how they govern," Van Zandt said. "So, I think this will be a big deal."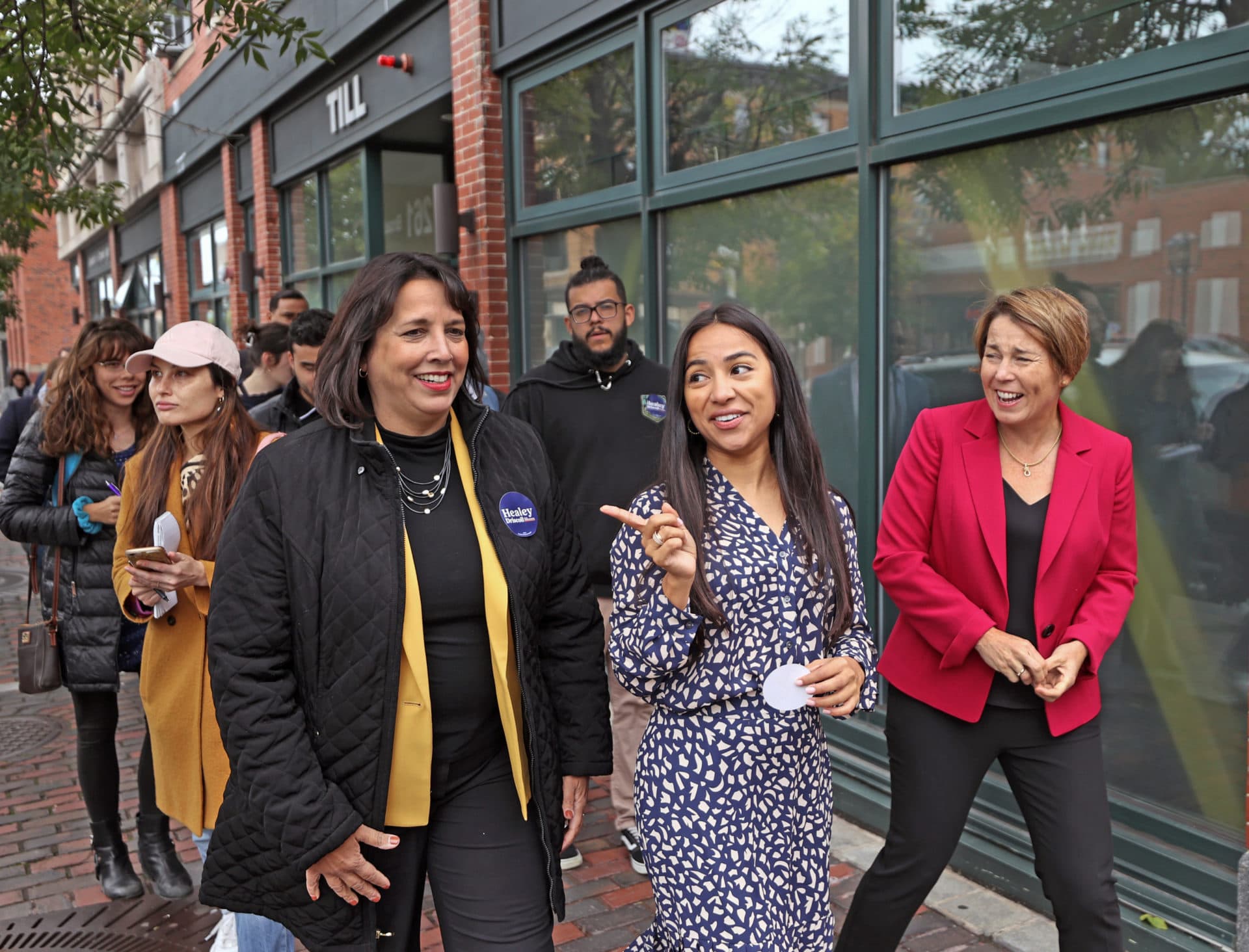 Despite what could be a big step forward for women in Massachusetts politics, there's more work to do, according to Mermell. She points out that women still represent only about quarter of Massachusetts state legislators and are still underrepresented in local public offices, which provide an important pipeline to higher office.
"What happens on November 8th cannot be the end of this story," Mermell said.
Mermell argues that it will take consistent wins over many election cycles for women to achieve true equity in politics.
But if women in Massachusetts do have a big night on Nov. 8, Mermell thinks it's fitting that their victories would come a century after another important milestone — when Democrat Susan Fitzgerald of Jamaica Plain and Republican Sylvia Donaldson of Brockton became the first women elected to the Massachusetts House of Representatives.
This November, women are expected to make history again.