State auditor candidates vie for voters' attention in often overlooked race
Play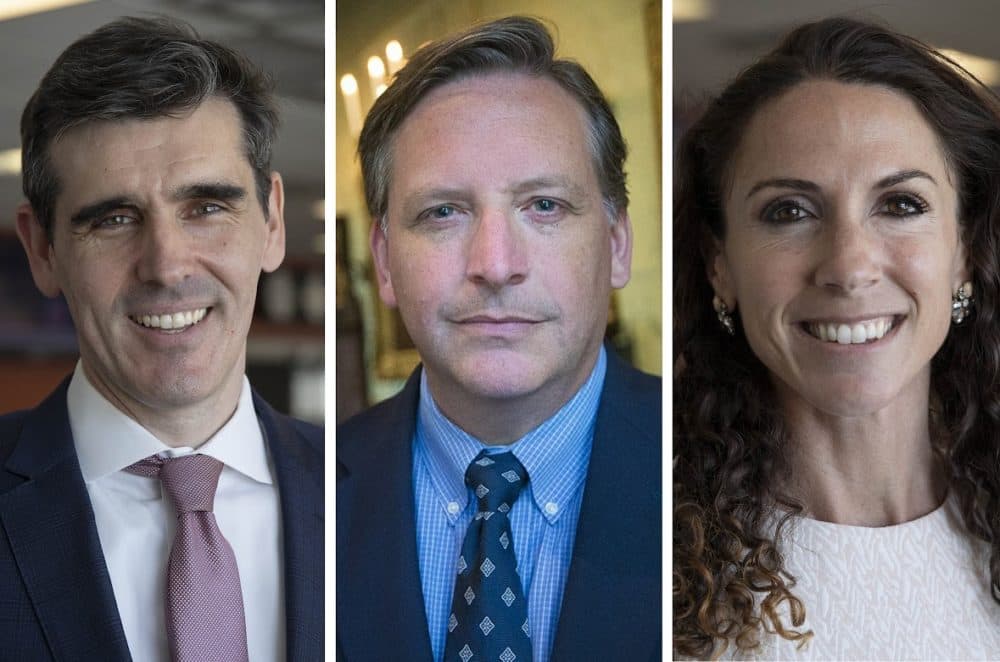 Two Democrats and a Republican are competing to succeed Massachusetts State Auditor Suzanne Bump as one of the state's top watchdogs. But the candidates face a major challenge to getting elected: Few voters are familiar with the state auditor's work and why it matters.
"It's down at the bottom of the ticket, it's underneath treasurer," said Mary Connaughton, director of government transparency at the Pioneer Institute, who unsuccessfully ran for auditor as a Republican in 2010. "A lot of people just don't even think to check off a box when it's that low."
To see whether Connaughton was right, we interviewed 10 random people on a weekday afternoon in Coolidge Corner in Brookline. Not one could name the current state auditor or any of the candidates vying to replace her.
Yet the office plays a key role in state government.
The auditor is tasked with regularly reviewing every state office, department and commission. And the office says it has uncovered $1.3 billion in waste over the past decade. For instance, last year it found $6.1 million in fraud by recipients of MassHealth and other state benefits. And a few years ago, it discovered the state did not have a current address for 1,769 convicted sex offenders.
"It's really the public's eye on state government," Connaughton said.
Bump, the current auditor, plans to step down after 12 years when her term ends in January. That creates an open contest for the job, which pays nearly $200,000 and oversees 200 full-time employees and a $23 million budget.
Because so few voters are familiar with the office, however, the candidates must spend much of their time on the campaign trail explaining what the office does. And to grab voters attention, many of the candidates are focusing on politics instead of the more technical details of the auditor's office.
The Democrats running to succeed Bump, transportation activist Chris Dempsey and state Sen. Diana DiZoglio (D-Methuen), will face off in a Sept. 6 primary. Both have been trying to appeal to liberal voters who tend to vote in Democratic primaries.
"I think it's clear that I'm the progressive choice in this race, and that's not just me saying it," said Dempsey, who may be best known for opposing Boston's bid to host the 2024 Olympics.
Dempsey says those values are important because the auditor can choose which programs to scrutinize most heavily. For one, he wants to make sure state offices are living up to the state's climate mandates — and he wants to safeguard reproductive rights by making sure state laws are being implemented properly.
"I do think that people want to know that they are electing a person who shares their values," he said.
Meanwhile, DiZoglio emphasizes her personal biography on the campaign trail. She talks about being raised by a single mother with an addiction to opioids. And she says her background inspires her to make sure the state is using its resources to best serve the people who need it most.
"Representation matters," DiZoglio said at the state Democratic Convention in July.
"We need a woman in the auditor's office who is willing to speak up and take bold actions that will bring the work of this office to the next level."
DiZoglio is vowing to make sure state contracting practices are fulfilling commitments to benefit minority businesses, and she wants to scrutinize legalized cannabis to make sure the industry is living up to its equity goals.
Democratic strategist Doug Chavez says it makes sense why the candidates would try to "out-progressive" each other on the stump — they have to win over left-leaning constituencies to win the primary.
"The most votes usually come from ... Boston, Cambridge, Somerville — some of the most progressive parts of Massachusetts," Chavez said.
But to win the general election in November, Chavez said the Democratic nominee will have to pivot to the center. That means winning over moderates to beat the Republican in the race, Anthony Amore.
Amore, who ran unsuccessfully for secretary of state four years ago, is head of security at the Isabella Stewart Gardner Museum. Though he's running unopposed in the primary, he's already campaigning hard to beat the eventual Democratic nominee.
On a recent weeknight, Amore drove two hours in traffic to tell voters on the Cape why they should care. Only a dozen people showed up.
"How many of you have read a state audit?" he asked the group of Republicans in Barnstable. "That's a remarkable percentage, we have two of you having read those."
Amore identifies as a moderate Republican who opposes Donald Trump. That puts him at odds with many conservative Republicans, but Amore hopes it will help him appeal to many independents and Democrats who supported Gov. Charlie Baker.
Amore criticizes the two Democrats for focusing more on progressive politics than the nuts-and-bolts of being an auditor.
"One of the Democrats running says I'm going to be the climate auditor," Amore said to a chuckling group. "Well listen, climate has its place, but there's 209 agencies" that need to be audited.
Yet Amore also uses politics in his pitch to voters.
He says a state with a Legislature controlled by Democrats needs a watchdog from the opposition party. And he constantly cites his endorsement from Baker, with an image of the two shaking hands on his campaign flyer.
"We need some government friction," Amore told WBUR after his talk with Barnstable Republicans. "That's the expression Gov. Baker gave to me."
One of the voters who showed up to see Amore's pitch was Barnstable resident Floyd Silvia. Silvia worked in the state auditor's office in the 1960s, and complained the office has become too politicized.
"You're not there to make rules about if you're going to do climate change," Silvia said. "That's got nothing to do with it. You're there to audit the books of the commonwealth."
Silvia's former ties to the office have kept him interested in the race, and he's supporting Amore.
But the candidates can't count on most voters to follow the race so closely. So they're trying to find ways to reach residents across the state — and explaining the importance of the auditor job along the way.
This segment aired on August 10, 2022.