Backstreet's back this holiday season — thanks to their music, I am too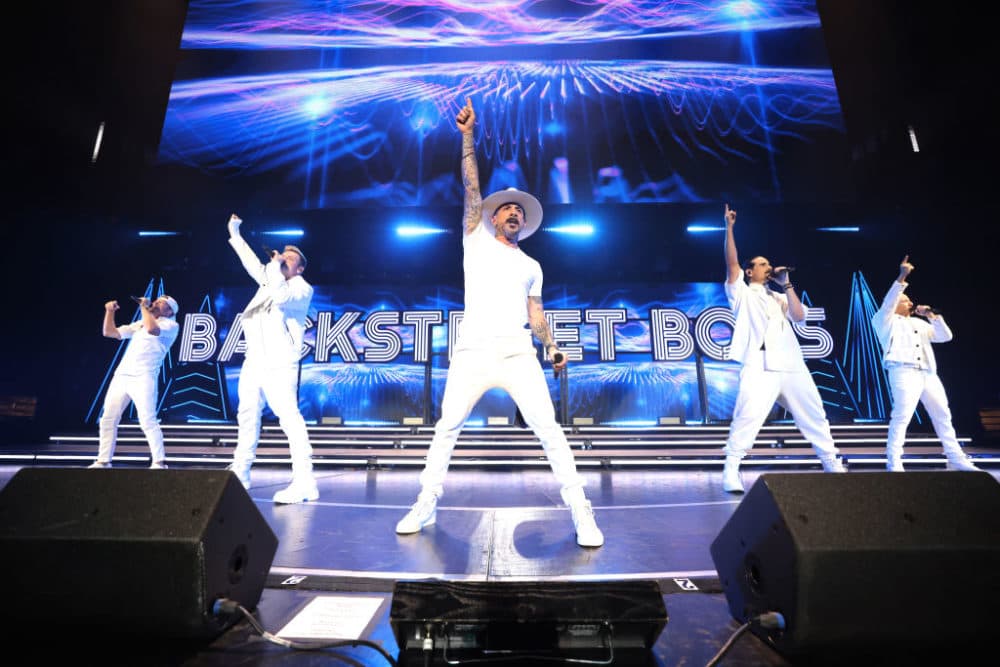 Back in July, I took my mom to see the Backstreet Boys' "DNA" world tour at the Xfinity Center in Mansfield, Massachusetts. It was a birthday gift, a throwback to 1999, when we attended BSB's "Millennium" tour at the Fleet Center. That first time we saw BSB, I had just started the fourth grade, turned 9, and received my first boom box and a copy of the "Millennium" CD for my birthday.
Staged to promote BSB's 2019 album "DNA," this current tour was postponed for two years due to the pandemic. I had no expectations, only regrets that I didn't think to wear a crop top and butterfly clips to mesh with the vibes of the audience: mostly Millennial women like me with their moms, sisters or girlfriends.
Now, the Boys are even releasing a holiday album, "A Very Backstreet Christmas," 29 years after their formation. It's a project they've wanted to do for years.
Unlike BSB's re-ignited tour, my life felt like it had been on indefinite hold. With ever-evolving COVID variants, many of my life plans felt stalled. Headlines about anti-Asian violence left me crying during work. I constantly feared losing my grandparents, either to COVID or their loneliness from sheltering at home. Grief and exhaustion from this never-ending present made daily tasks feel overwhelming. I lost interest in things that had once delighted me, like writing and creating literary-themed cocktails. What was the point of anything, anyway? My therapist said this sounds like depression, and I thought, this is what it must feel like to forget who I used to be.
But by the end of that concert, I discovered a long-forgotten high. Who knew that five middle-aged men performing synchronized choreography in matching white outfits, singing about youthful desire and dying cell phones batteries, would transport me back to my screaming tweeny-bopper self and bring me so much glee?
BSB's swoon-worthy harmonies and infectious beats defined late '90s pop, cultivating a fandom that's sustained them through the 21st century. Despite band members' departures for a solo career or other pursuits over the years, this post-pandemic "DNA" tour is the latest of many comebacks through the decades. Driving home from the show, my mom and I listened to the "Millennium" album, letting our euphoria linger into the night. And it didn't stop there.
For months, I listened to all of BSB's albums on loop. I fell into a rabbit hole of old music videos and interviews about their current tour. I dove into their origin story via documentaries about former manager Lou Pearlman's shady business cons and the Boys' rise to fame in Europe in 1995, before catching like wildfire in America in 1997. Combing through pixelated videos of live performances from 1997, I taught myself the original choreography for "Everybody (Backstreet's Back)." I even considered flying to Tennessee to catch one of their last U.S. shows.
I am a woman obsessed.
But more truthfully, I'm a woman immersing herself in a past love, remembering who she used to be — in order to feel more alive in the present. I'm trying to lean into pleasure, without self-judgement, to care for myself when the world feels like it's falling apart.
We all want a respite from pandemic life. BSB's 33-song setlist certainly lets us party like it's 1999 again, but I don't want nostalgia to merely be an escape from the current moment, my 30s a blur of distress. I want to experience it as a path towards finding joy in the present, because I want to do more than just survive.
It isn't just me, it's science. Nostalgia, like my cherished songs, can help people feel increased meaning in life. It allows us to bridge the present with the past, resulting in resilience, even hope for the future.
I'm trying to lean into pleasure, without self-judgement, to care for myself when the world feels like it's falling apart.
I'll admit, I sometimes feel frivolous for enjoying myself when there's so much collective pain: the war in Ukraine, gun violence, loss of abortion rights. And here I am, jamming to "Larger Than Life" on my AirPods. But my tendency to turn away from pleasure to deal with hardship doesn't work anymore; it never really did. I've realized I must allow myself pleasure to heal.
Taking my cue from BSB, I'm coming back to other things I once loved, to revive my old self. When friends ask me to join them in bhangra classes, which I haven't done since college, I say yes. When my ballet choreographer invites me to perform her work after my five-year hiatus from the stage, I rearrange my schedule to attend rehearsals. It may be the exercise-induced endorphins -- all that dancing -- but I feel renewed in a way I haven't experienced in a while. Revisiting past passions anchors my focus on the delights of the present so I can look forward with anticipation. I talked myself into enrolling in a writing program to return to the page. If BSB can make a comeback, there's hope for me, too.
When my partner finds me watching a recording of BSB's Mansfield concert, I sheepishly lower the volume. I say, "Our neighbors probably wonder what's wrong with me, blasting BSB all day."
"Who cares!" he says, encouraging me to lean into whatever form my joy takes, without apology.
So I turn the volume up again. Because Backstreet's back! And in time, I will be, too.