Raquel Welch and me
When Raquel Welch died last week at 82, she was finally recognized as a proud Latinx woman, and a talented comedic actor with a ferocity and beauty all her own.
In my childhood home, Raquel was all-out sexy to my American father and wholly validating to my Cuban mother. Raquel was one of us. How could she not be? My aunt's name was Raquel; my mother had a childhood friend, Raquel, in Havana.  So, I think we knew Raquel Welch was Latinx before she recognized it herself. Her father was Bolivian, her mother American, and she was born Jo-Raquel Tejada in Chicago. When she finally embraced her Latinx identity in the early 2000s, she spoke publicly about her Spanish heritage and played roles like Aunt Dora in the PBS show "American Family" and Hortensia in the film "Tortilla Soup."
Welch told the New York Times in 2002 that she didn't intentionally cover up her Bolivian heritage, but it wasn't a significant part of her childhood. Her father was intent on jettisoning anything Spanish in the house. In my own childhood, assimilation jumbled life so that I camouflaged my identity — trying to blend in, and go unnoticed in a Connecticut suburb, while hyper-aware of how different I was. 
"Those people who wanted to make it in the American system found it necessary and desirable to kind of suppress their Latino quality," Welch explained to the Times.
"[My father] never spoke any Spanish in the home, so as not to have us have an accent. We never were in a neighborhood where there were other Latinos around. I didn't know any Latin people."
[My] father drove my mom and Isaác underground, where they spoke in whispered Spanish, when he wasn't around.
Our Cuban-ness triggered a real-life Catch-22 situation for my Americano father who struggled to find a place for his love of Spanish in his Yankee-Doodle life. He stumbled life through the Berlitz School Spanish he learned — he knew the language  well enough to get by on his travels in Latin America before he met my mother. When I was a kid, he even had a weekly radio show on Sundays, "The Music of Spain." It was broadcast on Sunday afternoons on a local radio station, and he hosted the entire show in his Americano-shellacked Spanish.
Yet he was deeply conflicted, insisting that my mother's side of the family, our Cubano relatives, only speak to him in English. It was his way of fast-tracking my relatives into American life, which he saw as necessary to succeeding in the United States.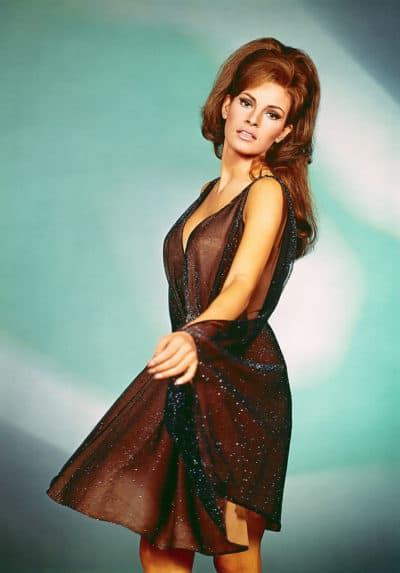 My dad's unfortunate English-only rule extended to my mother and her younger brother. When Tío Isaác, 20 years younger than his American brother-in-law, arrived in the United States, I was a baby. He lived with us, and my father drove my mom and Isaác underground, where they spoke in whispered Spanish when he wasn't around. During the day they clung to their language, recalling Havana, and tasting the sweetness of its memory. But when my father's key turned in the door each night, my mother and uncle scrambled to jumpstart translating their beloved Spanish into utilitarian English in their heads. Years later Isaác said, with a mix of gratitude and resentment, my father had made him an American.
I wonder if Raquel's father was a language taskmaster, too. Did she resent missing swaths of her life when she might have spoken cascading Spanish and enjoyed eating fricasé and arroz con queso? I imagine the folk songs she might have sung, the raucous parties her father might have thrown, if he were not so intent on disguising himself and his children -- making them all los Americanos.
For my mother's part, Spanish was the language she understood as vital to our souls. She forged a Latinx spirituality of word and song for us, and spoke to us three kids in Spanish when my father wasn't home. She blasted Cuban Big Band Music on Saturday afternoons during tax season, knowing he'd be out seeing clients. She couldn't help speaking in long ribboned streaks of her native language when my dad was out, teaching accounting on Wednesday nights.
Forty years into her fabled career, Raquel Welch stepped into the limelight again, this time as a Latinx woman. It was around the same time I had begun to realize that although I was half-Cuban and half-American, I had deeply resonant moments when I felt completely Latinx. Welch learned Spanish in her 60s; I've been recouping my Spanish at the same age.
Maybe the awareness of a buried identity is part nostalgic. However, reclaiming that identity brings a celebration of being wonderfully different.
Raquel Welch's father and my mother struggled with their unique experiences of assimilation into American culture. I imagine Raquel's father and my dad faithfully tending to the American melting pot, for different reasons, even as they tried to hide their love of the Spanish language and culture.
I taught my mother the words to the Pledge of Allegiance as I had learned them in kindergarten so she could recite it at her naturalization oath ceremony. That's what first-generation kids do for their parents. Perhaps Raquel did something similar for her father so he could disappear in the crowd. But in the end, Raquel and I found our roots and would never forget them.
Que en paz descance, Raquel. Rest in peace.