My first love was a Bug
The Volkswagen Beetle that my father rolled to a stop in our driveway was electric yellow with a red-and-black racing stripe and a moon roof.
"He's gone off the deep end," my older sister exclaimed, clapping a hand to her forehead (or perhaps just shading her eyes from the paint job).
Our father had recently taken to wearing loud ties, so naturally we saw this sporty new Beetle as just another step in his march toward a mid-life crisis. On the other hand, the year was 1973, so wild ties were in, and another kind of crisis was looming: an energy one. My father had bought the new Beetle to replace our enormous, gas-guzzling station wagon — the "Conestoga Wagon," my sister called it.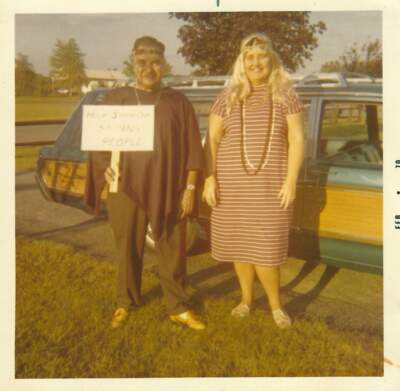 As gas prices soared that year, we had to admit that our father had made a good choice with the Bug. He had not, in fact, gone off the deep end.
But I had. At 15, I fell completely, desperately, in love with that Bug.
Though the Beetle was technically my father's, over the next few years it became the centerpiece of my teenage world. The car was a standard, and I eagerly learned to drive it in the school parking lot, grinding its gears and mistaking the brake for the clutch until my father would grab the wheel from me and pop his heart medication.
Even after I got my license, I still bucked and stalled that Bug through the center of my hometown of East Longmeadow, Massachusetts — a town that claims a Guinness record for one of the world's most complicated rotaries. I then used the car to teach two girlfriends how to drive a stick, with similar results. My friend Susan vividly recalls the Bug jerking forward, inch by inch, while traffic came to a standstill and a police officer shouted at us and blew his whistle. No doubt there are East Longmeadow residents who still experience panicked flashbacks at the sight of a yellow Beetle.
As a Baby Boomer, I'm not alone in my nostalgia for my VW Beetle. In a photo making the rounds on social media, director Ron Howard is perched on the fender of his beloved Bug. It was Howard's first car, purchased in 1970 at age 16, and though he sold it after a few years, the Beetle was later found by his brother-in-law, who fixed it up and returned it to him. Howard has called it the only car he ever loved.
Several of my friends had Beetles they loved so hard and drove so long the cars literally fell apart. One who lived in Boston's hilly North End owned a Bug that lost its reverse gear and had to be rolled backwards downhill to parallel park. The floorboards of another friend's Beetle rusted out so badly she had to dodge puddles so as not to get splashed. Most, though, echoed the sentiment expressed by my friend Lisa: "Loved that thing."
Why, I wondered, do we Americans of a certain age have such a love affair with the VW Beetle? It wasn't always so. The car was introduced in the U.S. in 1949, but it wasn't until the 1960s that people became enamored of its cute ladybug shape, circular headlights like eyes and rounded fender that seems to turn up in a smile. No doubt this image got a huge boost from Hollywood when, in 1968, Disney premiered "The Love Bug," a movie starring a VW Beetle named Herbie. The film spawned several sequels, permanently endowing the Bug with a personality. By 1969, the Beetle was one of the world's best-selling vehicles.
When I drove our family Bug, I didn't feel like the nerdy student I was; I felt cool.
The economical Bug was also heartily embraced by the anti-establishment, anti-materialistic counter-culture of the 1960s. Student protesters and hippies covered it with psychedelic paint and flower decals. Photos from Woodstock are full of Beetles sporting peace signs. When I drove our family Bug, I didn't feel like the nerdy student I was; I felt cool.
Same with my father. Perhaps he purchased that car solely for the gas economy, but I don't buy it. The yellow Bug with the racing stripe was the closest thing my cash-strapped father would ever own to a sporty car. I think he liked how he felt — the image he had of himself — while driving it.
When I needed a getaway car for my debut novel, "Graceland," the choice was obvious. The car had to be not just an old relic — something that might cause trouble for my teenage character and her Elvis-obsessed grandmother as they drove from Boston to Graceland — but, more importantly, something the pink-haired teenager would adore.
The only car I considered was a VW Bug.