In Beyoncé's world, we can be ourselves — without apology
"Why, oh why, do you need to see Beyoncé twice?" That's what everyone asked as I prepared for my second date with Beyoncé's Renaissance World Tour.
In a word, my reply was: "Genius."
There's genius in the way Beyoncé facilitates escapism for the masses. Genius in the way she creates a safe community for strangers and friends to vogue, scream and marvel, without the threat of violence or abuse. (That's in stark contrast to the real world, where Black and brown and LGBTQ people are brutalized every single day.) There's genius in the way she remixes her new material with 20-year-old hits — mashing up "Sweet Dreams" with "Alien Superstar," mixing the Destiny's Child classic "Cater to You" with "Virgo's Groove." Her entire discography is a flex. And, of course, there's genius in the way Beyoncé uses her many gifts to wrap up tens of thousands of people in her tremendous love.
It takes more than one time to even begin fully absorbing such a multisensory experience. So, after an extraordinary show in Paris last May, I was determined to see her again.
Last weekend, it happened. Thanks to my friend's exquisite luck and planning expertise, we snagged floor seats during the pre-sale, and a parking pass right by the entrance. Four of us  journeyed to FedEx Field, home of the Washington Commanders in Maryland.
Windows down, music up, we blared "Renaissance" from the car speakers. We sang our hearts out, as we noted the fabulous outfits and questionable shoe choices of our fellow concert goers.
"Love those gloves!"
"Why on earth did they wear heels? And skinny heels at that?!"
One woman had already abandoned her shoes on the walk to the stadium gate. We correctly opted for a mix of sneakers and thick soled boots to accompany our silver and gold looks. Comfort is truly the name of the game.
Once out of the car, and on foot, we danced, sang and took pictures with nearly everyone we passed on our way to the merch line. Everybody was jubilant and free; the crowds in the arena hallways were a swell of sequins, feathers and shimmering tassels. It was glorious. That's the energy and sense of community Beyoncé elicits. It felt like a family reunion, and we were all there to celebrate our shared sister-friend: Queen Bey.
Reassuring us of our beauty and power, tapping into our joy and strength, she loved on us all — as only a Black woman could.
Before the concert even began, I paused to absorb what it felt like to fully embody unadulterated Black joy. I noticed how relaxed my body felt — how relaxed all our bodies felt. As a woman who has been trained since childhood to keep my head on a swivel, it was a rare, electric sensation. In the company of some of my best friends, I noticed how we laughed as loud as we wanted to without fear of judgment. I noticed how I was bursting with so much happy anticipation that the gloom and doom of the news cycle easily slipped from my mind. We were entering Beyoncé's realm, where mental and emotional stress melts away.
We made it to our seats just after the smoke machines began to billow a beautiful haze across the stage, signaling the show was about to begin. And then, there she was.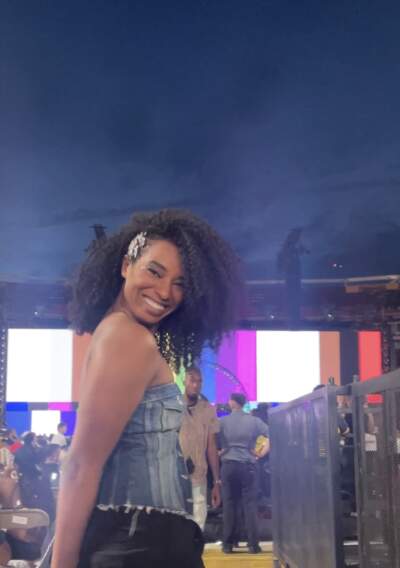 Beyoncé glided onto the stage in a white sequined gown and jeweled feather boa. We were enraptured — scream singing and bouncing to every lyric, every house beat, every musical transition. The shouts and cries of everyone in the stadium washed over us, reverberating through our bodies. "We are the renaissance," Beyoncé told us. As she said those words, I couldn't help but think of O'Shae Sibley, murdered in July at a gas station for being Black and gay, and for dancing with his friends. Our mere presence in that stadium — our openness, our gleeful delight and exuberance — defied the hatred and trauma of the everyday world.
Beyoncé opened with fan favorites and ballads, warming us up for what was to come. I cried and stretched my legs and sang every word of "Dangerously In Love" and "1+1," before settling into the collective sway of our floor section. She dazzled us with explosive visuals and costume changes and choreography that defied the laws of physics as Les Twins flew over the crowd.
"She knows exactly what she's doing!" I shouted to a friend.
"I don't even know where to look first!" she yelled back.
What I really wanted was to see her perform "Pure/Honey." That track, #15 on "Renaissance," has been on repeat in my house, my car and in my AirPods for the past year. From the opening chants and declaration, "It should cost a billion to look this good," to the smooth beats in the second half of the song, my body can't help but move. When she mixed it with "Blow!" — well, I lost my mind. I was screaming and jumping like a little kid, totally euphoric, entirely in the moment. It's a hard-to-come-by feeling these days.
For two and a half hours, Beyoncé enveloped the crowd, all 50,000 of us, in a tight, loving embrace. Reassuring us of our beauty and power, tapping into our joy and strength, she loved on us all — as only a Black woman could. She gave us herself. She gave us a breather, a buffered moment from the harsh realities of the world. She gave us a chance to exist as our full selves, unapologetically.
And for that reason, if you have the chance to see her, don't you miss it. If you can do it more than once, by all means. Your inner child will thank you for it.