Don't underestimate the kids who spend their summers in theater camp
While "Barbenheimer" shattered expectations at the box office this summer and generated the kind of hype I haven't seen in ages for going to the movies, the underrated smash that stole my heart was one that came out the same day: "Theater Camp." The brainchild of theater nerd hero Ben Platt — of "Dear Evan Hansen" fame — and collaborators (including one of his closest childhood friends), it's a tongue-in-cheek mockumentary-style wink and nod to the kids who sang in the shower a little too much and were always picked last for the gym class volleyball team. In other words, my people.
Born out of a short comedy sketch of the same name, the film centers on a financially struggling summer camp in the Adirondacks and the quirky counselors and campers who call it home. The set is spot-on — "Theater Camp" was shot over just 19 days last summer at an actual abandoned camp in New York state. It also takes the viewers through such high-stakes events as musical auditions, rehearsals and performances in a hot, creaky wooden amphitheater.
I'd consider myself something of an expert on theater camps — I went to ones of all shapes and sizes throughout my childhood. For a few summers, I attended both theater day camps and more traditional overnight camps. As I grew older, I was able to express that the traditional camps weren't my scene. I was forced to play sports (yuck!) and swim in a freezing cold lake, and the camp's production of "Bye, Bye, Birdie" was nothing to write home about.
As a newly minted teen, I spent a winter researching camps and convinced my parents to enroll me in a three-week sleepaway performing arts camp in the Catskill Mountains. (I'm pretty sure this is the place that inspired "Theater Camp," even down to the paint colors of the cabins.) The short promo video on the camp's website alone sold me. I learned that the campers put on dozens of shows each summer, complete with complex choreography and musical scores, detailed costumes and professional-quality lighting and sets. They also seemed to perform musicals from all eras and styles. I could tell the camp and its campers took the whole thing very seriously. My parents couldn't help but respect my desire to get better at performing — and I was very persistent about going.
When I got there, I was amazed to find hundreds of kids who were excited about the same things I was: what the session's musicals were going to be, who would get the leads (it was almost always one of the superstar kids in a group informally known as the "elites") and who would be in the camp director's own show — it was considered a major honor to be chosen.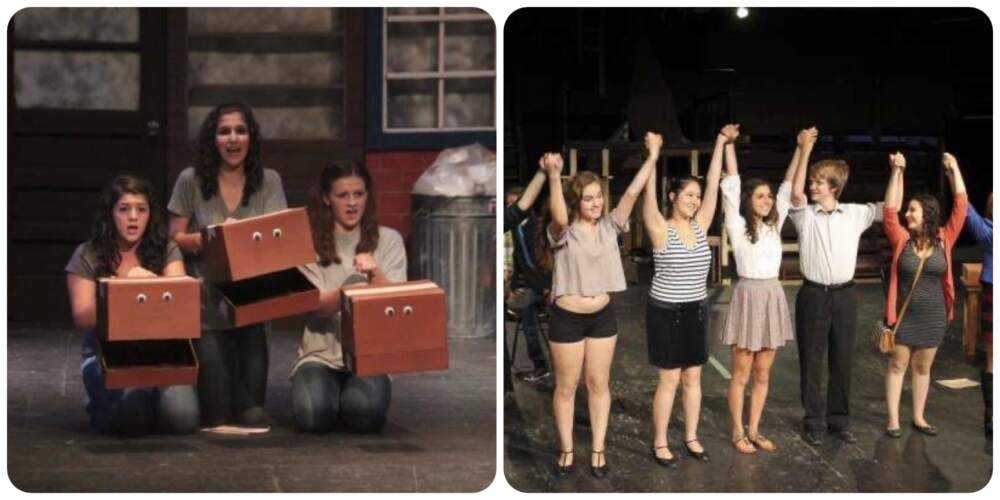 I always saw myself as a serious contender for leading roles in my suburban town's theater productions, but I had no idea who I was going to be up against at this camp. I was auditioning alongside kids who had basically learned to tap dance before they could talk or were regularly auditioning for movies and Broadway shows — some of them had already been on Broadway! I was pretty instantly humbled, to say the least.
The kids in "Theater Camp" are just as serious: They treat these summer productions like their jobs. They practice their audition songs for hours, go on total vocal rest before shows and consider the voice-soothing tea, "Throat Coat," to be as valuable as gold: bartering their candy bars from the canteen for more, hoarding it under their bunk or begging their parents to ship it in care packages.
The campers' seriousness was played as a gag in the movie, but it truthfully wasn't much of an exaggeration. I had counselors who chose provocative and edgy shows for us, drilled choreography into us for hours, called us out when our singing was flat and ran dress rehearsals late into the night. One counselor pulled me aside and made me cry with her brutally honest feedback about my acting skills. I loved every minute of it.
Behind the character shoes, pasted-on smiles and feather boas are some pretty badass kids.
When you're that age, it can often feel like adults aren't taking you seriously, or are simplifying activities down to your level or are lowering their expectations of you. Theater camp wasn't like that.
We all had jobs to do, and we stepped up to the challenge. We memorized lines, learned entire musical scores and paired them with choreography in just three weeks. I gave some of the best performances of my life at theater camp. I honed my comedy skills in a goofy one-act play about college admissions, learned puppetry for "Avenue Q," analyzed 20th-century dystopian literature for a stage adaptation of "Fahrenheit 451" and belted notes I didn't know my voice could produce in "Thoroughly Modern Millie." My parents said some of those shows were better than ones they'd paid good money to see back in Boston.
It's been more than a decade since I left camp for the last time, but its influence has stuck with me as I've grown up. I knew that choosing a career in media would be challenging. I am often in tight competition with my peers for scoops, jobs and sources. I've had to pitch ideas to intimidating editors and defend my creative choices. I've had to muster up the courage to shout questions to elected officials at crowded press conferences over other journalists decades my senior. I also regularly have to meet tight deadlines while staying cool under pressure. Theater camp equipped me with all of those skills. WBUR's own newsroom is filled with several admitted former theater kids, as are many others — not to mention the crossover of a cappella nerds and band geeks.
People say sports teach kids about responsibility, confidence and teamwork. But so can theater camp. Behind the character shoes, pasted-on smiles and feather boas are some pretty badass kids.