Zen and the art of lawn maintenance
With this summer's downpours causing grass to grow thicker than the Amazon rainforest, my recollection pivots to the 1960s and my father's non-motorized reel mower. It gave a fine trim to our small lawn in Trenton, New Jersey, and when I became a late-blooming, first-time homeowner in my 50s, I used a reeler, too.
Our postage stamp of a yard typically took 30 minutes to mow, max. On hot, humid mornings, tapping muscle power can break a sweat, especially when cutting stubborn patches requiring quick do-overs like razor-resistant stubble. To push myself, I conjured Levin, Anna Karenina's rhapsodist of rural labor. "The longer [he] mowed," Tolstoy writes, "the oftener he experienced those moments of oblivion when it was not his arms which swung the scythe, but the scythe seemed to mow of itself, a body full of life and consciousness of its own."
Scything the lawn is extreme even for those of us who like to get reel. As is mowing in vest and tie, the attire of choice in this 1872 reeler ad. The Gilded Age illustration captures the quaint, old-fashioned vibe of rotating blades propelled without gas or voltage. Yet the environmental imperatives of the 21st century have enhanced, not diminished, the virtues of this humble landscaping device.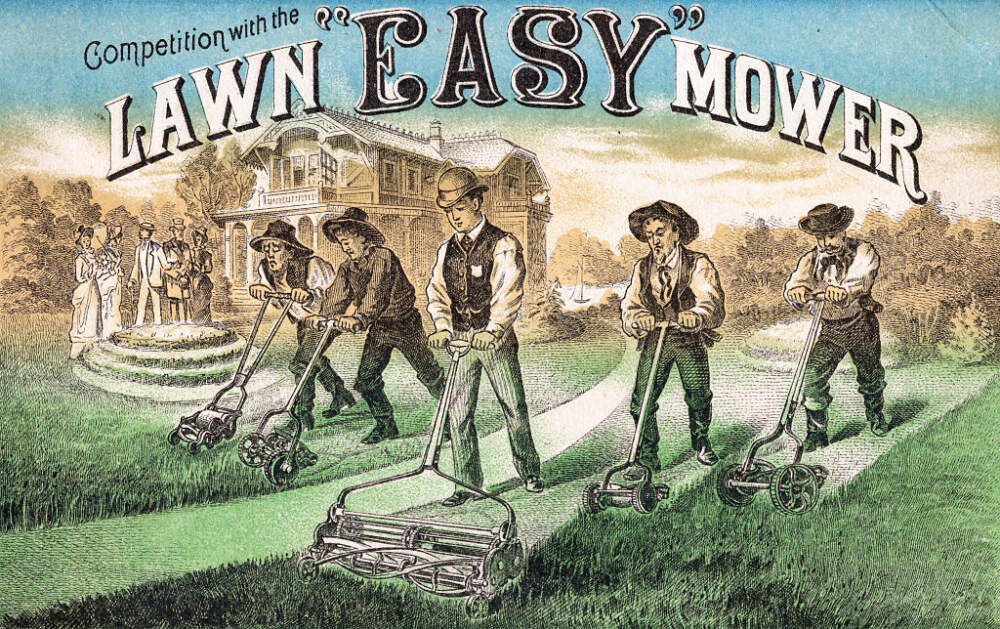 Start with Utah, which offers lawn companies up to $3,000 to trade in their two-stroke, motorized equipment for electric alternatives. Alarmed by air pollution, the Beehive State, along with California and more than 100 local U.S. governments, have banned or restricted gas-fired mowers and leaf blowers. Larger lawns will demand (clean)-powered mowers, even on a warming planet. But for those with manageably sized lots, reel mowers are even less energy-intensive than electric ones.
Let the record show that when a red jurisdiction cracks down on fossil fuel, something's up — in this case, the mercury. Even before July clocked in as the hottest month ever, Utah regulators observed that lawn equipment emitted eight tons daily of harmful pollutants — more than the six tons spewed by industry and runner-up to vehicular traffic's 13. One leaf blower powered by gas pollutes as much as a 727-mile-long car trip.
Dallas, "despite its location in oil-rich Texas," pondered a similar ban. To the surprise of no one, Texas Gov. Greg Abbott, whose temper boils even hotter than the climate, cut the pollution-pruning posse off at the pass. He banned such local bans, in the name of preserving Texans' freedom of choice. That Dallas residents might choose cleaner air obviously doesn't disturb their policy-somnolent governor.
Lawn care that uses neither gas nor electricity doubtless will strike "GIMBYs" (Gas In My BackYard) as a throwback to the Flintstones, drawing complaints that electric equipment doesn't work as well as its gasoline-powered cousins. But greenery need only look manicured, not replicate Forrest Gump's buzz cut. Eco-minded mowing matters to parents too, as our children will have to duct-tape repairs to the burning, flooding planet we're bequeathing them.
[T]he environmental imperatives of the 21st chave enhanced, not diminished, the virtues of this humble landscaping device.
Reel mowers convey other benefits. They provide a little exercise at your own pace, generally for less money than the price of power mowers. Moreover, you'll win brownie points by sparing the neighborhood (and your own ears) a motorized RRRRRRRRR at 7 a.m. on a Sunday.
I preach what I practice: An environmentally conscious neighbor, on my recommendation, tested a reel mower on her lawn and gave it a thumb's up. Admittedly, this lawn care strategy demands attentiveness. Skip a weekend or two of cutting, particularly with this summer's rainfall, and your grass may condense into a jungle to thwart even the sharpest reel blades. I learned this years ago, when I had to borrow my former father-in-law's gas mower after letting the grass go for too long.
My dad traded his reeler for a riding mower after we moved to the suburbs. Their sprawling lawns would take the workweek to cut otherwise, unless you organized a communal reel-mow-cum-picnic. Which, come to think, sounds like a fun way to combat our loneliness epidemic. (Whether you'd get buy-in from the neighbors is another matter.)
That adman from President Grant's era deemed his product "a necessity, and almost an indispensable article." Over 100 years later, amid the Biden era's climate woes, that's truth in advertising indeed.