New Nonprofit College To Focus On Low Tuition, Christian Principles
05:01
Play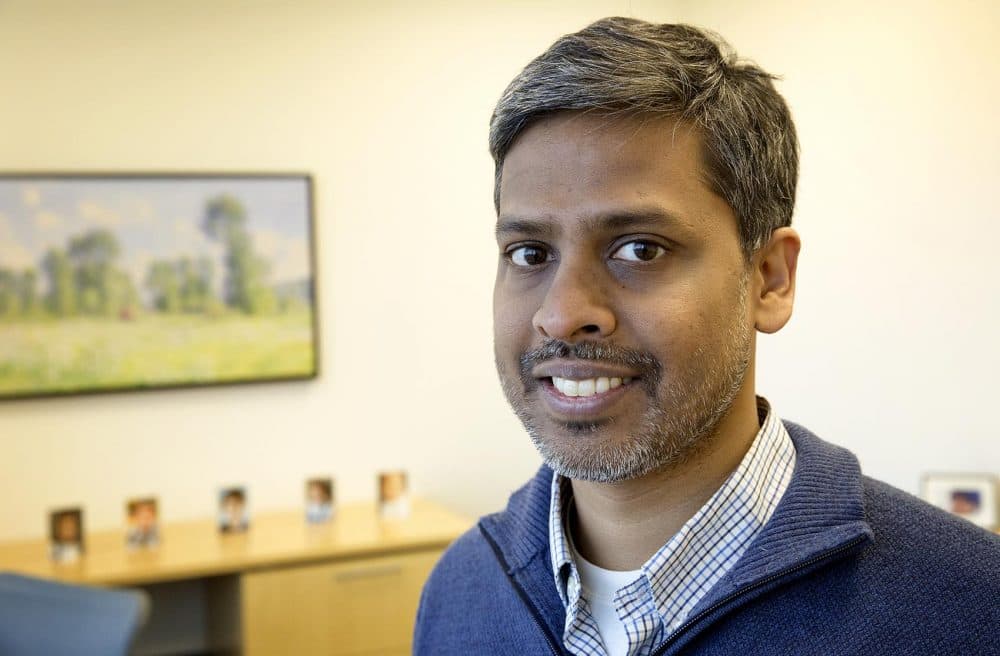 This article is more than 3 years old.
A new nonprofit college is expected to open in Boston this fall, with a focus on Christianity and a $9,000 sticker price.
It's called Sattler College, after Michael Sattler, a German Anabaptist burned at the stake as a heretic in 1525.
The college's founder, Boston mutual fund executive Finny Kuruvilla, is covering the cost of tuition for the first year for most students. He says he will be able to keep tuition low after that because his college will not have expensive amenities.
"We're not going to have a stadium, for example," Kuruvilla says. "Rather than own dormitories, we're leasing dorms."
The college will take up one floor of an office building on Beacon Hill.
It enters the college economy at a tough time for small colleges. Two Massachusetts colleges are about to close. Another two have plans to merge.
Tolani Britton, who teaches a course on the economics of higher education at Harvard's Graduate School of Education, points out that in order to succeed in this saturated market, a new college must stand out.
"I think where they have differentiated themselves is that they are really a niche market," Britton says of Sattler. "They're trying to provide the very selective college experience but using some of the pedagogical methods that are generally used in less selective institutions."
Sattler will rely on free online courses developed by Harvard and MIT.
But what really makes it different is that it is a Christian college, although, Kuruvilla says, it is early Christianity.
"A lot of people, when they hear Christian institution, they think: 'Oh, you must be a Republican, far-right group,' " Kuruvilla says. "We're very different from that."
Kuruvilla says his college will emphasize caring for immigrants, the poor, refugees, and it will promote pacifism.
There are 52 applicants from around the country vying for a place in this fall's first class of 20 to 30 students. Many of the applicants are home-schooled, like Hannah Milioni, of Boston.
"Often, there's a dichotomy presented," Milioni says. "Either you have Christianity or knowledge. You can have a good education or a Christian education. It can be either faith or science."
Because this fall's incoming first class will be so small, Kuruvilla is only looking for about three professors.
Kuruvilla says his motivation for starting a new college goes back to his years as a student at Harvard Medical School. He was living as an adviser in undergraduate dorms and thought about how expensive college was. He also decided that students taking different courses left them without common ground.
"There's very shallow community, if any at all, because students, they're not taking the same classes," Kuruvilla says. "They're really doing their own thing, and so they're almost like little islands that exist in a vast university."
Students at Sattler College will have to study a core curriculum.
"They have to do biblical Greek. They have to do Old Testament, New Testament. They have to do expository writing, biology, economics, statistics and apologetics," Kuruvilla says. "Apologetics is a subject, basically, about how you know one religion is true versus another, and is there some kind of evidentiary system to defend one faith versus another in a way that is testable, and the basis of rational dialogue."
In the second year, students will have to study biblical Hebrew. Kuruvilla believes that only by reading texts in their original languages can students get their true meaning.
He believes college does not develop character anymore, and he wants to change that. Kuruvilla is a mission-driven person. He was working in the medical field, but felt he could make a greater impact by bringing his faith into a different field: mutual funds. So he founded Eventide, a mutual fund company that specializes in socially responsible investment.
Opening a college is daunting for anyone, but Kuruvilla faces additional challenges. His college must meet several conditions imposed by the Massachusetts Board of Higher Education including: reaching agreements with other colleges to offer students lab courses and demonstrating the school does not discriminate based on religion. Kuruvilla calls these conditions "straightforward."
Perhaps the most daunting challenge is the financial one. Kuruvilla says donations are coming in now, but because the college relies so much on funding from him, he has to sign a pledge that he'll continue to finance it.
This segment aired on February 20, 2018.