Striking Dedham Teachers Have Reached A Tentative Deal With School Committee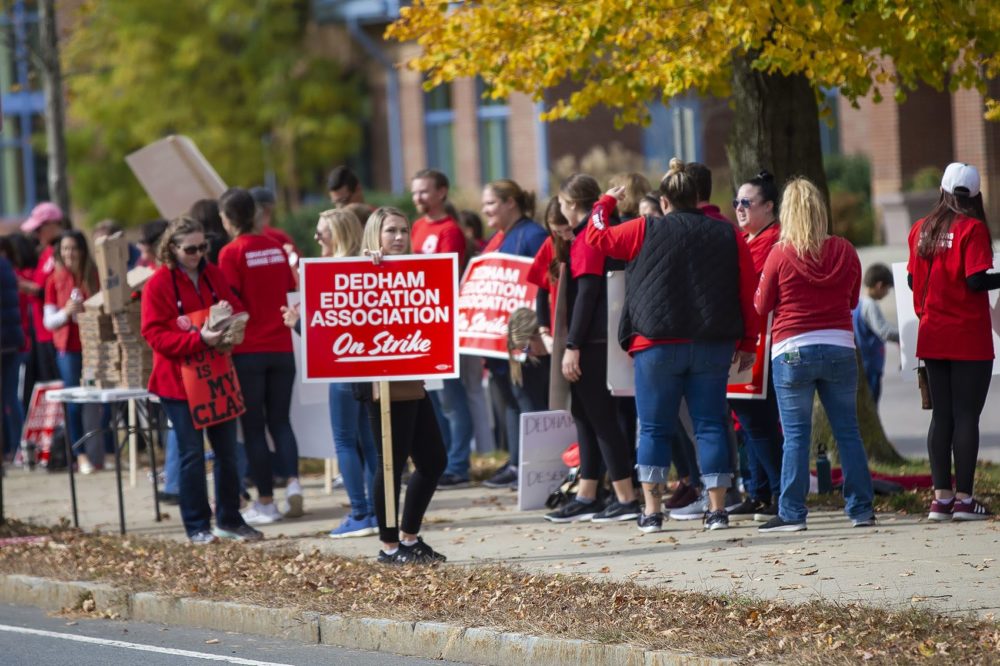 Following a one-day strike, the Dedham Education Association (DEA) and the Dedham School Committee have reached a tentative contract agreement.
The breakthrough in negotiations means classes will resume Monday.
The tentative deal would cover four years, according to a statement from the DEA. The agreement overhauls Dedham's sexual harassment polices to include training for staff and leadership, and it creates a specific system to handle sexual harassment claims.
The agreement also includes what the union said is "a fair compensation package" and new leave policies.
"We believe this agreement will fairly compensate our excellent educators while keeping our district on a positive path," Michael Welch, Dedham superintendent, said in the statement.
Last Thursday, the DEA voted to strike after 21 months of contract negotiations. That forced the town to cancel classes on Friday for all Dedham Public School students.
It was the first teachers' strike in Massachusetts in 12 years.
The union says it was fighting for better pay, professional development, health care benefits and sexual harassment protections.
The tentative agreement still needs formal approval from the DEA and Dedham School Committee.
This article was originally published on October 27, 2019.
Fausto Menard Newscast Writer and Digital Producer
Fausto Menard is a freelance newscast writer and digital producer at WBUR.