About two years ago, a Redditor named Matt posted something pretty interesting to r/funny.
Yes, that is real. No, this was not from Parks and Recreation.
"I actually posted it early in the day, didn't check Reddit at all, and I come back later in the afternoon and it's got like 5,000 upvotes and it's hitting the front page, and just flooded with comments," Matt says.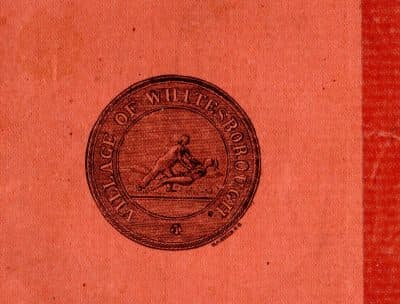 The seal was originally created in the 1800s and depicts a supposedly "friendly" wrestling match between village forefather Hugh White and the chief of the Oneida tribe.
There's been a few versions of the seal since the town's founding, and they all look pretty similar — like Hugh White is choking or wrestling the Oneida chief to the ground.
Whitesboro is in upstate New York, in an area where it's not uncommon to see Confederate flags.
After Matt's post on Reddit, The Daily Show picked up the story.
The town's Ben Miller, a Lenape First Nations activist, who is in The Daily Show segment about the seal, put Ben and Amory in touch with comedian AJ Foster.
Foster is black, and he lived in Whitesboro for a time after graduating from college in nearby Utica.
"I like reverse-gentrifying places. That's my conquest in life," he jokes.
In one of his stand-up sets, he describes what it was like living there:
So I used to live in a small town called Whitesboro, or as I used to call it, "Whitesboro-plus-one," because apparently I was the only brother that ever lived there, and they had to make sure that I was accounted for.
It turns out that the Oneida Indian Nation has no record of the so-called "friendly wrestling match" between Hugh White and the Oneida chief, according to a spokesperson from the tribe.
But whether the story is true or not, Foster still wonders why the seal looks the way it does, like a white man attacking a Native American.
"The equivalent would be having a sign that showed a black man in chains, and being whipped," he said.
"I don't care how your town was founded... I don't think [the locals] were willing to see the other side, though."
Foster expressed his opposition to the village seal the only way he knew how — comedy.
(In a set, Foster assures his audience, to laughter, "Relax, no white folks were actually harmed during the making of this photo.")
The photo blew up and Foster suffered some backlash — online, but also in person. He says he was getting dirty looks all around town, so he left and moved down to New York City.
In January 2016, the village took a non-binding public opinion poll on the seal. The people of Whitesboro voted to keep the seal as it was.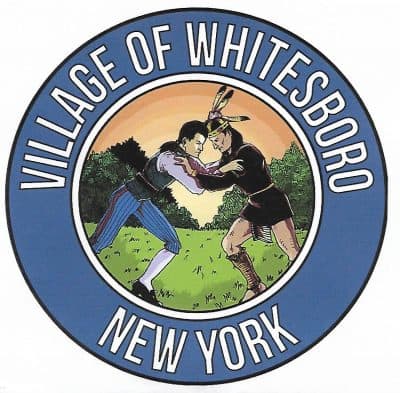 Then in September 2017, they changed it. Village officials didn't collaborate with the Oneida Nation on the redesign, but Hugh White and the chief do look more evenly matched.
It might strike you as a little weird that the seal supposedly shows two groups coming together, and yet the two groups could not actually get together to develop the seal.
But maybe ... there was an attempt?
---
You can find AJ Foster on Twitter, Facebook and Instagram.
---
We're on Twitter at @endless_thread and on Reddit as /u/endless_thread. Subscribe to the podcast with Apple Podcasts, Stitcher, RadioPublic or RSS.