This episode was originally released on January 19, 2018.
This is a true story about one man and his folder. A folder that contains every document that matters in this man's entire life — immunizations, passport, legal documents.
Shane Correia calls it his "survival pack."
"If there's ever a fire, I'm grabbing this," he says.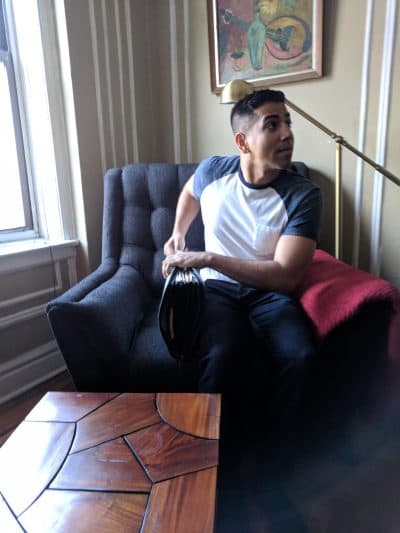 Because when you're homeless, you need to have documentation. It's the fastest way to get help.
His folder of important papers is the only thing in his entire life story that has any level of order. The rest is chaos.
Shane's story involves a grisly crime, Jehovah's Witnesses, abuse, a locked door in his face — and escape.
This week on Endless Thread, we bring you the story of a man whose tenacity and hard work — and yes, his folder — got him out of chaos, and into some kind of normalcy.
We first found Shane's story via /r/nyc, in a post titled Stop Giving Money to Panhandlers. Please!, posted by /u/Saramello. There's a spirited discussion on that thread on how to best help those who are homeless.
Shane weighed in on the thread, and it spoke to us because he was speaking from the point of view of someone who had lived in New York both homeless and as an employee at the Department of Homeless Services.
Shane's now 29 and lives in Washington Heights, near the A train, which is the longest train line in New York's subway system.
He lives in a tidy apartment with a few roommates and his turtle, Little Dude. His life now is uncomplicated in a way his childhood was not.
Shane was born in the Bronx to parents from Guyana and lived in a brownstone near the projects. He was raised as a Jehovah's Witness, meaning his family would knock on doors and prosethelytize to others about the end of the world.
It also meant that his family didn't celebrate birthdays, so Shane estimates how old he was during certain life events. He isn't actually sure.
"I'm really obsessed with dates in terms of my cataloguings," he says.
His childhood was, for lack of a better word, messy. His parents split, he moved cross-country with his mother, his older sister and brother were both implicated in the murder of his sister's mother-in-law, and he was bullied in school.
And when he came out to his mother, she completely shut him out. He moved back to New York at age 13 to live with his father, who seemed initially OK with Shane's sexuality, but then wasn't.
On his 18th birthday, he comes home from a date with his boyfriend. He tries to unlock the door, but his key doesn't work.
"My step-sisters are in the room next to the door, so I'm banging on the metal gate. Trying to like, get them to open it. And they text me, 'George [his father] says we can't let you in'."
Shane's now homeless as a senior in high school.
He stays with his boyfriend and his boyfriend's mother but he knows that's a temporary solution. And that's when he began to compile his folder.
"It was like the worst kind of scavenger hunt, 'cause you just have to go from place to place, and every place has different requirements," he says. "And you don't know which one's ultimately going to give you shelter. You know, I went through so many psychological evaluations and physicals and blood tests and like… stuff."
He ends up at Independence Inn, a homeless shelter in Brooklyn. He gets in because of that folder, with the immunizations you need to be considered for a bed.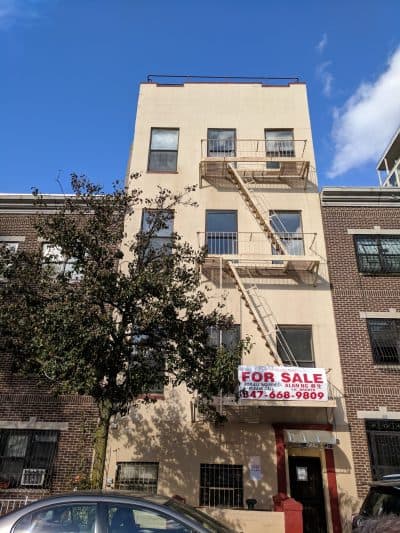 He gets a job working at the front desk of a hair salon in Manhattan and one night, after a messy breakup fight with his boyfriend, he arrives at Independence Inn after curfew. And he gets kicked out.
"So I slept on the train. Went to school, went to work. Still gotta earn that paycheck, hourly," he says.
He graduates from high school and has a lot of time he doesn't know how to fill. He's still trying to get help and get resources, but the only consistent place he has to go is the A train — the subway line that's closest to his apartment now.
The train travels 32 miles, stretching from the top of Manhattan through Brooklyn and out to Far Rockaway, Queens. It let him have almost two hours of uninterrupted sleep at one time.
It's a low point. But he still has Little Dude, and he still has that folder. And it keeps him going. Instead of falling apart, he becomes really self-sufficient.
A case manager at a drop-in center told him he was going to be fine, says Shane.
"I pulled this [folder] out, one of the case managers was like, 'Oh, you're not going to be homeless for long. You've got this.' And that was nice. That felt good to hear. 'Cause there's not a guidebook for that shit."
After a few months of homelessness, Shane makes it out. He works his hourly job, he gets a room at a friend's apartment. He puts himself through college and then law school. Today he works for the Bronx District Attorney's office.
His life now is orderly. It's safe. But he's not home yet.
"What I'm starting to understand is also necessary for the concept of home is people you can rely on and trust and feel with. And I'm not good at that yet. So I'm learning how to be vulnerable with other people. And I think that's when I'll really have a sense of home."
Thanks to /u/Kryptonian_Germ for this week's artwork.