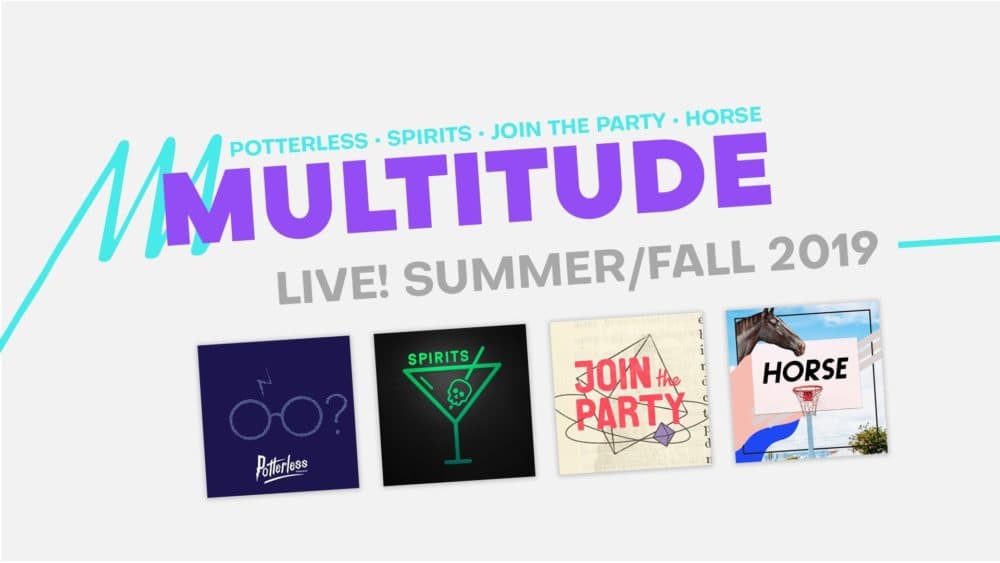 Time & Date
Thursday, October 10, 2019, 8:00 pm
Event Location
WBUR CitySpace890 Commonwealth AvenueBoston, MA 02215Open in Google Maps
The podcast collective Multitude is coming into life right before your very eyes. Do you like witches, hauntings, Harry Potter and Dolly Parton? Then join us for a night of hilarity, storytelling and 90s pop culture references! Your favorite podcast hosts from Potterless, Spirits, Join the Party and HORSE are joining forces for an exclusive live-show experience, with game shows, way-too-specific analyses and live podcasts you can't see anywhere else. It's the best thing for your ears since those hats with earflaps!
About Potterless
Potterless is a magical journey following Mike Schubert, a grown man reading the Harry Potter series for the first time, as he sits down with Harry Potter fanatics to poke fun at plot holes, make painfully incorrect predictions and rant about how Quidditch is the worst sport ever invented. With his uncanny sense of humor, uniquely sharp mind and arsenal of witty and insightful guests, Mike Schubert will take you on a journey through your childhood, this time with the rose-tinted glasses off.
About Spirits
Spirits is a boozy podcast about mythology, legends and folklore. Every episode, co-hosts Julia and Amanda mix a drink and discuss a new story or character from a wide range of places, eras and cultures. Learn brand-new stories and enjoy re-tellings of your favorite myths, served over ice every week, on Spirits.
About Join The Party
Join the Party is a collaborative storytelling and roleplaying podcast. That means friends create a story together, chapter by chapter, that everyone from seasoned players to true beginners can enjoy. Where else can you get adventure, intrigue, magic, drama and lots of high fives all in one place?
About HORSE
The NBA is now a 365-day league and it's never been more present in pop culture. From Kevin Durant's burner accounts to LeBron taking his talents anywhere to trusting the Process, the NBA is becoming a pop culture requirement. At the same time, sports can have gatekeepers that make it insular and frustrating for people who aren't die hard fans. HORSE is here to prove that basketball is entertaining to follow for all fans, whether you're actively watching the games or not.