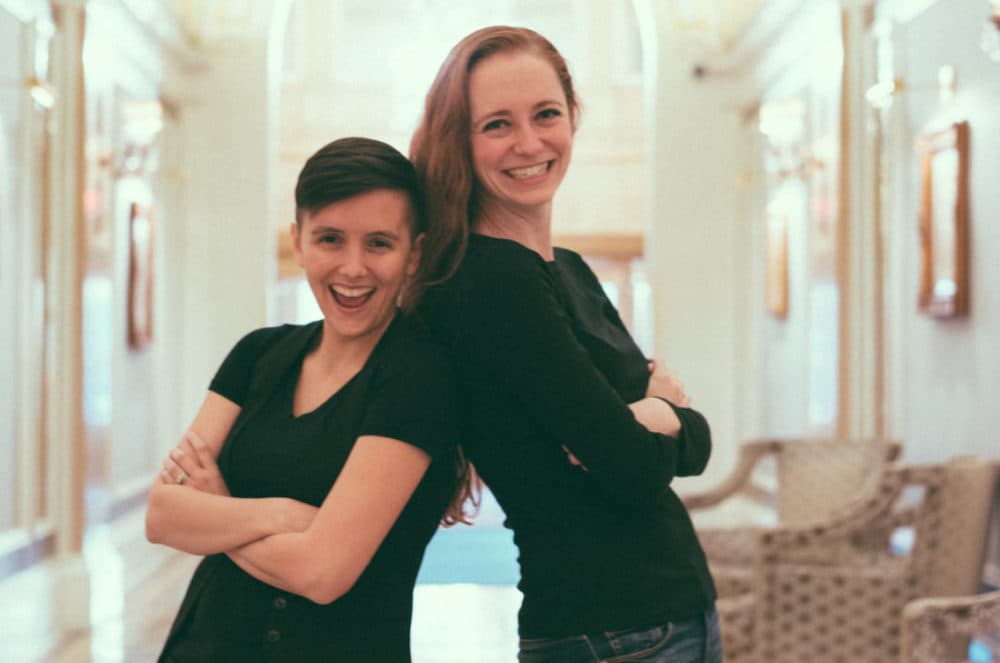 Time & Date
Saturday, June 8, 2019, 7:00 pm
Door open at 6:00 p.m.
Event Location
WBUR CitySpace890 Commonwealth Avenue Boston, MA 02215Open in Google Maps
Official Pride Week Event!
Lez Hang Out, the popular lesbian podcast, is bringing you the next installments of their "Should've Been Gay" series live just in time for Boston Pride Week!
Join hosts Leigh Holmes Foster and Ellie Brigida, along with some fun guests, as they talk about the movies, TV shows, or ships that CLEARLY should've been gay. They've covered favorites like "Bend It Like Beckham," "Bring It On" and "Wonder Woman,"and frequently call their "Should've Been Gay" series "the gift that keeps on giving!" Join them for a night of debauchery and fantasizing about homonormativity and come dressed as your favorite non-canon ship for extra bonus points!
Featured Guests
Marie Connor - "The Little Mermaid" Should've Been Gay
Marie Connor is a Boston based comedian and considered an unfiltered voice for the Millennial generation. Her unique perspective as a member of the LGBT community and former Republican gives her targets on both sides of the aisle. Her quick wit and sharp tongue have amassed a large social media following.
Isha Patnaik - "The Parent Trap" Should've Been Gay
Isha is a Boston-based, Bay Area-born comedian and "Gilmore Girls" enthusiast. She's performed all around the country as a stand up, improv and sketch comedian. Isha created and currently produces Affirmative Reaction: An Asian and Asian American Comedy Show! Isha was featured in 2019's HBO Presents: Women in Comedy Festival, where she performed on HBO Presents: Bethany Van Delft's "38.7%."
Dylan Uscher - "Rocko's Modern Life" Should've Been Gay
Dylan Uscher is a queer standup comedian from Boston, MA. He uses a narrative style of comedy to talk about taboo topics in a way that's approachable, accessible, and okay maybe a bit raunchy at times. He has performed at clubs and comedy festivals across the country including the Women in Comedy Festival, the Palm Springs International Comedy Competition, and the Midwest Queer Comedy Festival.