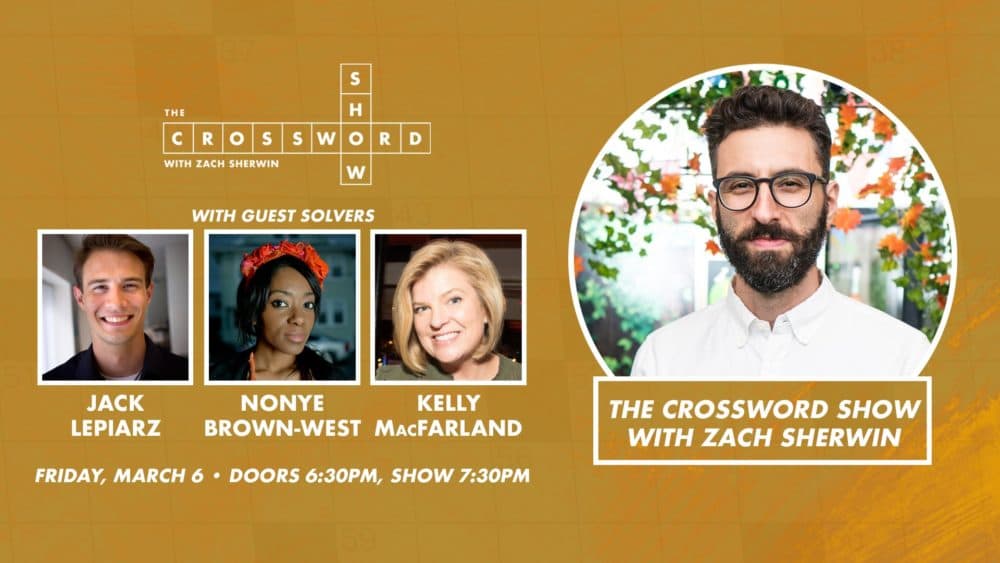 Time & Date
Friday, March 6, 2020, 7:30 pm
Doors open at 6:30 p.m.
Event Location
WBUR CitySpace 890 Commonwealth Ave Boston, MA 02215Open in Google Maps
This event is sold out. 
The Crossword Show is a comedy show hosted by Zach Sherwin ("Crazy Ex-Girlfriend," "Epic Rap Battles of History"), in which a Wait, Wait…Don't Tell Me!-style panel of entertainers (WBUR reporter Jack Lepiarz and comedians Nonye Brown-West and Kelly MacFarland) solves a crossword puzzle live onstage, with everything displayed on a giant screen so the audience can follow along.
Each time the panel deciphers a clue, Zach launches the show down a rabbit hole that's somehow related to that clue's answer, with the help of a multimedia slide presentation and lots of comedy, wordplay and pop-culture trivia. There's also a musical element; while the clues work like those in a normal crossword puzzle, they also happen to be rhyming hip-hop lyrics. There's an "Across Clues" and a "Down Clues" rap over the course of the show, and the grand finale is one last number with lyrics that incorporate all of the puzzle's answer words.
You'll laugh, you'll be dazzled by the web of connections and callbacks and you'll even leave feeling like you learned something. You absolutely don't need to be a crossword enthusiast to enjoy this unique, mind-expanding and joyful experience!
Tickets
General: $20.00
Student: $10.00 (Must present a valid undergraduate or graduate ID to be permitted entry.)
WBUR Members save 10% on this event online or at the door with your Membership card. When purchasing online, please consult your WBUR Member benefits brochure for the promo code to use at checkout.