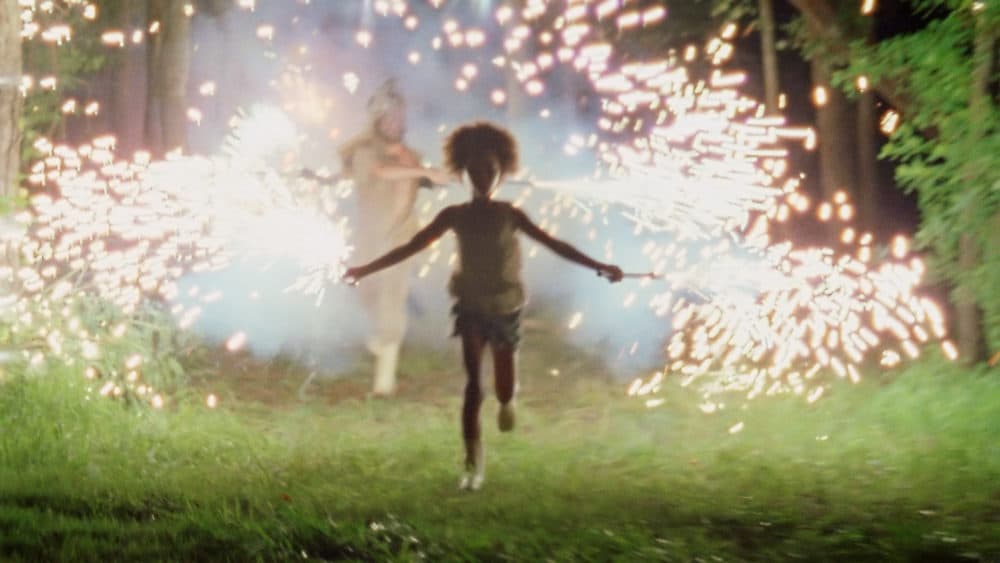 Time & Date
Friday, January 29, 2021, 7:00 pm
Event Location
WBUR CitySpace Virtual EventOpen in Google Maps
Stories about our relationship to the environment aren't new to popular culture, especially in film. From the dust bowl ("The Grapes of Wrath," 1940) to water scarcity ("Chinatown," 1974) to projections of a trash heap Earth managed by cute robots ("WALL-E," 2008), we've been wrestling with our changing planet throughout cinematic history. However, movies directly addressing the human impact on climate change and the subsequent consequences are relatively new.
"Beasts of the Southern Wild," winner of the World Cinema Grand Jury Prize at the 2012 Sundance Film Festival, gave us a unique perspective on climate change. In the film, we experience life through the eyes of six-year-old Hushpuppy who is living in a bayou community faced with increasingly devastating storms, extreme poverty, lack of affordable housing, fear of displacement, health care disparities and crumbling infrastructure. Through all of this, "Beasts" also points to the interconnectedness of climate justice and racial justice.
Cristina Kim, associate producer for Here & Now, led a conversation on the role of art in illustrating issues like climate change and how films like "Beasts of the Southern Wild" impact our understanding of real-life crises. She spoke with Dr. Gaurab Basu, health equity fellow at the Center for Climate, Health, and the Global Environment at Harvard T.H. Chan School of Public Health and Dr. S. Atyia Martin, CEO and founder of All Aces Inc..
This event was produced in partnership with the Coolidge Corner Theatre as part of their 2021 Sundance Film Festival programming.
Event Highlights
On framing climate change to help people better understand it
Dr. Basu: "Two main messages that, I think, come to my mind. And I think that we have to make this real for people and why it matters. The truth is that it is hard for us to get our minds around climate change, how these invisible greenhouse gas emissions in our atmosphere are impacting our lives. And so, as a doctor putting forth, right front and center: that climate change is a public health threat. That it threatens the health of our loved ones and that health is a value and a virtue in our society that we believe in. We want people to be healthy. And I believe there's never been a threat to the future of human health as large as climate change. And so I think that should be front and center."
"And the other frame is: I come into this conversation as a doctor and as a parent. And I think that is another thing that can bring us together. That we have a responsibility to future generations. That this is an issue of racial justice, of intergenerational justice, and that we've got to take care of one another. And I'll just say briefly that this has been tough to make. We should have been starting this work decades ago and we're really behind."
On the dangers of romanticizing adversity
Dr. Martin: "My son and I, my youngest son who is 16, and I watched the movie together and had a very long conversation. And the movie left him with the impression, to your point, that they didn't understand. And so he didn't understand them. And he was like, 'I don't get why they didn't just leave.' And so through having to do a kind of, going down a research rabbit hole, for lack of better terms, we started to understand more about the actual jurisdiction that the movie, one of the jurisdictions, because it was modeled after a couple. And when you actually look at that community, they over sensationalized the way that people lived. There were people that had regular houses... There's more context there. And it wasn't all partying and just celebration. And not, 'We're just hard headed just to be hard headed.'
"The historical context is that one of the one of the communities, I believe it was Isle de Jean Charles, was modeled after… one of the first of what what we refer to as climate refugees, one of the first kind of whole areas in the United States that was considered climate refugees. And so they literally are being relocated out of that town. And so those people understand the risks. They understood the challenges. They also were clear that they don't trust the government because the government is the reason they lived in that area in the first place. And so were relegated to that part of Louisiana."
"So to come full circle: so the idea is that there's a level of, I would say, mistrust or distrust… that exists because there's evidence for people not to trust the government. And people are also informed… I know that they're in the process of building where the community's going to relocate to. And the community was a part of that process. And there were challenges between the government and the community and working out the details. And there are still challenges. And I think to this point, the lack of depth in portrayal of the community misses all of that."
On the stories that need to be told today
Dr. Basu: "I think the story that I am feeling in my heart right now is that human beings are extraordinary and that everyone has dignity and worth and value and that we're a wonderful people that's capable of a lot of stuff. But we haven't made systems worthy of us. And that's a racial inequity system. That's the fossil fuel system that has caused harm. And we're living in a time of profound suffering and harm. We've hurt each other. But we're-and I say this as a parent now with young kids, I see the way that people are built at a young age-we have such extraordinary ability to see each other and care for one another. And we have to understand and learn how we can use science and truth-telling to make compassionate society. The work of today and always is how we can come together to better care for one another and to build systems that reflect that. And I truly believe that we're capable of doing that. I think we are in the middle of profound reckonings, and I'm clear-eyed of how much harm is happening right now and how many people are suffering. I'm conscious of my own identity privilege and how I am sheltered from much of that harm. But it's unworthy of us. We can do better. And I hope that we will take this moment in history to strive for something better."
Related Reading
5 Steps Biden Can Take To Protect Climate Migrants 
'It's Not Inevitable That This Will Be Unjust.': A Q+A With Shalanda Baker On Energy Justice
Teaching Doctors In Training To Connect Climate Change And Healthcare