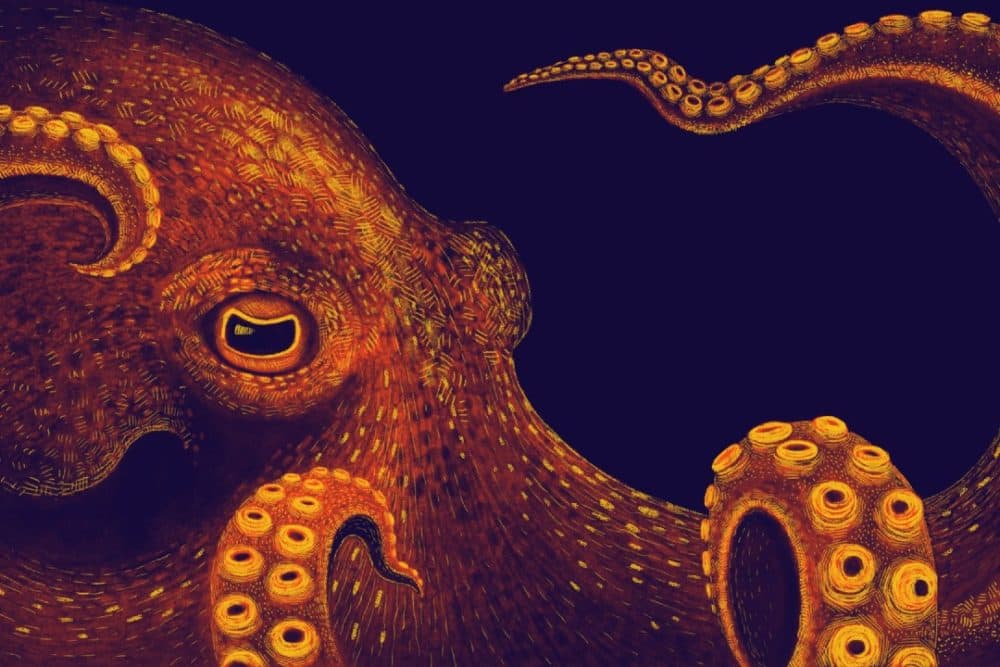 Time & Date
Wednesday, June 15, 2022, 6:30 pm
Both in-person and virtual tickets are available for this event. Doors open at 5:30 p.m. Please note: there will be a Red Sox game at Fenway Park on the evening of this event. We encourage guests to take the T or plan to arrive early if driving to CitySpace.
Event Location
WBUR CitySpace 890 Commonwealth Avenue Boston, MA 02215Open in Google Maps
Ticket Price
$5.00-10.00
The cephalopods are descending upon Boston once again! Science Friday and WBUR are teaming up to present an evening full of cephalo-bration at CitySpace, where attendees can watch short science documentaries, hear from marine biology experts, take a backstage tour through a cephalopod culture center, and meet a real-life octopus.
Joining us on stage this time are a few cephalopod celebrities:
Bret Grasse, manager of cephalopod operations at the Marine Biological Laboratory in Woods Hole
Anik Grearson, Master's student in marine biology student at Northeastern University and fellow at the Bellono Lab at Harvard University, who is studying all things undersea, with a soft spot for octopuses.
Owen Nichols, director of marine fisheries research at the Center for Coastal Studies, who conducts research in collaboration with Cape Cod fisherfolk to support sustainable fisheries.
Dive deep with us in-person or plant your suckers at home with our livestream—no matter where you are, you can tune in to celebrate your favorite sea creatures.
CitySpace Tickets (in-person; general admission)
$10.00
Virtual Tickets
$5.00 (only one ticket needed per household)
Ways To Save
WBUR Sustainers save $5.00 on premiere, general and virtual tickets to this event online or at the door with your Membership card. WBUR Members save $5.00 on premiere and general tickets online or at the door with your Membership card.
To apply the discount to your ticket purchase online, you'll need to enter a promo code. The code is sent to you in your monthly events newsletter. You can also get your code by emailing membership@wbur.org.
Registrants may be contacted by CitySpace about this or future events.