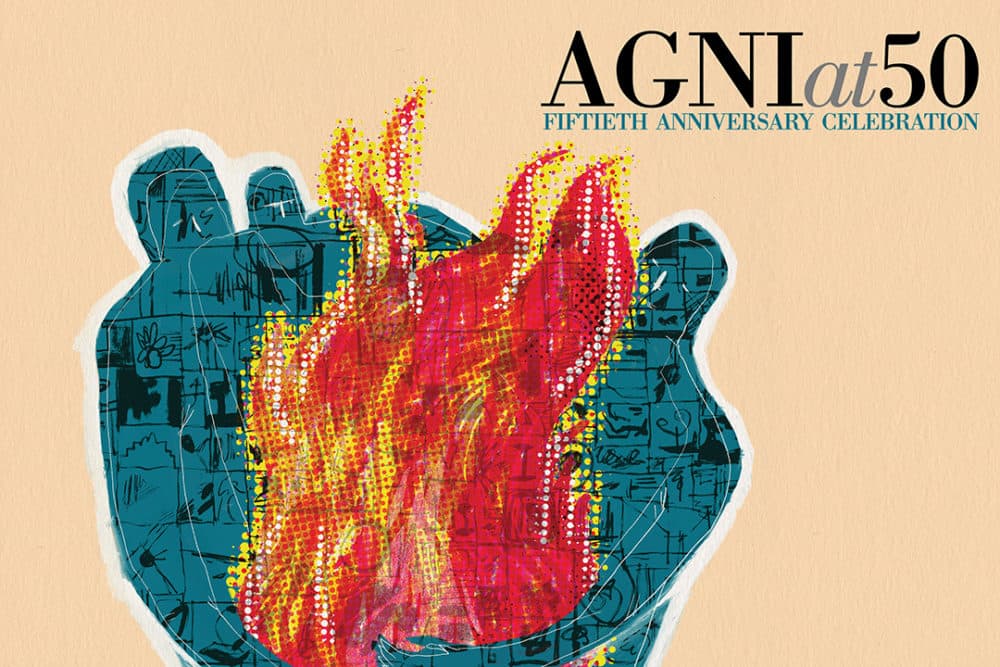 Time & Date
Friday, November 4, 2022, 7:00 pm
Event Location
WBUR CitySpace890 Commonwealth Avenue Boston, MA 02215Open in Google Maps
Celebrate 50 years of AGNI, "a beacon of international literary culture" (PEN) and a crown jewel of Boston University. Sanskrit for fire, AGNI ignites with writing that responds to each new now; the magazine has become an essential gathering place for those who feel literature's power to nurture an authentic engagement with the world.
Three-time U.S. poet laureate Robert Pinsky emcees this evening of readings and music, with performances by Jo Ann Beard, Caren Beilin, Victoria Chang, Teju Cole, Chanda Feldman, Pinsky himself and the Boston-based, cross-cultural music project Meridian 71, led by Giuseppe Paradiso.
More about AGNI
AGNI was founded in 1972 by Askold Melnyczuk, then an undergraduate at Antioch College with a vision of a countercultural space that would raise up imagination in response to a difficult present. More than ninety-five issues later, the editors have seen seven AGNI contributors go on to win the Nobel Prize. Fiction, poetry, essays, reviews, interviews, blog posts, hybrid pieces, visual art—the print magazine, extended via AGNI Online since 2002, constitutes one of the most celebrated and vibrant nodes in contemporary literature.
This event is made possible with support from Brookline Booksmith, Harvard Book Store, The Frugal Bookstore, Newtonville Books, Porter Square Books, Grolier Poetry Book Shop, The Black Scholar, Arrowsmith Press, Goethe-Institut Boston, Brattle Book Shop, Dogtown Books and The Bookstore of Gloucester, along with many groups from AGNI's home institution, Boston University—The College of Arts and Sciences, The Center for the Humanities, The Creative Writing Program, The BU Arts Initiative, The African American Studies Program, The Center for the Study of Europe, the CAS D&I Office and the Office of the Associate Dean of Faculty, Humanities.