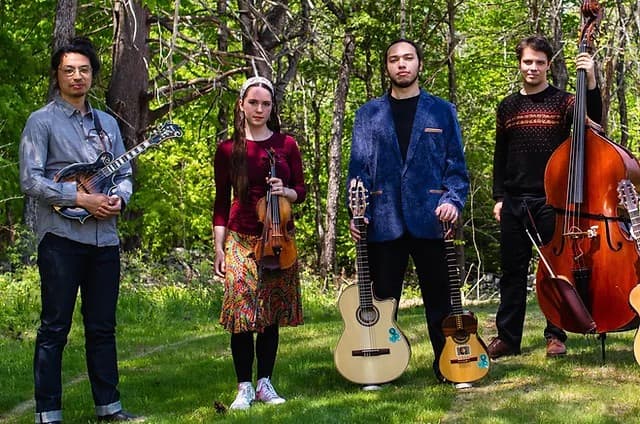 Time & Date
Thursday, February 16, 2023, 7:00 pm
This event is in person only. Doors open at 6:00 p.m.
Event Location
WBUR CitySpace890 Commonwealth Avenue Boston, MA 02215Open in Google Maps
Ticket Price
$5.00-25.00
This year our Sound On concerts are going global! Join us for a new spinoff to our popular series which will feature instrumental artists across all genres from classical to jazz to everything between. You'll continue to meet fresh faces experiencing a meteoric rise as well as tried-and-true musicians who are creating their most resonant work to date.
Acoustic Nomads (Sofia Chiarandini, violin; Ethan Setiawan, mandolin; Noah Harrington, upright bass and Maurizio Fiore Salas, Venezuelan cuatro & guitar) returns to CitySpace to perform songs from their new album, "The Abominable Stringband Vol. 2."
The Boston-based group, brings together musical traditions from North and South America in a global amalgamation and reimagination of the string quartet with influences from Appalachia to jazz that travel south to the sounds of Venezuela, Peru, Argentina and Brazil.
Both "The Abominable Stringband Vol. 1" and "The Abominable Stringband Vol. 2" will be available for purchase at the event.
CitySpace Tickets
Premiere: $25.00 (includes reserved seating in the front of the theater)
General: $15.00
Student: $5.00
Ways To Save
WBUR Sustainers and Members save $5.00 on in-person tickets to this event. To apply the discount to your ticket purchase online, you'll need to enter a promo code. You can get your code by emailing membership@wbur.org.
Registrants may be contacted by CitySpace about this or future events.