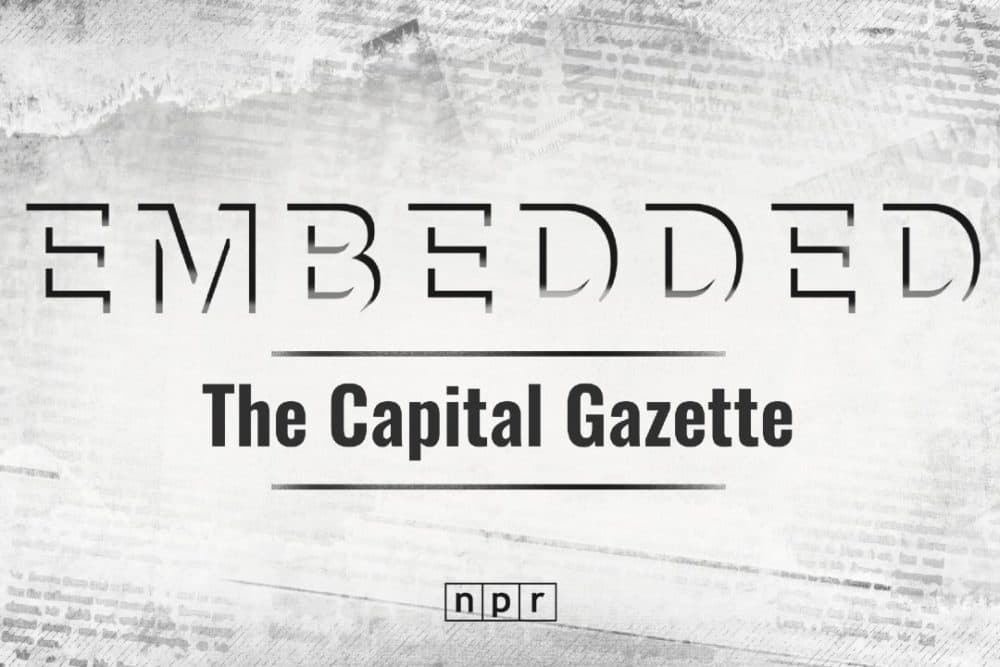 Time & Date
Friday, March 17, 2023, 7:00 pm
This event is in person only. Doors open at 6:30 p.m.
Event Location
WBUR CitySpace890 Commonwealth Avenue Boston, MA 02215Open in Google Maps
Ticket Price
$5.00-15.00
Join us for a special evening of listening together featuring audio from NPR's documentary-style podcast Embedded. We'll listen to "A Damn Paper," the first episode of the podcast's four-part series exploring the shooting at the the Capital Gazette in Annapolis, Maryland in June 2018.
Embedded host Kelly McEvers will join producer Chris Benderev and two reporters who survived the shooting at the Capital Gazette for a conversation following the shared listening experience.
This event is the keynote for Boston University's Power of Narrative conference.
CitySpace Tickets
General: $15.00
Student: $5.00
Ways To Save
WBUR Sustainers and Members save $5.00 on in-person tickets to this event. To apply the discount to your ticket purchase online, you'll need to enter a promo code. You can get your code by emailing membership@wbur.org.
Registrants may be contacted by CitySpace about this or future events.
About "The Capital Gazette: A Damn Paper"
Just hours after surviving a shooting at her workplace, Selene San Felice was on live television being interviewed by Anderson Cooper. It was June 28, 2018. Five of her coworkers at the Capital Gazette, a local newspaper in Annapolis, Maryland, had just been killed.
Selene described her experience and expressed her shock, but as a journalist, she also took it a step further. "This is going to be a story for how many days? Less than a week. People are going to forget about us after a week," Selene said on air. "I'm going to need more than a couple days of news coverage and some thoughts and prayers."
For more than two years, producer Chris Benderev has been following Selene and the other staffers who survived the Capital Gazette shooting. He talked with the staff members who were in the building, and those who were not. This series is about what happens after the news trucks go away. How do you rebuild your life, and your newspaper, after such an attack?