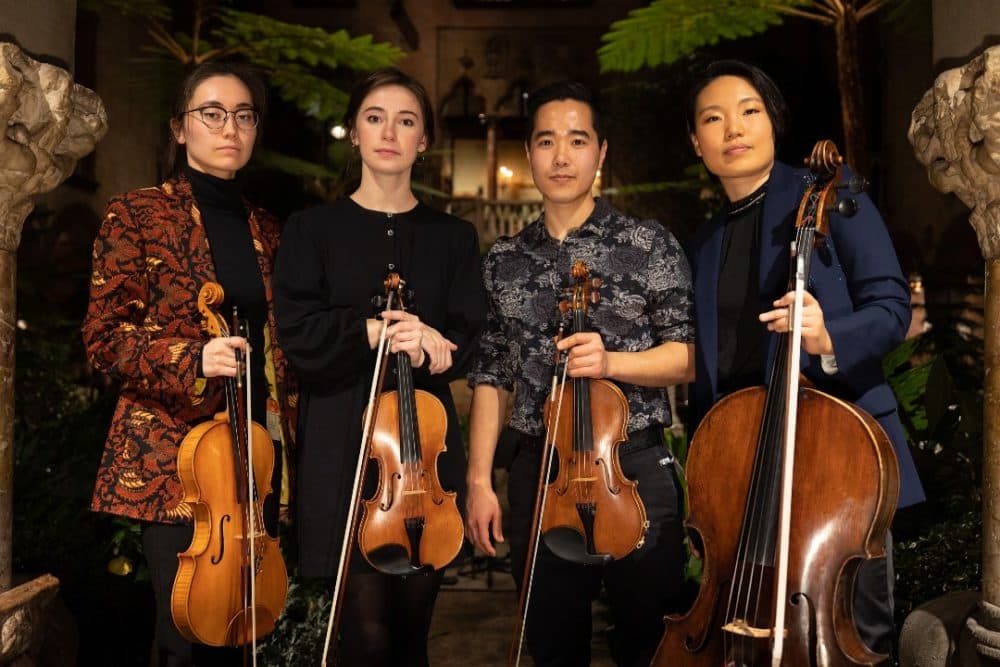 Time & Date
Sunday, March 12, 2023, 2:00 pm
This event is in person only. Doors open at 1:00 p.m.
Event Location
WBUR CitySpace890 Commonwealth Avenue Boston, MA 02215Open in Google Maps
Ticket Price
$5.00-25.00
This year our Sound On concerts are going global! Join us for a new spinoff to our popular series which will feature instrumental artists across all genres from classical to jazz to everything between. You'll continue to meet fresh faces experiencing a meteoric rise as well as tried-and-true musicians who are creating their most resonant work to date.
Rasa String Quartet (violinists Maura Shawn Scanlin and Kiyoshi Hayashi, violist Emma Powell, and cellist Mina Kim) explores the musical space where classical and folk traditions intersect and influence one another. Inspired by the connection between music and storytelling at the heart of folk traditions, they invite you to experience a variety of both familiar and unfamiliar sounds with curiosity and openness.
Formed in 2019, the Boston-based ensemble are graduates of the New England Conservatory, the Shepherd School of Music, and Yale University. They are 2022-23 ensemble in residence at Phillips Exeter Academy and winners of the 2022 Associazione Europea Di Musica E Comunicazione International Chamber Music Competition.
Program
Impichchaachaaha' Tate: Pisachi (Reveal)
Astor Piazzolla: Four Seasons of Buenos Aires - Primavera Porteña, Invierno Porteño
Komitas Vardapet: Selections From Armenian Miniatures
Sergei Prokofiev: String Quartet No. 2 in F Major "Kabardinian"
CitySpace Tickets
Premiere: $25.00 (includes reserved seating in the front of the theater)
General: $15.00
Student: $5.00 (must present a valid student ID upon arrival)
Ways To Save
WBUR Sustainers and Members save $5.00 on in-person tickets to this event. To apply the discount to your ticket purchase online, you'll need to enter a promo code. You can get your code by emailing membership@wbur.org.
Registrants may be contacted by CitySpace about this or future events.